In the next two posts, I will conclude a wrap up of wineries that we visited while celebrating our marriage which took place in February. Since we were in the Monticello area in June, our focus was find summer-appropriate wines; of course, we kept an eye out for wines that could be poured during cooler weather or those we thought were aging in the cellar.
Barboursville Vineyards: We always plan to stop here for a tasting; however, we always put a visit here at the top of our itinerary for the day to avoid the crowds in the tasting room. As a result, we always enjoy our tasting experience and get to ask the pesky questions that we always ask. Anyway, a mix of warm weather and light fare requires fruity, crisper wines and the Chardonnay 2014 that is cold fermented in stainless steel gets the nod here. However, I appreciated the more complex Vermentino Reserve 2013 with its notes of lemon/lime, mango, and hay as well as the Viognier Reserve 2013 with its floral aromas and tropical fruit palate. Both of these reserve wines should partner well with poultry, pork, or shellfish. I did purchase a bottle of the Nebbiolo Reserve to rest a bit on the wine rack. Lovely aromatics of violet, tobacco and plum were noted; it's still young, so I'd advise aging for a bit or decanting to those who are more impatient!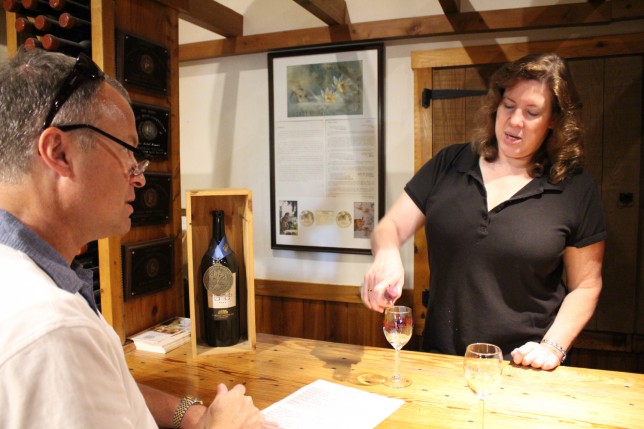 Cardinal Point Vineyard and Winery: We were greeted by Sarah Gorman who invited to taste the latest releases in the tasting room. The 2014 Green seems destined to please in the midst of any heat wave; it is a mix of 50% Petit Manning and 50% Chardonnay. However, this is not a blend; rather, these are co-fermented. The result is a crisp wine that presents elements of lime, apple and pear. For those who enjoy vino verde wines, this one should be a pleaser. Spicy stir fry dishes or grilled poultry topped with a tangy sauce might pair better with the 2013 Quattro, a sweeter pour that is a blend of Riesling, Gewurztraminer, Viognier, and Traminette. It boasts a residual sugar level of 2 % along with a lovely floral nose and a fruity palate. Burgers or barbecued ribs on the grill? The 2014 Rockfish Red with its ripe cherry flavors and subtle spicy note would be the perfect partner; it is made from Cabernet Franc grape—-enjoy now!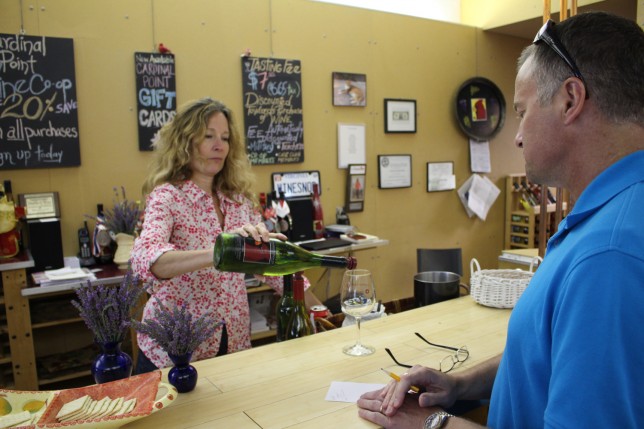 Jefferson Vineyards: The Chardonnay 2014 was my pick for favorite summer sipper; fermented in stainless steel, it presented apple and soft peach notes as well as a refreshing acidity. Paul preferred the Rose 2014 and its palate of strawberry and melon; he envisioned a Wolftrap concert with this one, so a bottle of it made its way home. For fall or winter fare, we both thought that the Petit Verdot 2013 deserved a space on the wine rack. Its smoky nose and aromas of plum and leather gave way to flavors of plum and dark berries. I also caught a trace of mineral toward the end.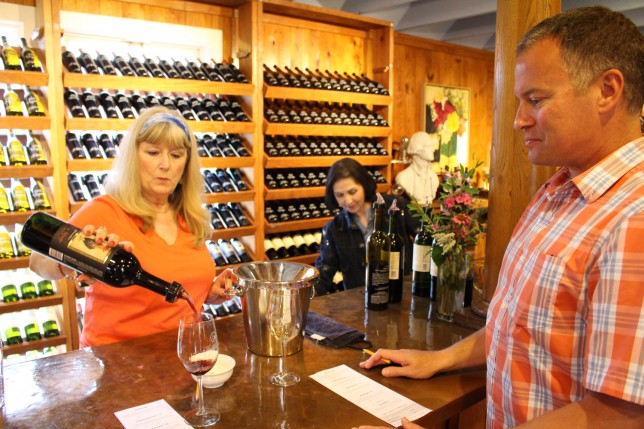 And I'm not done yet—-more wines to recommend! In my final wrap up, I will include a visit to the new Gabriele Rausse tasting room, special barrel tastings from winemaker Stephen Barnard, and favorites from King Family. Stay tuned——in the meantime, visit the wineries reviewed in this post, and mention that Virginia Wine Time sent you!