On May 4th we attended the third annual Blending Class at Gray Ghost Vineyards. The outcome of the class was to create a Meritage or Bordeaux style blend using at least three of the five Bordeaux grapes. To be considered a Meritage (or Bordeaux blend), a wine must consist of a combination of any or all of these varietals: Cabernet Sauvignon, Merlot, Cabernet Franc, Malbec, and Petit Verdot. No single varietal can make up more than 50% of the blend. We were trying to create a blend that was similar to the award winning Ranger Reserve. Our class began with winemaker Al Kellert teaching us about the different Bordeaux grapes. We learned about the flavor profiles for each grape and some history before getting started.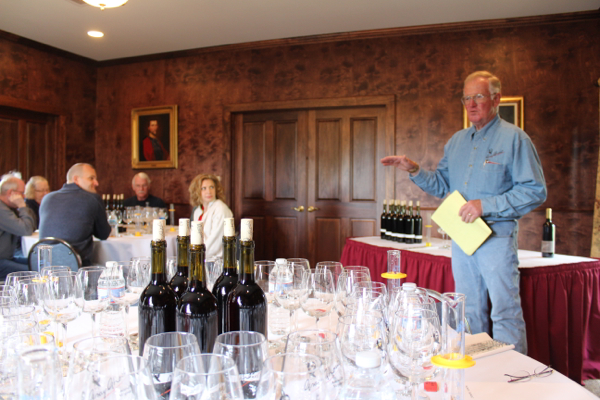 After our lesson on the individual grapes, we got to work on our blends. We began by tasting each of the five grapes separately. All the wines were from the 2011 vintage. As we tasted each of the grapes we kept notes about each one. We wrote down what we thought was prominent in each wine. We thought about things like the nose, the color, the flavors we were getting, the ending, and the tannins. After taking our notes and thinking about the individual wines, we then began the process of putting certain percentages together to create our blends. Since Al had not told us what the blend percentages were for the 2011 Ranger Reserve, we had no idea how much to include from each wine. It was up to our palates to decide what percentages of the wines we liked best. We used our pipettes to put different percentages in our beaker to create the final blend. We were able to blend two different times to get to the one we liked best. After testing and tasting a few times I came up with my final blend. My final blend was actually VERY close to the final blend of the 2011 Ranger Reserve.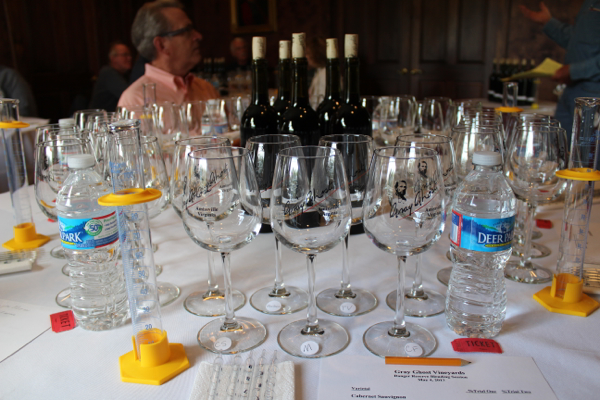 My blend consisted of 30% Cabernet Sauvignon, 20% Merlot, 20% Cabernet Franc, 15% Malbec, and 15% Petit Verdot. The 2011 Ranger Reserve blend is 34% Cabernet Sauvignon, 17% Merlot, 17% Cabernet Franc, 16% Malbec, and 16% Petit Verdot. Al was pretty impressed how close I got to the 2011 blend. I was pleased with the outcome.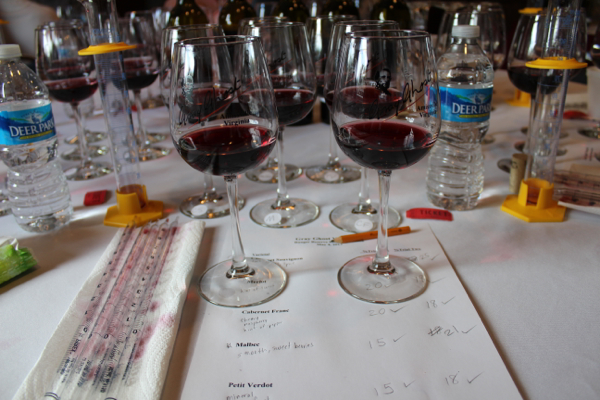 My favorite individual varietal was the 2011 Malbec. I think most participants enjoyed the malbec as well. The only problem with using malbec as the main ingredient is that Al doesn't produce enough to create a malbec dominated blend. He informed us that if we used a high percentage of malbec, he'd only have one barrel of the blend to sell. Knowing this, many of the participants changed their blend in the second round to reflect this. I preferred my first blend as my finest. Warren joined me for the class but his allergies were keeping him from truly enjoying the nose and flavor profiles of each wine. He still came up with a pretty decent blend.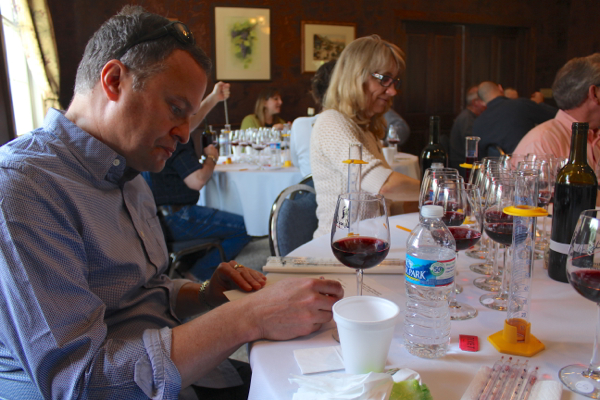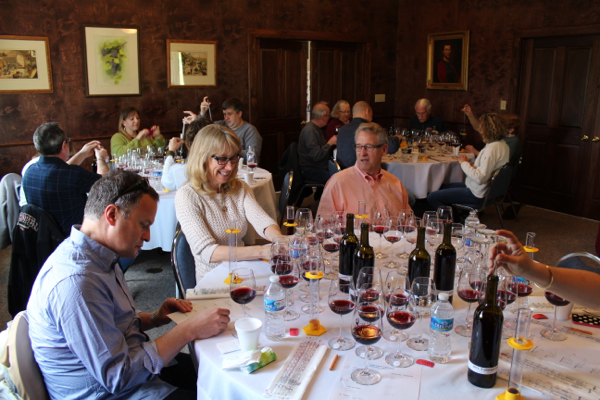 After our class we enjoyed a box lunch and a glass of wine on the patio. Al and Cheryl joined us during lunch. It was fun chatting about the class and about Virginia wine. We always have a great time at Gray Ghost. If you haven't been to Gray Ghost lately, plan a trip soon. And tell them Virginia Wine Time sent you!