So we're back to reporting on our more local wine adventures, and this time our focus will be the barrel tasting held at Linden Vineyards exclusively for case club members. At the event, club members were able to taste barrel samples from the developing 2010 vintage as well as comparison tastings of 2007 and 2008 reds. We also nibbled on excellent gourmet snacks prepared by L'Auberge Provencale located in Boyce, Virginia. Between sips, we enjoyed a brief chat with winemaker Jim Law.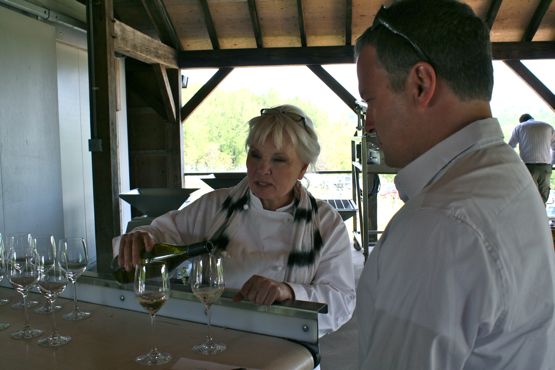 We were greeted to the tasting event on the crush pad with a sample of the 2010 Avenius Sauvignon Blanc paired with a king fish prepared seviche-style and topped with caviar. The Avenius Sauvignon Blanc is always a treat, and the 2010 vintage offered brighter fruit but lower acidity than previous vintages. Perfect for summer and lovely with the fish. From there we proceeded to the barrel room for samples of the 2010 Boisseau Red, 2010 Hardscrabble Red, and 2010 Avenius Red. All three were blends that featured Cabernet Sauvignon as the main component. Of the three, the Boisseau Red will be the most approachable upon release. The Boisseau vineyard holds loamy soils to produce fruitier wines, and the 2010 offering was blended with 35% Merlot to present a more fruit forward, rounded wine. The sloped Hardscrabble site features granite soils and older vines; there is no doubt that the 2010 Hardscrabble Red will be one to age. Boasting 85% Cabernet Sauvignon and only 15% Merlot, it was tight and complex. Plan to buy upon release, but enjoy at a later date. In between the two was the 2010 Avenius which was a blend of 53% Cabernet Sauvignon, 39% Merlot and 8% Petit Verdot. Dark fruit and spice were evident; not quite as accessible as the Boisseau but also not quite as inaccessible as the Hardscrabble. So I plan to buy a bottle of all three—one to enjoy ASAP, one to enjoy to end the decade, and another to sip at some point in between!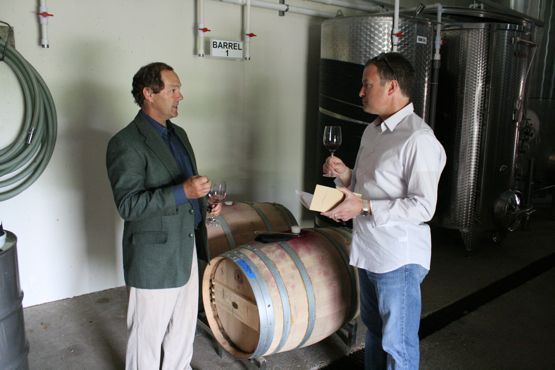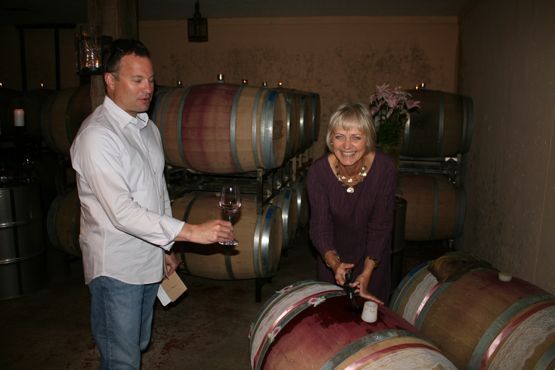 From the barrel room we made our way to the special release room, and here we were able to compare 2007 and 2008 vintages from the three vineyards. My general conclusion after sampling them all was that the 2008 vintages are ready to enjoy now while the 2007 vintages still need some time. I did find the 2007 Hardscrabble Red much more approachable this time around and was my overall favorite of the day. I enjoyed my sip of this one with a grilled lamb chop, and it was lovely pairing. Paul gave his nod to the 2008 Avenius Red, a blend of Petit Verdot (72%) and Cabernet Sauvignon (28%). He enjoyed its flavors of plum, dark cherry and black pepper and thought it paired perfectly with the barbequed pork belly.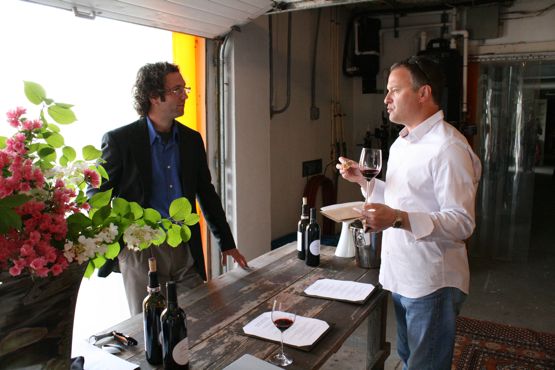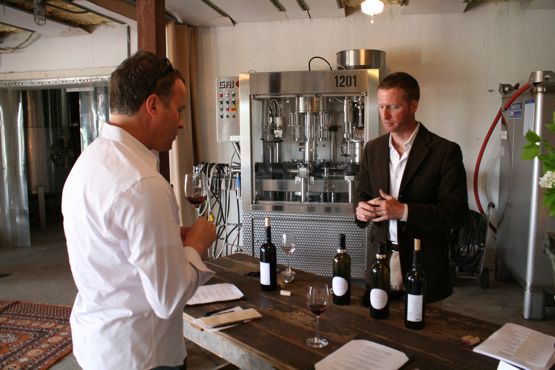 As we moved from station to station, we were able to chat with Jim Law who, along with his father, guided tasters through a sample of the 2010 Hardscrabble. I asked Jim how he felt about the 2010 vintages, and while he felt confident that these were going to be excellent wines, Jim confided that he prefers to work with vintages produced from "classic" years. As readers know, the 2010 growing season was exceptionally dry and hot with similarities to California as opposed to Virginia. Therefore, the 2010 wines may be jammier and higher in alcohol levels. For that reason, Law prefers the 2008 wines that were the product of a more typical growing season in Virginia. I also asked Jim if he planned to join the Viognier bandwagon; though I already knew that the answer would be "no", I did want to hear his opinion on the matter. Of course, the answer did not disappoint; however, Jim did add that while Viognier was not really his passion, he did appreciate its place in the ever-improving (and expanding) Virginia wine industry. In the meantime, look for Jim Law to continue the focus on his excellent Chardonnays; in fact, I took home a bottle of his 2009 Chardonnay!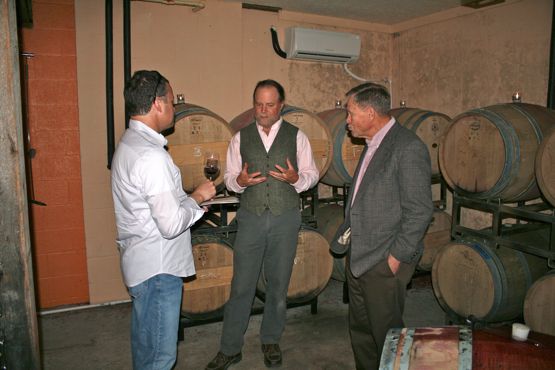 With our tasting done, we did enjoy a glass of the 2010 Avenius Sauvignon Blanc with a baguette while appreciating a lovely spring afternoon on the deck. We watched barn swallows flutter about busily making nests and took in aromas of wisteria. No better way to spend an afternoon. Plan to visit Linden Vineyards or perhaps a visit to L'Auberge Provencale for dinner—it's a B&B too, so maybe plan a weekend getaway for wine and dinner. Be sure to mention that Virginia Wine Time sent you!