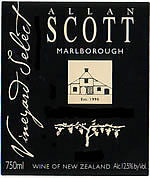 On Saturday evening, Warren and I went to Cafe Deluxe in N.W. Washington, DC for dinner. I had a herb(ed) roasted chicken and mashed potatoes, and Warren had crab cakes. Warren selected a bottle of Allan Scott 2004 Marlborough Sauvignon Blanc. We were both a little surprised when the waiter brought the bottle and it was a twist off top. We know that many Wineries in New Zealand and Australia are using twist off tops but our experience with twist off tops on wines in America hasn't been very good. We were both pleasantly surprised to find that this wine was very good and paired well with our dinner choices. The wine has strong lemon notes and Warren noted grass as well. I did not notice grass hints myself. The winery describes this wine as follows:
A very full bodied wine that contains an abundance of fruit flavours and a spanking acidity. Pineapple, passionfruit and melon like flavours are all present, in addition to a hint of Marlborough herbaceousness. A very lively and approachable wine.
I would say that Warren and I would agree with this description. Try it. You may enjoy it as much as we did.