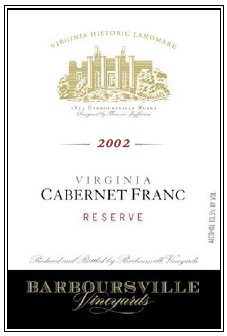 Earlier this evening we had a holiday dinner party with a few friends. Warren created a wonderful dinner and selected some delicious wines with each course.
With appetizers: Gray Ghost Chardonnay—very lightly oaked with lots of apple and pear flavors. Very good sipper that complements light cheeses and fruit.
1st course: Corn Chowder with goat cheese toast paired with the Gray Ghost Reserve Chardonnay. Creamy texture with this Chardonnay; more oak with buttery taste. Lots of fruit despite the heavier oak; longer finish than the first Chardonnay.
2nd course: Wilted Red Cabbage with Shrimp and Spicy Tangerine Dressing paired with Rene Mure Gerwurztraminer (2003). Off Dry wine with tropical fruit characteristics—ginger, pineapple, and spices. Very aromatic wine that hints at sweetness but actually rather dry finish.
Main course: Pork Roulade; Green beans topped with carmelized onions and prunes; Mashed sweet potatoes paired with the Barboursville Reserve Cabernet Franc (2002)—lots of raspberries and plums with hints of pepper and vanilla. Pepper/oak aromas as well. Well rounded wine with a longer finish.
Dessert: Pecan Pie with vanilla ice cream paired with Gray Ghost Adieu (2004)—proclaimed best wine east of California. Smooth dessert wine with apricot and peach flavors. Honey-like texture; always a crowd pleaser and a nice way to end a meal with friends.