Slater Run Vineyards to open to the public!
May 6th & 7th
June 3rd & 4th
July 1st & 2nd
August 5th & 6th
September 2nd & 3rd
October 7th & 8th
12-6 pm
**Tours at 1, 3 & 5 pm
Slater Run Vineyards Winery, 1500 Crenshaw Road, Upperville, VA 20184
Description: The winery is usually closed to the public, but join us this summer on the first weekend of the month from May to October for wine and the beautiful views of wine and hunt country from the patio! The entrance will be well marked at 1500 Crenshaw Road, Upperville.
——————————————————————————————————-
Fall Wine Festival & Sunset Tour at Mount Vernon
The event is October 7th, 8th, and 9th from 6:00 p.m.-9:00 p.m. on the Mansion's piazza. Visitors learn about the successes and failures of our Founding Father's wine endeavors, enjoy live blues music, and meet "George and Martha Washington."
Check out the details on their website.
——————————————————————————————————–
For more information:
Kim Woodwell, Shenandoah Forum
540-333-3681 or kbwoodwell@ShenandoahForum.org
www.ShenandoahForum.org
Vicki Ruckman
703-622-3353 or Vicki@allthingsva.com
www.caveridge.com
Taste of Shenandoah at Cave Ridge Vineyard
Experience the County's Bounty!
Shenandoah Forum and Cave Ridge Vineyard are working together to present the 2016 Taste of Shenandoah. This annual farm-to-table event will give visitors the opportunity to sample fresh local cuisine while enjoying pairings with locally produced libations from Cave Ridge Vineyard, Old Hill Cidery, Swover Creek Farm Brewery and Woodstock Brewhouse.
Situated on a hilltop overlooking the vineyard and mountains, Cave Ridge Vineyard in Mt. Jackson will host the event on Saturday, October 15, 2016 from noon to 4:00 pm. Tickets are $25 and include 15 food and wine/beer/cider pairings. Proceeds will benefit Shenandoah Forum, a local non-profit whose mission includes retaining the agricultural and historic character of Shenandoah County in order to promote a sustainable economy and high quality of life. 
Local vendors include Baker Farms, Country Rhodes Farm, Fairview Oaks Farm, Henry's Hot Sauce, J&L Green Farm, J&W Farm, Mainstreet Farmstead Cheese, Penelope's Café Gallery, Purple Rooster Organics, Shenandoah Spice Co., Swover Creek Farms, Terry the Cookie Man, Wholesome Foods, and Woodbine Farm Market. The local producers will provide deliciously prepared appetizers incorporating their own fruits, vegetables, cheeses, meats, and breads, which will be available for sale.
Live music will feature local musicians Randy Black and Pat from Broadway, Virginia. MidAtlantic Farm Credit is a Sponsor.
Ranking fifth in Virginia's agricultural production, Shenandoah County's farming industry is the backbone of the county's economy and is closely tied to the success of other county economic sectors. The Taste of Shenandoah is an opportunity to raise awareness that a strong local food system is the key to a vibrant and healthier community. The organizers of the event hope to strengthen the local food and farm economy by connecting consumers with local products and producers. 
Visit our Facebook page:  https://www.facebook.com/tasteofshenandoah/ for details and a ticket link.
Vicki Ruckman
Event Coordinator
——————————————————————————————————–
26th Annual Fredericksburg Area Wine Festival
October 8 & 9, 2016
The Village, neighboring Spotsylvania Towne Centre
137 Spotsylvania Towne Centre
Fredericksburg, VA 22407
Across from Arhaus Furniture and adjacent to Books-A-Million, on The Lawn
540 972-2749
office@emstat.net
fredericksburgwine.com
facebook.com/fredericksburgwinefest
——————————————————————————————————–
DeVault Family Vineyards is hosting a DIVA Night on Friday, April 22, 2016 in our Tasting Room at 247 Station Lane Concord, VA 24538 from 6:30pm-9:30pm. We will have a live band performing and there will be wine tasting and wine purchases available. Vendors will be set up to give massages, do nails, sell merchandise, and anything else to help "pamper" you! It is a fun time and is back by popular demand! $5 cover charge for the band at the door. Come unwind after a hard day, you deserve it! Remember it is for Ladies Only!
DeVault Family Vineyards, 247 Station Lane Concord, VA 24538, is hosting our 6th Annual Watermelon Festival from 3pm-11pm. There will be watermelon-related games and contests including the ever-popular "watermelon chuckin' and seed spittin'" contest! Great fun for the entire family! Plenty of food, wine for tasting and purchasing from various wineries, and craft vendors! Music will be performed by Grammy & CMA award recipient/nominee, James Otto, who has written or performed many popular songs over the past few years! James has been named Singer/Songwriter of the Year as well as having Song of the Year! This will be a fantastic show and if all goes well, it will be followed by our very own fireworks display! Come out and enjoy yourselves at the 6th Annual Watermelon Festival, ya hear!
———————————————————————————————————-
The Appomattox County Historical Society is hosting our 7th Annual Clover Hill Village Wine Festival on Saturday, August 20, 2016 from 2pm-8pm at Clover Hill Village 5747 River Ridge Road Appomattox, VA 24522. We will have 10 wineries, 25 craft vendors and 3 food vendors on hand along with plenty of activities for the entire family. A live band will perform during the event. This event gets bigger and better every year! It is the biggest wine festival in Appomattox County! Come out and spend the day with us and taste the offerings of our featured wineries from the local area. Ticket prices are $15 in advance, $20 @Gate for 21+. Non-Drinkers and those 12+ are $10 @Gate. Kids under 12 are $5 @Gate. Ticket sales info will be posted on our Clover Hill Village Annual Wine Festival Facebook page as it becomes available.
———————————————————————————————————–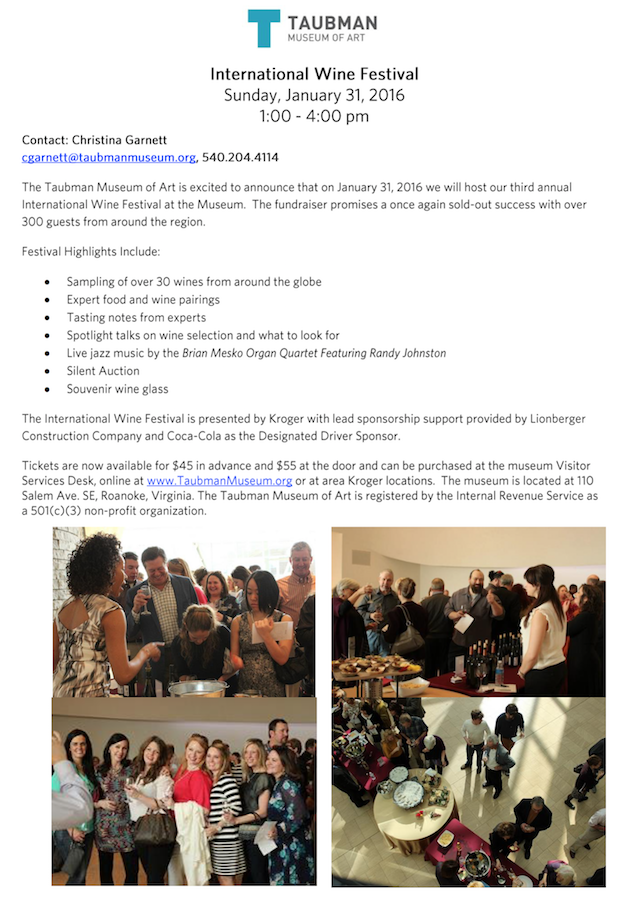 ———————————————————————————————————–
Our 6th Annual Fall Family Fun Festival will be held October 3, 2015, and will feature a Haunted Trail, bounce house, indoor pool, pumpkin related activities and contests, Wine, Beer, Vendors, and Food! Music will be performed by "Nate Kenyon" (America's Got Talent Finalist) and Virginia's very own, "The Worx".
21 & over-$15; Age 14-20 & DD -$10; Ages 4-13 -$5; Age 4 & under- FREE
For more information please visit our
Event Page https://www.facebook.com/devault.vineyards?fref=ts
Ticket Page
http://www.eventbrite.com/e/6th-annual-fall-family-fun-festival-tickets-18463464720?aff=es2
We are also hosting a Bridal Expo on September 27, 2015. Come see what we have to offer as well as our what our vendors are offering.
Vendors are needed for both events. Please contact us if you are interested. Fall Fest $25 a spot, $12 for informational booths. $25 for electric. Bridal Expo $30 a spot & $15 for an extra spot. $25 for electric.
Sharon DeVault
247 Station Lane
Concord, VA 24538
434-993-0722
DeVaultVineyards@hotmail.com
———————————————————————————————————-
40th annual Virginia Wine Festival
Saturday and Sunday, September 12 & 13, 2015
Great Meadow Event Center, The Plains, Va.
Join us on September 12 & 13, 2015, for the 40th annual Virginia Wine Festival! The 40th Virginia Wine Festival is the Commonwealth's original celebration of Virginia Wine, showcasing more than 30 of the state's premier wineries on the pristine grounds of the Great Meadow Event Center at The Plains, Virginia.
The Virginia Wine Festival is the foundation stone of the wine festival season, and moreover of the Virginia Wine Industry itself. The Virginia Wine Festival offers a unique array of both free and ticketed tasting and learning opportunities. Visit the Seminar Tent to broaden your knowledge and understanding of wine and wine culture, or make a grand day of it with a ticket to our gourmet Wine and Food Pairing Tent. Shorten your wait and enhance your experience with a ticket into the You Be the Judge Tasting Tent.
More info: http://www.virginiawinefest.com/
Tickets: http://www.virginiawinefest.com/tickets/
FAQ: http://www.virginiawinefest.com/faq/
Wineries: http://www.virginiawinefest.com/wineries/
Vendors: http://www.virginiawinefest.com/vendors/
———————————————————————————————————-
The Taste of Shenandoah!
Saturday, October 17, 2015
12:00pm 4:00pm
The Taste of Shenandoah is a Local Farm-to-Table Food, Wine, Beer, and Cider Event!
Saturday, October 17th from 12-4pm!
Tickets are $25 and include all food and drink pairings with vendors. Proceeds support the work of the Shenandoah Forum.
There will also be Live Music featuring The Randy Black Duo!
Purchase tickets HERE!
———————————————————————————————————-
On Sun., Sept. 13, Habitat for Humanity of Northern Virginia (Habitat NOVA) will be celebrating its 25th anniversary with "Red White and Home," an event at The Winery at Bull Run in Centreville, VA. This festive and family-friendly afternoon will feature wine, food, games, music and a Kendra Scott Jewelry trunk show. Ticket proceeds will support Habitat NOVA's mission to provide affordable homeownership opportunities to local families in need, and Kendra Scott Jewelry will donate 20 percent of its proceeds during the event to Habitat NOVA.
When: Sunday, September 13, 2015, from 1 p.m. – 5 p.m.
Where: The Winery at Bull Run, 15950 Lee Highway, Centreville, VA 20120
Prices: Adults (21 & Up): $50; Under 21: $25; Free for kids 12 and under
Buy tickets at: https://www.eventbrite.com/e/red-white-home-a-25th-anniversary-celebration-tickets-17359870841
__________________________________________________________________________________________________________
25th Annual Fredericksburg Area Wine Festival
October 3 & 4, 2015
Celebrate VA
2150 Gordon Shelton
Fredericksburg, VA 22401
540.972.2749
Email Donna (office@emstat.net)

http://www.facebook.com/fredericksburgwinefest
The theme for this event is Silver and Bling!
Everyone is invited.
VIP seating is available. Vendor and partner applications are still be accepted.
——————————————————————————–
Taste of Monticello Wine Trail Festival
April 9-11 | Charlottesville, VA
Three days of celebrating the best of Central Virginia Wines
Tickets on sale now!
CHARLOTTESVILLE, Va. — The 2015 Taste of Monticello Wine Trail Festival presented by Mercedes Benz of Charlottesville will take place April 9-11, celebrating the best of Central Virginia wines over the course of three days. Tickets are on sale now and available at monticellowinetrailfestival.com and the Charlottesville's Visitor Center on the downtown mall.
The Monticello Wine Trail Festival is a partnership between the Jeffersonian Wine Grape Growers Society, nTelos Wireless Pavilion and the Jefferson Theater. In addition to our presenting sponsor, Mercedes-Benz of Charlottesville other key sponsors and event partners include Bank of the James and Keller & George jewelers. The Monticello Wine Trail is a not-for-profit organization that exists to promote and encourage cooperation among the various award-winning Central Virginia wineries, which have helped the state's ranking as the 5th largest wine producer in the nation. The festival has grown into a 3-day event with various wine-focused programming.
"The Monticello Wine Trail Festival is a great recognition of Central Virginia wines, and we look forward to another year of celebrating all they have to offer within the local community and the region as a whole," says Monticello Wine Trail President Jake Busching.
The festival's Monticello Cup Awards keynote speaker will be Washington Post wine columnist Dave McIntyre, named by Meininger's Wine Business International and Worth magazine as one of the most influential U.S. wine writers. He continues to write for Dave McIntyre's WineLine and is co-founder of Drink Local Wine, an organization and website that highlights writing about wines from "The Other 47" states. Among other publications, McIntyre has written for Wine Enthusiast and Sommelier Journal, and has been honored by The Atlantic Seaboard Wine Association with its two highest awards for his contribution to wine appreciation.
The Monticello Wine Trail Festival will feature more than 25 participating regional wineries and vineyards, including: Afton Mountain Vineyards, Barboursville Vineyards, Blenheim Vineyards, Cardinal Point Vineyard & Winery, Chestnut Oak Vineyard, Delfosse Vineyards and Winery, Democracy Vineyards, Early Mountain Vineyards, First Colony Winery, Flying Fox Vineyard, Gabriele Rausse Winery, Glass House Winery, Grace Estate Winery, Jefferson Vineyards, Keswick Vineyards, Kilaurwen Winery, King Family Vineyards, Loving Cup Vineyard and Winery, Pippin Hill Farm & Vineyards, Reynard Florence Vineyard, Stinson Vineyards, Stone Mountain Vineyards, Trump Winery, and Veritas Vineyard & Winery.
The 2015 schedule of events is as follows:
Thursday, April 9: Monticello Cup Awards at the Jefferson Theater
A casual event for wine enthusiasts, focused on the competition for the prestigious Monticello Cup awarded to the best wines of the region.
Tickets: $65
Time: 6-10 p.m.
Friday, April 10:
Individual wineries will host a variety of activities during the day followed by a series of winemaker dinners at some of Charlottesville's best restaurants that evening. Visit monticellowinetrailfestival.com for the latest updated calendar.
Saturday, April 11:
Tasting event at nTelos Wireless Pavilion featuring 25 local wineries and live entertainment. An exclusive VIP ticket is available and offers catered food and an opportunity for sampling exclusive wines from each winery.
Time: 1-5 p.m. (VIP ticket holders gain early entry at Noon).
For more information on the Monticello Wine Trail Festival, visit monticellowinetrailfestival.com, and follow on Facebook and Twitter at @TasteMonticello.
——————————————————————————————————–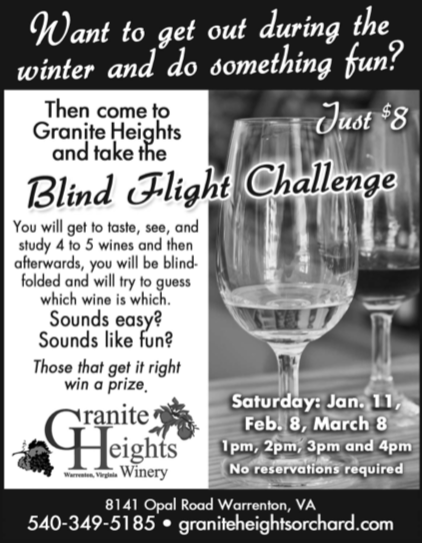 ———————————————————————————————————
Marriott Ranch & The Inn at Fairfield Farm Present
10th Annual Winter Winemaker's Series
Please join us for an evening of fine dining and wine tasting. Experience the taste of Virginia's Blue Ridge through a specially prepared five-course gourmet dinner paired with fine Virginia wines and authentic regional cuisine hosted by our own Executive Chef and our award winning neighboring wineries.
Dinners start at 7PM sharp and are $109 per person, + tax (gratuity included)
Schedule of Events:
Saturday, January 18– Rappahannock Cellars
Saturday, March 1 – Linden Vineyards
Saturday, March 22 -Gray Ghost Winery
Saturday, April 5 – Desert Rose Winery
Book a table of ten for the dinner and the 10th guest is free
For reservations, please call 540-364-2627 or email mkerns@marriottranch.com
We look forward to having you as our guest!
Marriott Ranch
5305 Marriott Lane
Hume, VA.
22639
540-364-2627
www.marriottranch.com
———————————————————————————————————————————-
Let Us Celebrate the Holidays with you at
The Ritz-Carlton, Tysons Corner
Thanksgiving Day Brunch
Thursday, November 28, 2013; Seatings from 10:30am to 3:00pm
$120 per adult, $40 per child, ages four to twelve, exclusive of tax & gratuity
Celebrate with a special Thanksgiving Day Brunch, featuring all the traditional Thanksgiving fixings and festive selections of brunch favorites. Musical entertainment and special activities for our youngest brunch guests will delight the entire family.
Annual Gingerbread House Opening
Friday, November 29 at 2:00pm
Kick-off the holidays with The Ritz-Carlton, Tysons Corner, as the life-sized Gingerbread House is unveiled for guests and the community to enjoy. Located on the lobby level of the hotel, the culinary work of art is large enough for guests to walk around inside and explore the sugary construction created by our talented Pastry Team. Opening day festivities will include holiday confections, hot spiced cider and hot cocoa.
Gingerbread House Decorating Classes
Saturday, December 7, 14 & 21, Sundays 8, 15 & 22, 2013; Seatings at 10:00am & 1:00pm
$70 per child, ages 2 to 12, inclusive of tax and gratuity (no charge for kids under 2 years old)
After exploring our life-size gingerbread house, learn to make your own sugary home at a Gingerbread House Decorating Class, taught by The Ritz-Carlton, Tysons Corner's pastry chefs. The class includes all the ingredients to construct a beautiful gingerbread house as well as a special souvenir.
The Nutcracker Tea
Saturdays, December 7, 14 & 21, 2013; Seatings at 10:00am & 1:00pm
$75 per person, inclusive of tax and gratuity
Escape into the magical world of The Nutcracker ballet, complemented by afternoon tea and treats. Students of the South Riding Dance Company will delight your eyes with a contemporary twist on the beloved holiday classic, while the Pastry Team will tantalize your taste buds with an extraordinary selection of tea sandwiches, pastries and sweets. All children will leave with a Nutcracker doll. Pictures will be taken with the featured artists and emailed at the conclusion of the tea.
The Princess Tea
Sundays, December 8, 15 & 22, 2013; Seatings at 11:00am & 2:00pm
$75 per person, inclusive of tax and gratuity (no charge for kids under 2 years old)
Delight your young princesses with a magical theatrical production, featuring treasured Disney Princesses complemented by treats, courtesy of our pastry team. All children will leave with a holiday gift bag. Pictures will be taken with the featured Princesses and emailed at the conclusion of the tea.
Christmas Day Brunch at Entyse Bistro
Wednesday, December 25, 2013; Seatings from 10:30am to 3:00pm
$120 per adult, $40 for children under 12 years old, exclusive of tax and gratuity
Celebrate the holiday with an elaborate holiday brunch in our Entyse Bistro. Enjoy live musical entertainment and special activities, including face painting and a balloon artist for our youngest guests.
New Year's Eve Dinner at Entyse Bistro
Tuesday, December 31, 2013; Seatings from 5:30pm to 10:30pm
$135 per person, exclusive of tax and gratuity
Ring in the New Year with a four-course tasting menu, champagne toast and live music from a three-piece band. Rick Whitehead on guitar featuring Eric Wheeler on bass and Michael "Mo" Morrison on drums.
New Year's Eve at Entyse Wine Bar & Lounge
Tuesday, December 31, 2013; Raw Bar available from 6:00pm to 10:00pm
$75 per person food and beverage minimum after 9:00pm, exclusive of tax and gratuity
Celebrate the New Year with live musical entertainment provided by the Christopher Linman Jazz Ensemble and culinary delights in the Entyse Wine Bar & Lounge. As the clock strikes midnight, welcome 2014 with a complimentary champagne toast.
For holiday event reservations, please call (703) 917-5498
***Reservations are required for all holiday events and early reservations are strongly recommended. All prices are exclusive of and gratuity unless otherwise noted. Events are based on availability and are subject to change. Reservations must be guaranteed with a credit card.
New Year's Eve Overnight Accommodations starting at $209.00*
The Deluxe New Year's Eve Package starting at $329.00*
• Overnight accommodations in a deluxe guest room
• Full American Breakfast for two in Entyse Bistro
• Bottle of sparkling wine and fruit amenity
• Overnight valet parking
For room reservations, please call (800) 826-1895 or visit www.ritzcarlton.com/tysons
* Offers valid through January 1, 2014, subject to availability. Rate is per room/per night, based on single or double occupancy, exclusive of taxes, gratuities, fees and other charges; does not apply to groups; advance reservations are required
1700 Tysons Boulevard ● McLean, Virginia 22102 ● USA
TEL 703-506-4300 ● www.ritzcarlton.com/tysons