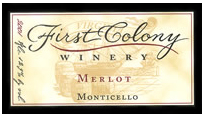 This evening we enjoyed the 2002 First Colony Merlot. We visited First Colony in September 2005 and saved this wine for a special evening. We had this merlot with some chocolates and nibbles appropriate for merlot.
Strong cherry aromas greet the nose; big cherry flavors fill the mouth with hints of chocolate and vanilla at the end. This merlot craves chocolates! It lingers in the mouth to provide a longer finish. Some tobacco/leather appears at the end. The tannis are fairly soft and accessible to the mouth; this merlot would be fine with food such as steak yet elegant and easy enough to sip on its own.
This weekend we are headed off to Charlottesville to attend the Mardi Gras event at Horton Cellars Winery. We will also visit Oakencroft Winery and Vinyard and Barboursville Vineyard. We will provide tasting notes on our upcoming wine experiences at Horton, Oakencroft, and Barboursville.