Today we went to Windham Winery for lunch. We hadn't visited Windham since last summer and wanted to see if they had released any of their reds. We did a tasting and enjoyed all of their selections. The 2004 Merlot won't be released officially until March 2006 but the woman working the tasting bar offered us a taste. I thoroughly enjoyed it but it was obvious it needs to lay down for a few more months. We went ahead and bought a bottle and will enjoy it next spring.
We took some leftovers from Friday's holiday dinner party and selected Windham's 2003 Cabernet Franc to enjoy with our meal. We were pleasantly surprised at how well it went with our meal. We sat out on their deck, which the had enclosed for the winter months, and enjoyed our meal and the wine.
After our lunch and purchases, we walked around the property and took photos of the landscape. Below you can see Warren resting on a picnic table bench.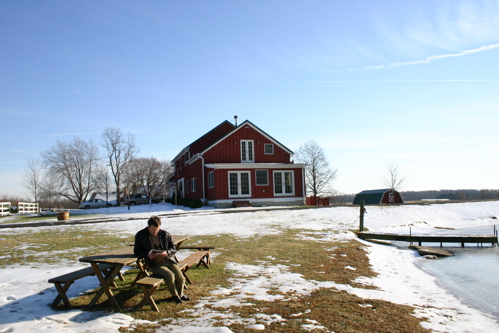 After our visit to Windham Winery we decided to stop by Village Winery. This is a very new winery. They have only been open a few months. We visited them on their opening weekend and things were really rough. This visit things were a bit more polished. Luckily we ended up being the only people visiting the winery. This made it possible for us to have a special private barrel tasting with the owner/winemaker. He was very nice and let us go on and on about wines and winemaking. We were able to taste a 3 month old cabernet franc. It smelled awful and the taste was just as bad. But you could tell that in about a year this will be a very nice wine. We really enjoyed our visit and felt lucky to be able to taste the cabernet franc so soon in the barrel.