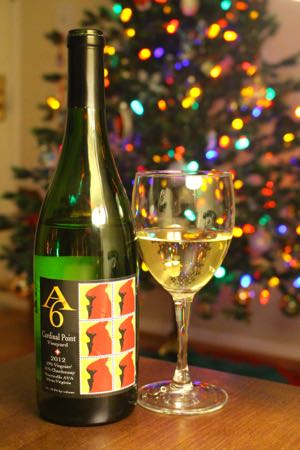 One of our traditions at this time of the year is to spend a Friday evening decorating my Christmas tree. We plan to have ham, yams, and cranberry sauce. And the wine we try to have every year is the A6 from Cardinal Point Vineyard.
The A6 is a blend of viognier and chardonnay…two of our favorite grapes. The Viognier spends time in oak and the Chardonnay is stainless steel aged. This blend creates rich fruit at the beginning and a long, crisp finish. It paired well with our ham dinner. Unfortunately this was my last bottle. We'll have to plan a trip to Cardinal Point to pick up a few more bottles. This isn't a problem though. We always enjoy visiting Cardinal Point and getting to visit with Sarah Gorman.
Do you have a tradition of wine and tree decorating? What wine do you enjoy while decorating your tree? If you haven't tried the A6 recently, we recommend you pick up a bottle or two and enjoy it at this time of the year. And if you visit Cardinal Point, be sure to tell them Virginia Wine Time sent you!