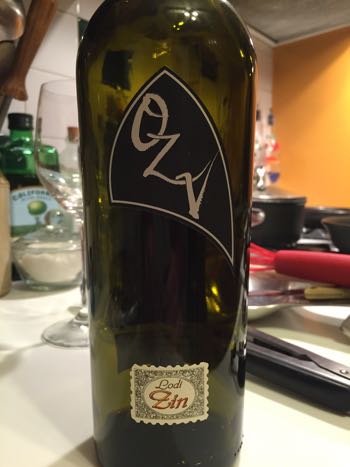 Well, not quite. We recently savored a bottle of Oak Ridge Winery's 2012 OZV (Old Zinfandel Vines) with a hearty beef dish topped with sautéed mushrooms and served beside herb-roasted potatoes. This sort of dish was just what the doctor ordered on a chilly night, and we decided to go outside of our Virginia wine comfort zone to try something new. Wait—we actually tried something old. Oak Ridge Winery is located in the Lodi region of California, and the old zinfandel vines that crafted this wine were over 50 years old. Like old people, old vines do struggle a bit more to get by; older vines also tend to produce smaller, more delicate clusters. However, despite their age, old vine wines still have much to offer. With this in mind, we opened the 2012 OZV an hour before dinner to give the old timer a chance to breathe for a spell. The 2012 OZV proved to us that old timers still rock! (To a couple of 50-somethings, it was quite inspiring!)
So on to the wine. We appreciated its dense color and notes of dark cherry, all spice, and vanilla. Flavors of brambleberries dipped in chocolate and fall spices filled the mouth and complemented the herbed dishes quite well. The finish was quite lengthy to boot. Braised dishes should also pair well with the Oak Ridge 2012 OZV; however, I would not relegate this oldie but goodie to winter menus. I'd serve this with any grilled meats topped with barbeque sauce on a warm summer's day. Old yet charming and quite versatile, we enjoyed the Oak Ridge Winery 2012 OZV.
Ask for Oak Ridge Winery's 2012 OZV at your local wine shop. Of course, this should be in addition to a purchase of your favorite Virginia wine. Just mention that Virginia Wine Time sent you!