We are saddened by the news that Juanita Swedenburg, founding member of the Vinifera Wine Growers Association, from Swedenburg Estate Vineyard passed away early Saturday morning at the age of 82.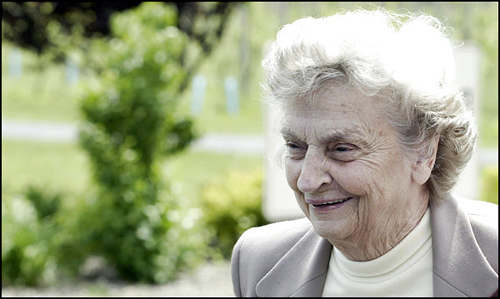 Photo Credit: By Rich Lipski — The Washington Post
A memorial service in the vineyard, "Celebrating Juanita Swedenburg's Life," will be held on Wednesday, June 20th, from 4:00 to 7:00 p.m., 2007, at the Swedenburg Estate Vineyard, 23595 Winery Lane, Middleburg, Virginia 20117.
In lieu of flowers, the family will establish a Juanita Swedenburg Memorial Viticultural and Enological Educational Fund for the annual awarding of a grant to help promote the sustainable growth of the Virginia wine industry. Contributions can be made to J.S. Memorial Educational Fund c/o VWGA, P. O. Box 10045, Alexandria, Virginia 22310. The VWGA will contribute $1,000 to begin the fund.
Information provided by Gordon Murchie and John Witherspoon. The Washington Post obituary can be found here.