This past weekend, Virginia Wine Time photographer Paul Armstrong, unveiled his first art show at Woodland Vineyard Farm Winery. Paul was invited to show his work by John and Megan Witherspoon who are part of the family team that operates Woodland Winery. (In fact, Megan is an outstanding artist herself.) Of course, wine tasting was on the agenda, and John commandeered the tasting bar to give us all a sampling of Woodland Winery's current offerings.
The focus of our visit was art, and Paul brought along fourteen photographs from his extensive portfolio to present in the Woodland Winery tasting room. Paul is an avid photographer, and those who know Paul also know that his camera is always around his neck. He likes to capture the ordinary—old barns, chimney tops, leafless trees,—to create extraordinary art. Paul claims that he is fascinated by shapes; in fact, his exhibit is entitled, "Shapes Through the Lens." The art is available for viewing and purchase at the winery until July 13, 2008. (A sneak preview of the exhibit can be seen here.) Paul is very humble, but I know that he was excited to plan the display with Megan, and he was quite proud of the work presented!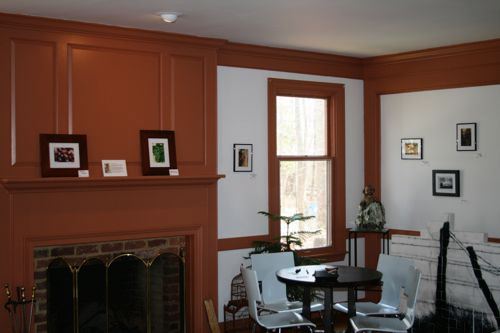 So what did I do while the artists were at work? I carefully yet skillfully jotted the names of each piece on small placards that were then taped next to the appropriate photograph. Yes, these placards are indeed art pieces that exemplify the underground movement known as Penmanship Art. While these placards may be viewed at the winery, they are not available for purchase—they are simply too priceless.
With the exhibit now on display, it was time to taste some wine, and John gladly obliged us all with a tasting. Also, Megan's Mom and Woodland winemaker, Melissa, was on hand to chat about Woodland wines. Of the white wines, my personal fave was the 2006 Reserve Chardonnay. Ripe apple notes and flavors were obvious with a buttery texture and toasty finish; for those who prefer a fuller-bodied white wine, the 2006 Reserve Chardonnay should fit the bill. I do appreciate bolder white wines and would gladly sip this one on its own, but lobster with cream sauce or a lobster bisque would pair nicely with this Chardonnay. Paul favored the crisp 2006 Stainless Steel Chardonnay.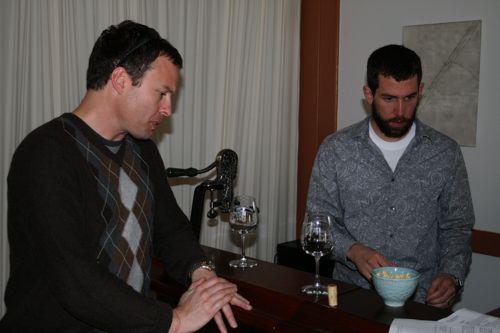 John moved us onto the red wines, and it did not take Paul more than one sip to gold-star the 2006 Merlot. This release is blended with a small amount of Cabernet Sauvignon to provide structure and complexity. It also retains the bold cherry characteristics noted in the 2005 vintage. Melissa treated us to a sneak preview of the upcoming 2006 Cabernet Franc, and what a treat! Heady berry and cedar/woodsy bouquet promised dark berry and spice in the mouth. This one earned my gold star, and I look forward to this upcoming Woodland Release.
With our tasting completed, John obliged us all with a glass of the Cabernet Franc, and we took yet another look at Paul's art to decide which piece was our personal favorites. Megan favored Red Barnand Table Grapes. Fingers to Heaven topped my list, but no one seemed to notice my Penmanship Art. We then enjoyed another gladss of the Cabernet Franc on the porch and chatted about wine.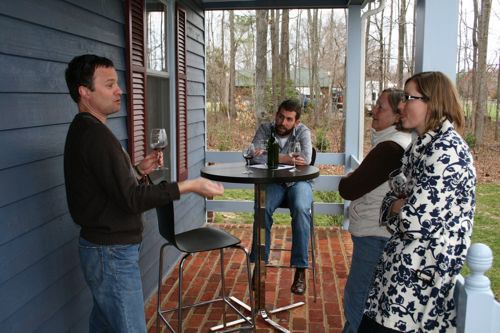 Time seemed to fly as we chatted about art and wine. With one last look at the exhibit, we bid our farewells to Woodland. We were very grateful to John and Megan for putting us up for the night at their lovely home—John's blueberry pancakes are 5-star delights!! Please be sure to visit Woodland to view Paul's art exhibit and to taste Woodland's current offerings. Be sure to mention that Virginia Wine Time sent you.