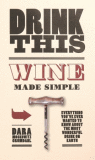 Wine, of course! Actually, I'm referring to Drink This: Wine Made Simple by Dara Moskowitz Grumdahl. Grumdahl's purpose for writing Drink This is to bring the potentially bewildering (and pretentious) experience of wine tasting to a very basic level. Written for both the novice oenophile and the experienced sommelier and everyone else in between, Drink This offers wine tasting and pairing tips, debunks myths and mistakes about wine, and presents easy-to-understand facts about wine regions and varietals. Wondering what kind of wine to bring to a dinner party? Want to splurge on bubbly for a special event but your wallet has the recession flu? Drink This offers practical advice for these circumstances and many others. Grumdahl's wise words for the budget weary allow the consumer to buy quality wines at value prices; at the same time, she offers savvy selections that present creative alternatives to California Chardonnay or French Champagnes.
I also appreciate Grumdahl's no-nonsense approach to the wine experience. Her clever style and straight-forward approach disarms the wine snob and puts the beginner at ease. So you like Merlot? So does Grumdahl! No Sideways poseurs allowed in her book; however, if Merlot is not your thing, Grumdahl has a suggestion for you. Don't know the difference between Bordeaux, Burgundy or any other wine region? Dara is glad you asked. Structured in a concise, clearly organized yet complete fashion, your questions are answered.
With the holiday season upon us, consider giving Dara Moskowitz Grumdahl's Drink This: Wine Made Simple as a gift for that favorite wine collector or budding aficionado on your list. Should anyone wonder where you heard of this excellent wine source, mention that you read about it on Virginia Wine Time.