Wine bars are the rage right now, and one of my favorite wine bars is Eno located in Georgetown. Eno boasts a very eclectic wine list that also includes local wines, and last Wednesday, the bar hosted a wine tasting for Old Westminster located in Westminster, Maryland. We've written about Old Westminster's excellent wines in the past, so I was excited to attend the tasting at a favorite wine bar.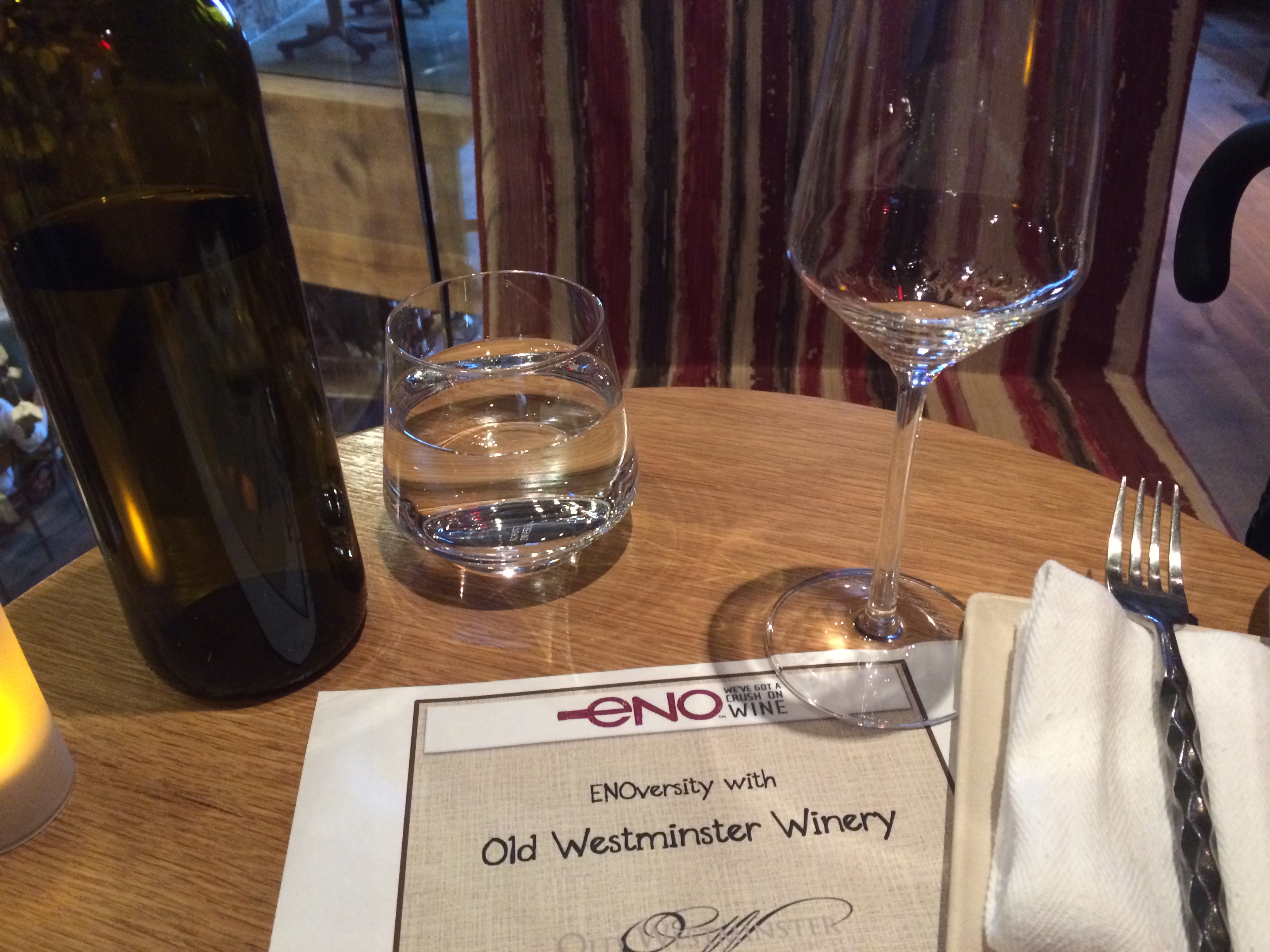 Drew Baker was on hand to pour three Old Westminster wines, and these included the 2013 Albarino, the NV Tapestry, and the 2013 Crushed. I became an immediate fan of the 2013 Albarino that took a gold medal in the Maryland Governor's Cup competition. Citrus and melon notes and a refreshing acidity gave way to a more complex, creamier finish due to lees contact for six months. Albarino is a varietal that seems to do well in local vineyards, and Drew shared with me that Old Westminster has planted more of the grape on its estate. He cited its winter hardiness as a key factor for its success in the area's vineyards. The Old Westminster 2013 Albarino is destined to please during the hot summer months especially if shellfish is to be enjoyed at the dinner table.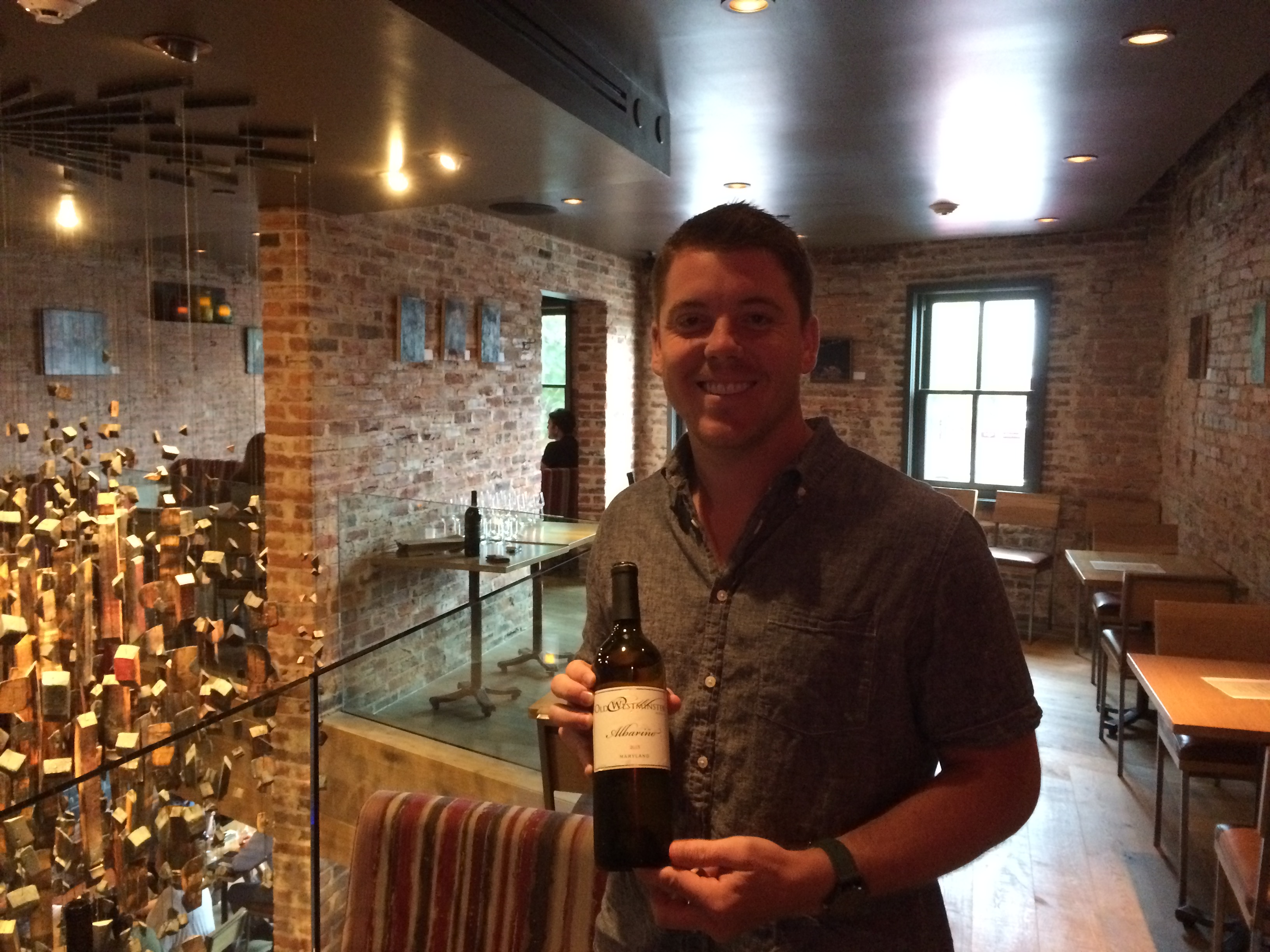 The non-vintage Tapestry is actually a blend of red grapes from several vineyards and vintages, and it features Syrah as part of the mix. It presented black fruit aromas along with a tobacco note; Merlot added a brighter cherry note to the palate. I'd pair this one with barbeque fare. In fact, I enjoyed it with the mushroom bruchetta that I ordered from the Eno menu.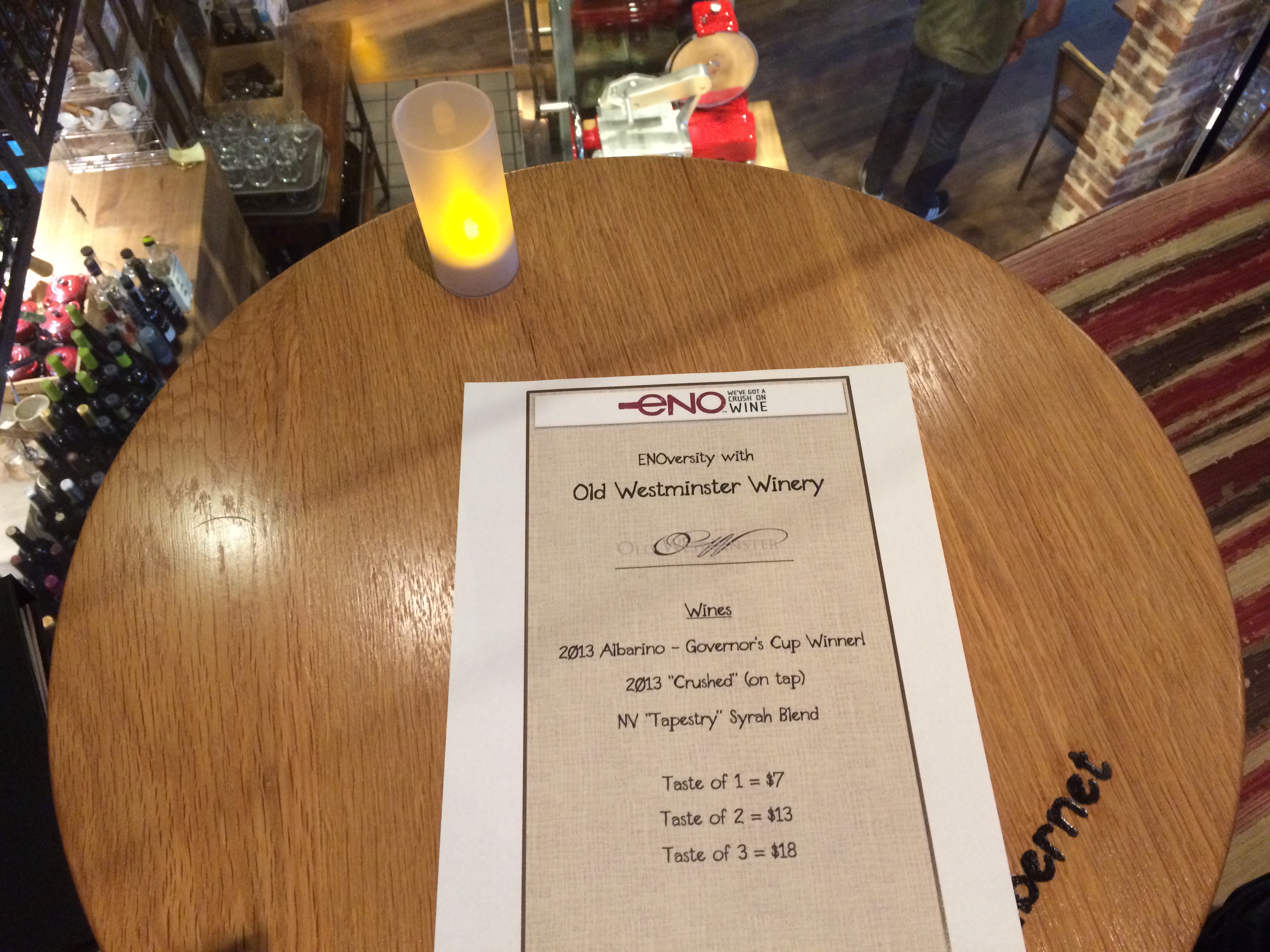 The third wine poured was also my favorite, and it was the 2013 Crushed created from a blend that includes the Bordeaux varietals with Cabernet Franc and Merlot taking on the star roles. A whiff of cedar as followed by aromas of blackberry, currants and licorice; accessible tannins and a generous length supported a very juicy entry. Grilled steaks with mushrooms should shine with this one. The 2013 Crushed is also poured at Eno, so consider a glass with a charcuterie and cheeses. It was my wine of choice with a margherita flatbread served from the Eno kitchen.
Plan a visit to Eno during the summer to enjoy a favorite wine; I suggest trying any of the wines from Old Westminster. Going on the Maryland wine trail this summer? Plan a stop at Old Westminster, and mention to Drew Baker that Virginia Wine Time sent you.