Paul and I have not posted lately because we've been preoccupied with a very special event—our wedding! Yes, we got married on February 20 and then hosted a celebration dinner on February 21 at Chef Geoff's restaurant in DC. And yes, Virginia wines helped to make the event very memorable.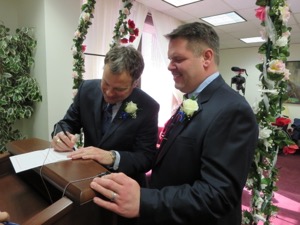 We were officially married at the DC Courthouse on February 20 at 11:30 AM. Our good friends, Jill and Michael Dail as well as family members that included my parents, sister, brother-in-law, nephew and Paul's mom joined us to witness the brief ceremony. The Dails then treated us all to a spectacular lunch at Black Salt restaurant.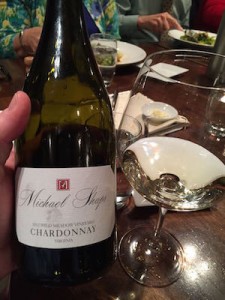 A round of bubbles paired nicely with fresh oysters from both the New York and Rappahannock beds; seafood entrees that included crab cakes and pasta topped with ahi tuna proved to be perfect matches with the Michael Shaps Wild Meadow Vineyard Chardonnay 2010.
The celebration dinner was held on the next day, and Mother Nature threw a day's worth of snow, ice, and freezing temperatures our way. However, we were not deterred, and family and friends gathered at Chef Geoff's restaurant that evening. Dinner options included crab cakes, hanger steak, and pasta tossed with a walnut pesto.


Barboursville's Viognier Reserve 2012 and Cabernet Franc Reserve 2012 were poured for our guests. We all had a wonderful time in spite of the wintry mix falling outdoors; in fact, the evening seemed to fly by all too quickly. Before we knew it, Paul and I were cutting the wedding cake and bidding adieu to guests who made us feel very special.
Virginia wines have always played a special role in our relationship, and we were very excited to be able to enjoy these special wines during our very special weekend. Hosting a special occasion at a favorite venue? Ask the events planner to serve Virginia wine, and mention that Virginia Wine Time made the suggestion.