So the day before the 6th Annual Sparkling Tasting, bloggers, writers, and other wine industry folks were invited to a lunch, wine tasting, and dinner at Williamsburg Winery. The event allowed winemaker Matthew Meyer to showcase his excellent winemaking talents; however, chef Ika Zaken's superb skills in the kitchen allowed for Meyer's wines to shine even more brightly.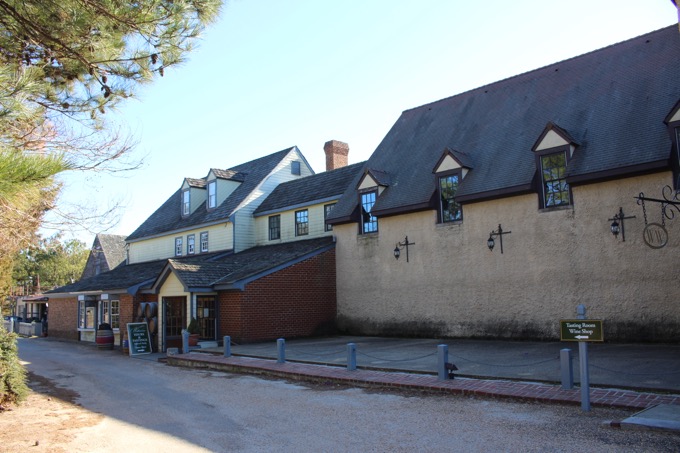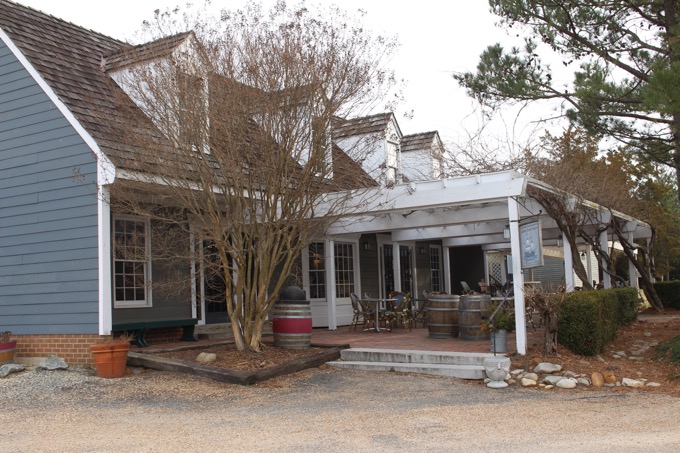 The food and wine event began with lunch at the Gabriel Archer Tavern located across from the Williamsburg tasting room. Winemaker Matthew Meyer treated guests to a glass of Thibaut-Jannison sparkling wine as we all mingled. The lunch began with a BLT accented with guacamole and served with the 2011 Acte Chardonnay; ripe pear and mineral notes gave way to a rich mouth feel that matched well with the smoky bacon and creamy avocado. The next course featured a favorite concoction that chef Ika Zaken learned while in the army, and it can only be described as a stewed tomato dish topped with a poached egg and served with fresh herbs. It was a hit when paired with the 2007 Gabriel Archer Reserve with its smoky notes and aromas of dried fruit and cedar. I also caught a whiff of licorice. Lunch ended with a medley of cheeses served with the 4 Barrel Cuvee, a blend of Merlot, Malbec, Petit Verdot, and Cabernet Franc. (This cuvee is offered to club members—perhaps an incentive to join!)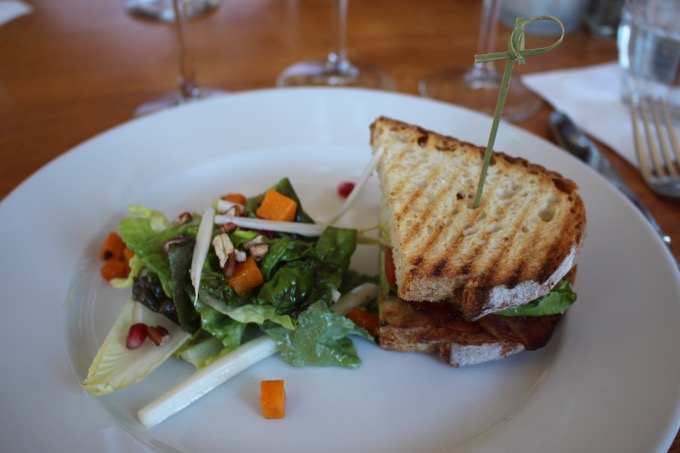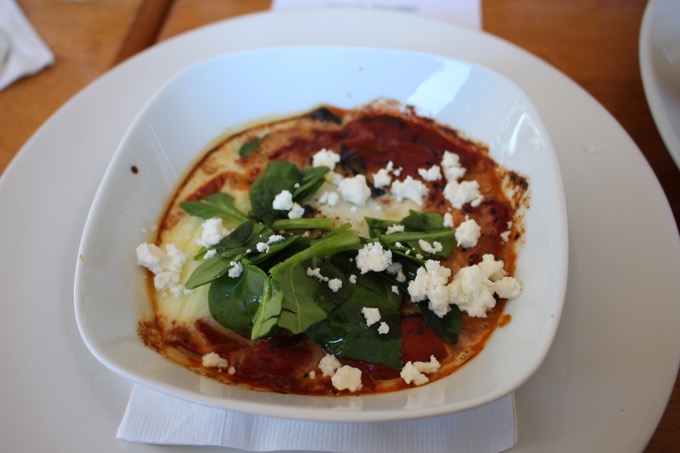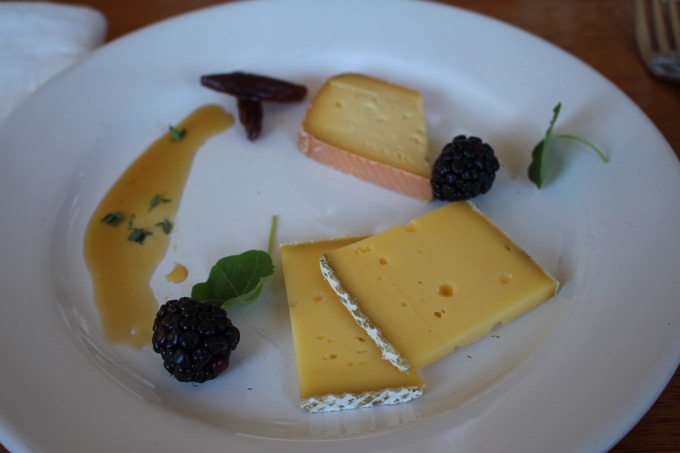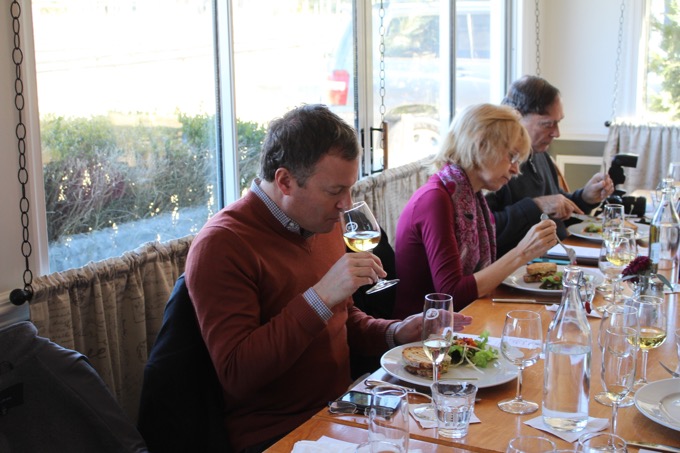 As we sipped and noshed, Matthew Meyer fielded questions from guests and provided the best quote of the afternoon when asked to compare Virginia wines and Williamsburg wines in particular to other wines regions. He replied, "Virginia can bridge both old world and new world." Meyer forecasted a bright future for Petit Verdot and held high hopes for Tannat.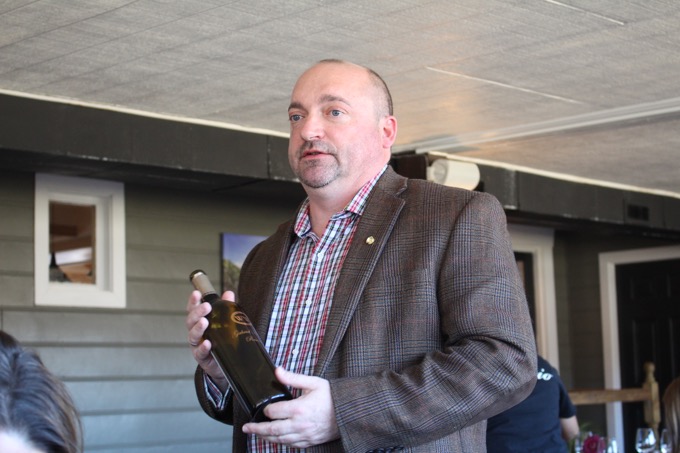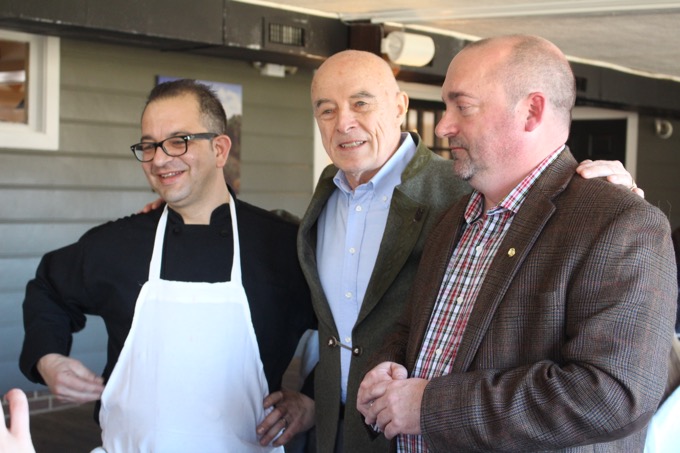 After lunch, guests were lead through the barrel room to a private tasting room where we sampled Williamsburg's premier wines. These included the Viognier 2013, Traminette 2013, Malbec 2012, Petit Verdot 2012, Trianon 2010, and the Governor's Cup Winner and flagship wine, the Adagio 2010. So which ones were my preferences? It was tough to beat the 2013 Viogner with its rich floral aromas, stone fruit notes, and tropical fruit flavors topped with a coconut finish. Its full mouth feel makes for a food friendly wine, too. Of the red wines, these were all very good; however, the top two for both Paul and me were the 2010 Trianon and the 2010 Adagio. The 2010 Trianon is comprised of mostly Cabernet Franc (78%) with Merlot (12%) and Petit Verdot (10%) serving as sidekicks. Lots of juicy seed berries were noted on the nose and palate along with aromas of tobacco and dried herbs. I noted a caramel kiss at the finish. (History buffs may know that Trianon was the retreat frequented by the ill-fated queen of France, Marie Antoinette; it was also the site of one of the settlements that ended the First World War.) The 2010 Adagio was by far the most complex of the red wines that we tasted. It was still quite tight, but lots of swirling coaxed elements of dark plum and black cherries to emerge along with more evident notes of sandalwood and cedar. This is certainly an age-worthy wine, and it must be noted that has been one of the few Virginia wines to be poured in London.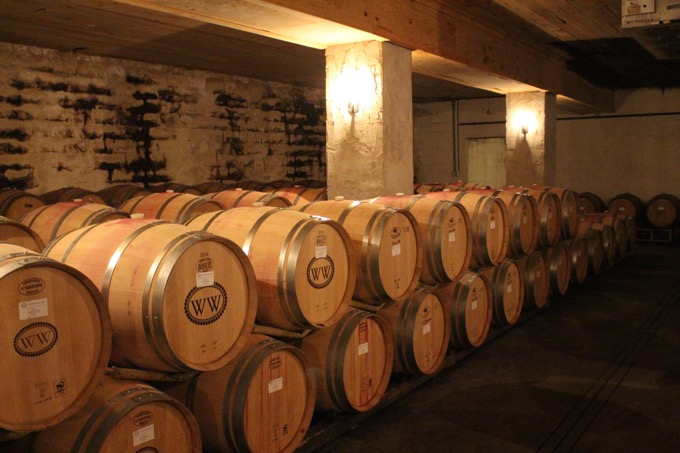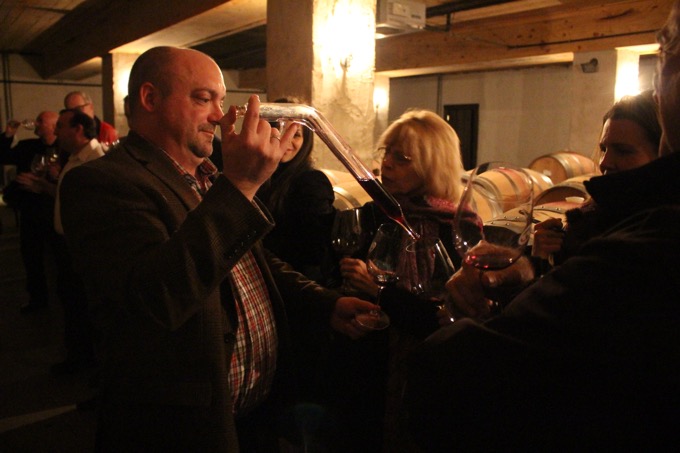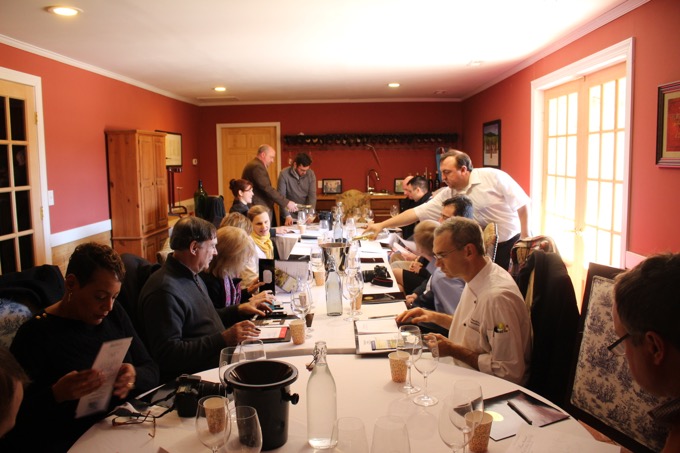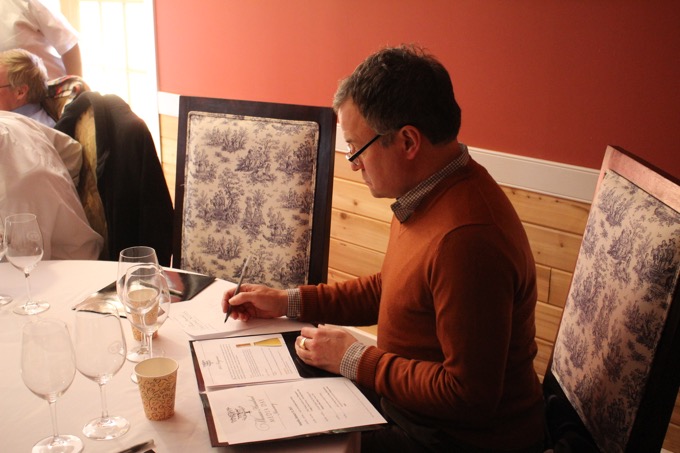 The tasting concluded with a tour of the barrel room and then tasters were led to a tasting of other wines from wineries along the Colonial Trail. These included James River Winery, New Kent Winery, and Saude Creek Vineyards. My favorites here included the Gewurztraminer from James River, the newly bottled Chardonnay from New Kent, and the Traminette from Saude Creek.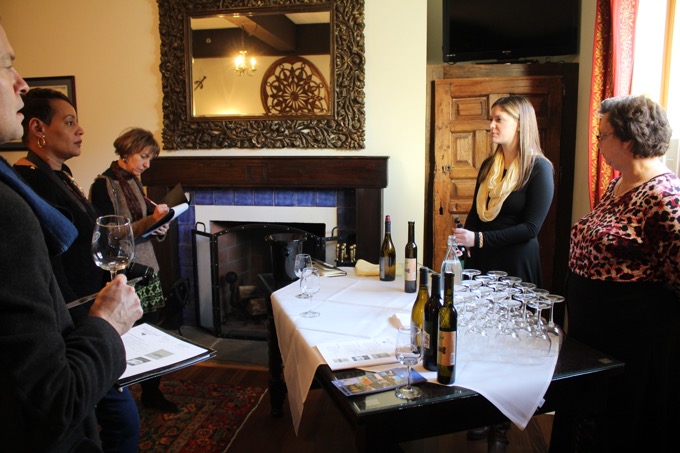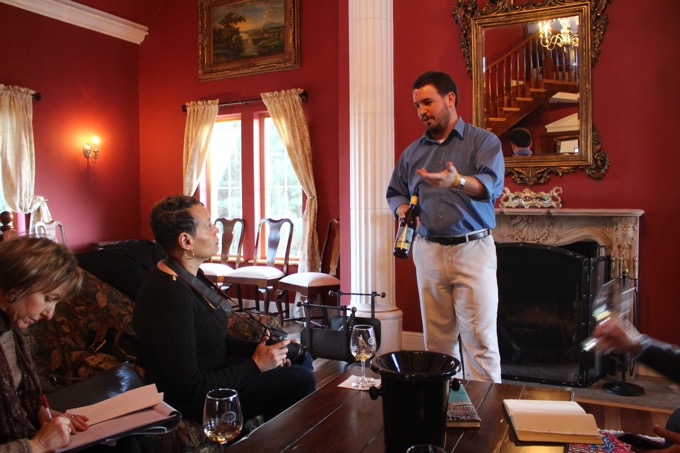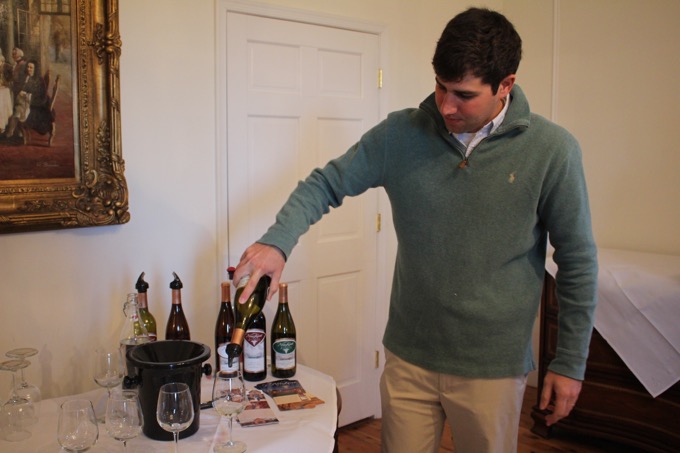 So much wine and food—what did we do next? Rest. A few hours of rest preceded the feature event of the day—a food and wine dinner at the Café Provencal located in the King Alfred Room at the Wedmore Place. What was served? What wines were poured? Stay tuned to find out. In the meantime, seek out the wines mentioned in this post at your local wine shop; better yet, plan a visit to Williamsburg Winery to taste them for yourself. Mention that Virginia Wine Time sent you!