Allan Liska of Cellarblog organizes an annual wine tasting fundraiser to help in the fight against multiple schlerosis. This year the event was held at Vinifera Wine Bar in Reston, and since it took place on February 12, just two days before Valentine's Day, chocolates from a local chocolatier called MC2 Confections were also served. Loudoun County wineries poured their wines at the event, and these included 8 Chains North, Fabbioli Cellars, Loudoun Valley Vineyards, Notaviva Vineyards, and Tarara Winery.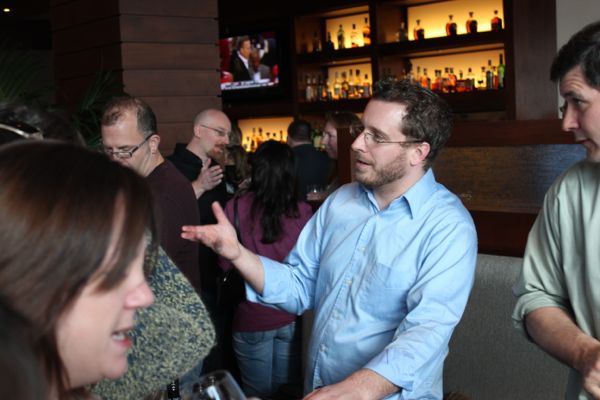 The bar was absolutely packed when we arrived as attendees lined up at tasting tables to enjoy tasting samples of Virginia wines. We also made certain to enjoy the chocolates. A favorite wine and dark chocolate pairing is always the Raspberry Merlot from Fabbioli Cellars. White wines were also poured, though, and I did enjoy a fume-style Sauvignon Blanc poured by Jordan Harris of Tarara Winery.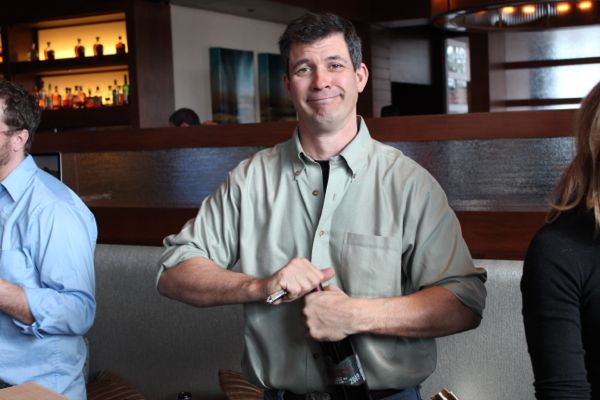 We also ran into the dynamic duo who write Swirl, Sip, Snark. We compared tasting notes and caught up with our travels on the wine trails.
Wine and chocolates are always a great way to celebrate Valentine's Day. It's even better when the wine and chocolates are locally produced and then team up for a good cause. Allan Liska's goal was to raise $4000 from the event, and we hear they surpassed $7000! That's great!
Vinefera was so packed for the successful event, it was difficult to take some decent photos. Even without the photos, we had a great time enjoying the wines and chocolates. If you visit any of the wineries mentioned or even MC2 Confections, let them know Virginia Wine Time sent you!
We always like to applaud local establishments that promote local wines, and Twisted Vines is just such a place. Twisted Vines is a wine bar in Arlington owned by Josh and Sybil Robinson, and they maintain a wine list that always includes at least eight Virginia wines; as an added "twist", they also host a monthly program called Swirl. Swirl events pair local wine with local art, and we were able to attend this month's showcase that featured wines by Annefield Vineyards and photography by artist Daniel Taylor. Annefield Vineyards owners Stephen Ballard and Michael Leary were on hand to pour their wines which included the 2010 Viognier, the 2009 Cabernet Sauvignon, and the 2008 Annefield Red.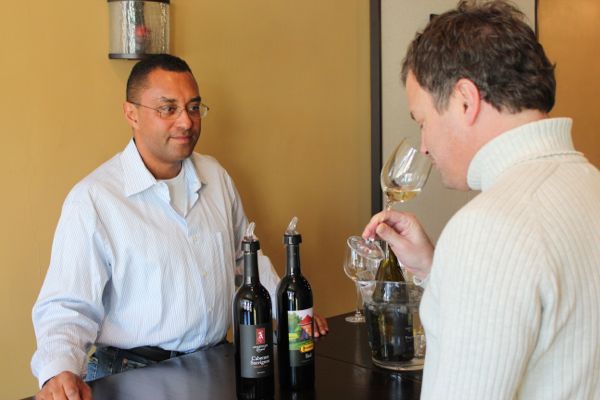 We've praised the wines from Annefield Vineyards in the past, and we were excited to sample these wines again at Swirl. The fruity Viognier, earthier Cabernet Sauvignon, and complex Annefield Red continue to show well and showcase the winemaking talents of winemaker Michael Shaps. We were also able to chat with Stephen and Michael about the 2011 season and their expectations for releases from that harvest. Their part of the state, which is in the south, was spared the constant rainfall and dismal weather that plagued vineyards in the eastern part of the state. Consequently, they were fairly optimistic about the wines that will be produced. Of course, we look forward to sampling them!
As we swirled away, we also took in the photography of Daniel Taylor. His photographs captured the action at bullfights that he attended while visiting the Yucatan Peninsula. Checkout his website to find out more.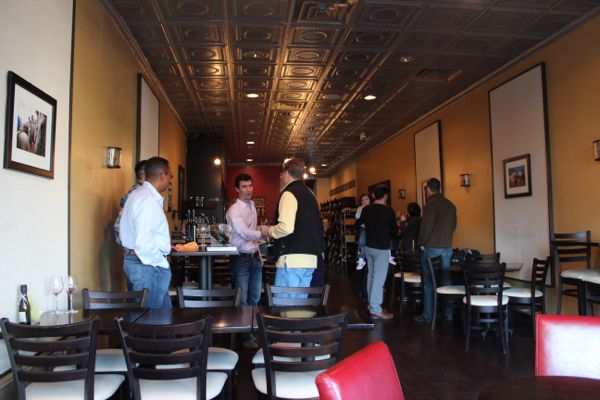 After our tasting, we also chatted with Twisted Vines owner Josh Robinson. Josh is committed to a "local" philosophy that includes not only wine and art but also food. Meats and cheeses on his menu were also locally produced. Of course, we were interested in hearing how Virginia wines are received at the wine bar, and his assessment was pretty much what we expected. According to Josh, though it sometimes takes some encouragement (and educating) to convince customers to try Virginia wines, once they do, they are convinced that the state does indeed produce quality wines. He has also hosted wine dinners that feature Virginia wines; on one such occasion, Linden wines were poured with heralded winemaker Jim Law on hand to present his wines.
We completed our afternoon at Swirl by enjoying a glass of the 2008 Annefield Red with charcuterie that included mild salami and a plate of white cheddar cheese. The buzz continued to swell as customers came in to taste wine and view art. For Annefield Vineyards, an opportunity to reach new tasters was achieved.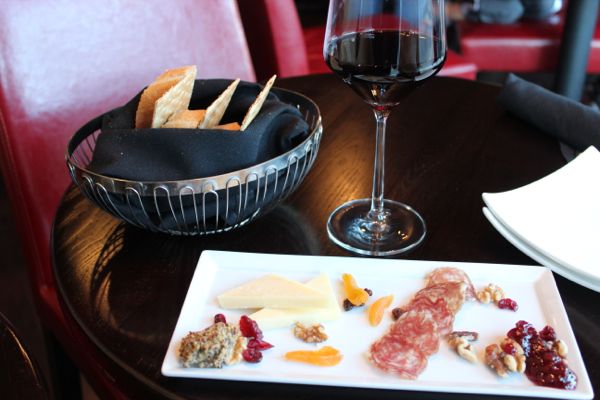 Our afternoon of wine and art was both tasty and enlightening. We weren't familiar with Twisted Vines before, but we now have them on our radar for future events. And getting to taste the Annefield wines with Mike and Stephan was a bonus! Be sure to check out Twisted Vines in Arlington and plan to visit Annefield Vineyards. Be sure to tell them both Virginia Wine Time sent you!