I posted recently about our third anniversary dinner being complemented with the 2012 "3"; today, I post about another trio but this time the focus is on three wines which we received from Rosemount of Virginia. Rosemount of Virginia has always impressed us; however, we have never visited the winery—-it's located in the very southern part of the state and therefore quite a drive for us. Our tasting of these wines occurred at events or festivals where Rosemount of Virginia wines are poured. We were therefore very excited to find this trio greeting us at our front door!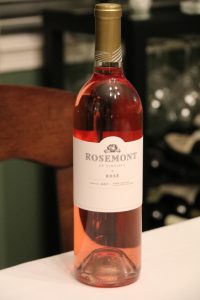 The first of the trio that we enjoyed was the 2017 Rose produced from the Chambourcin grape. This dry rose was fermented in stainless steel tanks and presented fruity notes of red berries and a refreshing fruity palate. This rose should be perfect for summer barbecues; however, I enjoyed it with spicy shrimp creole.
On a colder winter's evening, we poured the 2015 Kilravock, a blend of Merlot (40%), Cabernet Franc (36%), and Petit Verdot (24%). It was aged in both new and used oak barrels; of the new oak, 75% of aging time occurred in French oak barrels with the remainder spent in Virginia oak. On the nose it presented brambleberries, dark cherry, and licorice. Flavors of blackberry, cherry, and anise finished with caramel to suggest oak nuances. It paired quite well with our winter comfort meal that included roasted eye of round roast, mashed potatoes, and roasted carrots flavored with tarragon. (I will add that I decanted this one before pouring.)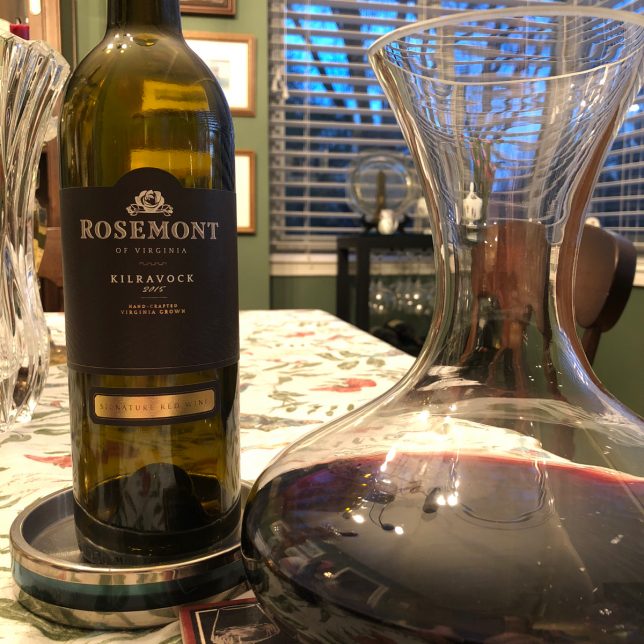 The 2015 Merlot was the last of the three wines, and it was also our favorite. It was aged for 18 months in barrels (some new and some used; some time in Virginia oak barrels and some time in French oak barrels.). I decanted the Merlot before serving, and this seemed to open the aromas of cherry, plum, forest floor, and cedar. The palate was greeted with cherry, blackberry, and licorice flavors; Paul caught a taste of blueberry, and we both enjoyed an oak kiss on the finish. It paired quite well with filet mignon, roasted potatoes seasoned with parmesan cheese and Italian seasoning, and roasted asparagus.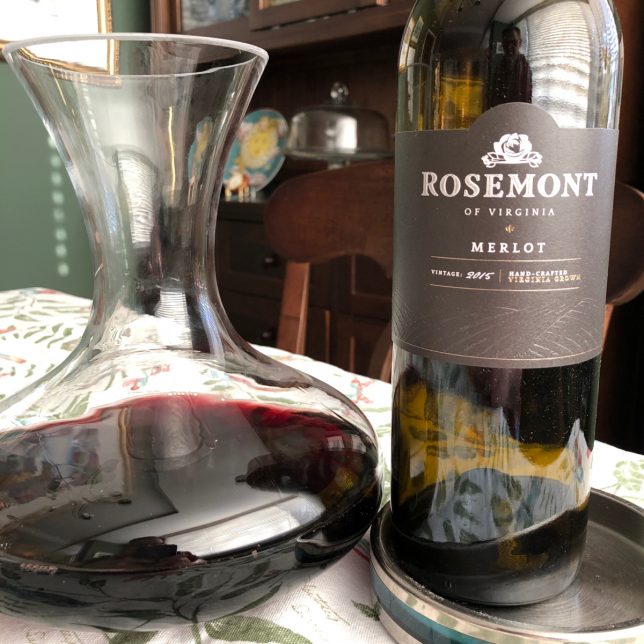 We do appreciate the trio of lovely wines sent to us by Rosemount of Virginia, and we know that we will visit Rosemount of Virginia to sample these and their other well-crafted wines. In the meantime, readers may want to visit the winery sooner rather than later. Be sure to mention that Virginia Wine Time sent you.