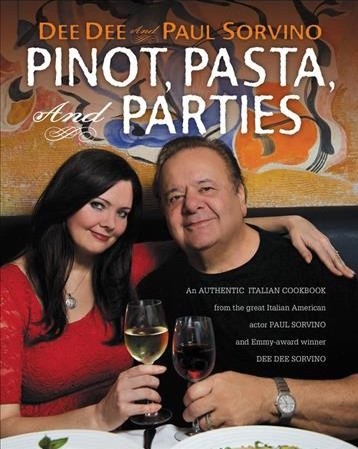 Renaissance man Paul Sorvino known for his role in Goodfellas but also a noted operatic tenor, sculptor and cook teams up with wife Dee Dee, herself an accomplished award winning television personality to produce Pinot, Pasta and Parties; this is a cookbook which presents Italian recipes with Paul's personal flare. I am always on the lookout for well-organized cookbook that present easy-to-follow directions and suggested menus. This one certainly fits the bill, and I thought that I would share my thoughts for readers who want to consider this cookbook.
The book's thematic organization is its best feature. Chapters entitled "Made in America", "La La Land", and "Patriotism at Play" allow the cook to find a go-to menu for the right occasion. The menus themselves are complete from starters to desert and are very easy to follow. Is there something on the menu that doesn't appeal to your particular palate or looking for an alternative to something on the set menu? No problem. The Sorvinos offer an alternative dish for each menu. For example, the La La Land themed menu that features such dishes as figs in a blanket, California veggie pizza, swordfish with olives and pasta primavera offers eggs in purgatory and stuffed peppers as alternatives.
Dee Dee Sorvino offers her skills as mixologist to present a special cocktail for each themed menu. Appalachia Magic, a mix of moonshine, apple cider vinegar, lemon juice, cinnamon bitters and star anise, complements the Made in America menu which features such delights as spaghetti western mac and cheese, meatball slider, and Paul's special chili. Hosting a Goodfellas Feast? Dee Dee recommends The Goodfella, a blend of Jack Daniel's whiskey, Scotch, Cognac, land limoncello.
The Sorvinos also add a personal touch to the cook book. In addition to an introduction of themselves, each chapter includes a story about themselves, their relationship, and their passion for food, art and entertainment. Photos of themselves throughout the book enhance the personal element and the cook gets to know them both as individuals and as a couple.
I must, however, comment on the lack of suggested wine pairings with the menus. The title of the cookbook begins with the word Pinot; however, Pinot or any other varietal is never mentioned as a recommended pairing with the food. And we are all about wine and food here at Virginia Wine Time! There is an appendix at the end which provides description of Italian wine grapes, and that is it. I also don't know that I would venture into the political theme suggested in the Patriotism at Play menu. In these times, a respite from political discussions (which usually lead to arguments) during a dinner party might be a good idea; I would adapt that chapter to suggest a July 4th gathering in which everyone can agree that celebrating American independence is always a good idea!
If you are in search of a cookbook that presents Italian dishes from starter to desert, then Pinot, Pasta, and Parties might be worth seeking out. You may also enjoy getting to know more about Paul and Dee Dee Sorvino. Remember, though, Virginia Wine Time recommended it!