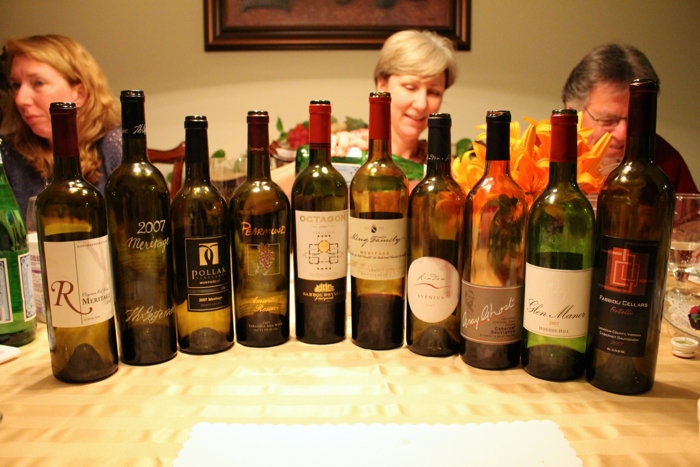 Bruce and Silvia Miller, wine educators extraordinaire at Breaux Vineyards, invited us over to their lovely home for a food and wine pairing that featured Virginia wines from the stellar 2007 vintage. Fellow bloggers Alan Liska, Erica Johansen, and Kirsten Gansulous of Cellar Blog, and other wine guests joined us all for a wonderful evening of wine, food, and cheer.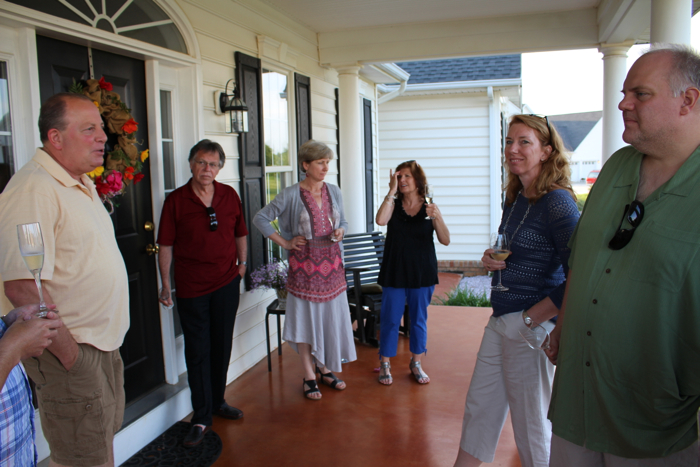 Bruce and Silvia greeted guests with a glass of the Wild Board Sparkling Wine from Stone Tower Vineyards. However, this was simply the precursor to the evening's main attractions—red wines from the 2007 harvest. Readers may recall that the 2007 growing season was hot and dry which allowed red grapes more time to hang on the vine before harvest. Robust red wines with depth and complexity were the result. Silvia prepared a plate of small bites that included flank steak, duck, beef tenderloin, cheeses, and macaroni and cheese. These were paired with the following 2007 red wines from Virginia:
2007 Rappahannock Vineyards Meritage
2007 Jefferson Vineyards Meritage
2007 Pollak Vineyards Meritage
2007 Pearmund Cellars Ameritage Reserve
2007 Octagon from Barboursville
2007 King Family Meritage
2007 Avenius from Linden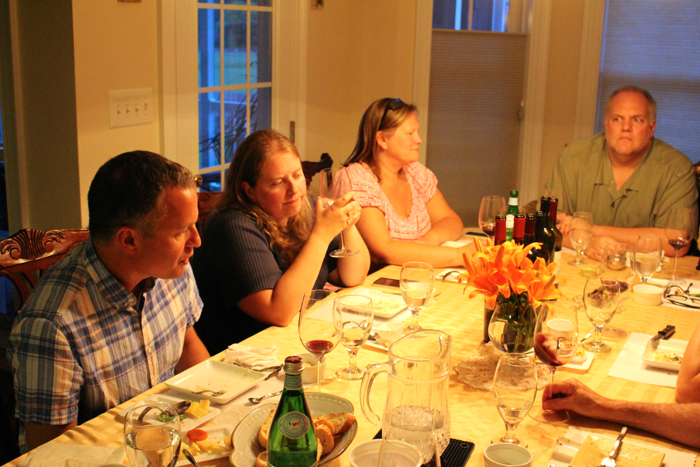 I did not take any notes on the wines, but I can say that the 2007 Pollak Vineyards Meritage generated the most buzz. Other comments suggested that the Jefferson Meritage and the King Family Meritage were also quite popular. After the seven from 2007 were poured, Silvia then opened up a buffet of food platters that included flank steak, beef tenderloin and potato salad; desert included chocolate cups filled with fresh berries. Bruce likewise expanded the wine buffet to include the following:
2007 Fratelli from Fabbioli Cellars
2007 Gray Ghost Cabernet Sauvignon
2007 Hodder Hill from Glen Manor Vineyards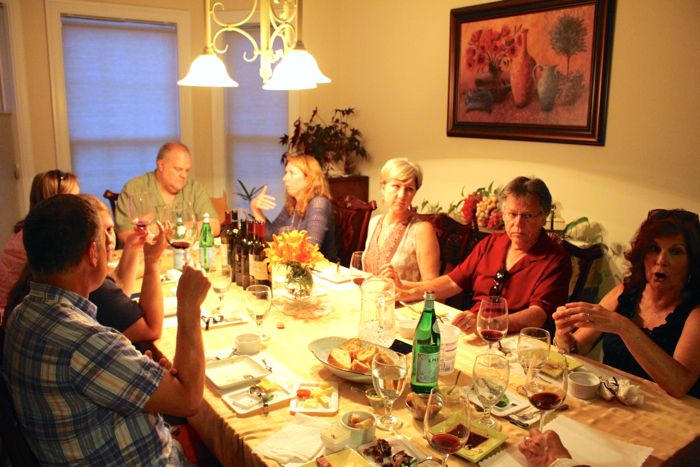 We enjoyed the flight of 2007 red wines from Virginia; for me, it was a good opportunity to taste some 2007 wines that are still on my own wine rack. I can assure readers that the 2007 red wines from Virginia can be enjoyed now but still have time to rest in the wine cellar. (In my case, that would be the closet in my office.) So you already drank your 2007 red wines from Virginia? Then visit the wineries listed in this post to replenish your stock with current releases. Be sure to mention that Virginia Wine Time sent you.