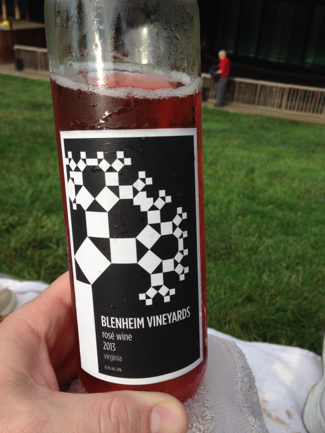 Attending concerts at Wolf Trap's Filene Center has become a summer ritual for us, and we start looking forward to our first concert as soon as spring arrives. We also try to attend and experience at least one new or unknown act each year. This year we decided that our first concert would be the performance by the Italian trio, Il Volo. We had never heard of them, but apparently they are billed as "popera" artists who mainly appeal to an older audience. I guess we qualify since Paul and I just turned 50 this year!
So did we bring Virginia wine along for the concert? Of course we did. The dry 2013 Blenheim Rose accompanied our picnic that included bowtie pasta tossed with chunks of grilled chicken, fresh Italian herbs and parmesan cheese. It all paired well with the young Italian trio who belted Italian classics as well as popular standards by Frank Sinatra, Elvis Presley and Barbra Streisand. We sometimes bring along an extra bottle of wine in case we want an extra splash to go with fruit and cheeses; this time, we enjoyed an extra pour from the 2012 Pollak Rose. This Rose was dry too; both shared similar profiles to boot—strawberry notes with a citrus twist and a crisp finish. Leftovers were taken home and enjoyed the next day!
Plan to attend a concert at Wolf Trap, and be sure to sit on the lawn so that you can enjoy food and Virginia wine at your leisure. Visit Virginia wineries beforehand, though to sure to stock up on favorite summer pours. Be sure to mention that Virginia Wine Time sent you.