Sunday was absolutely gorgeous, and it was certainly a great day to spend with Mom on Mother's Day. We made certain to make our Moms feel special on Mother's Day; however, we also made time spend with our friend, Duwayne. Duwayne enjoys Virginia wines, and the three of us had a wonderful afternoon enjoying nice wines, simple nibbles, and lovely springtime views at Chrysalis Vineyards.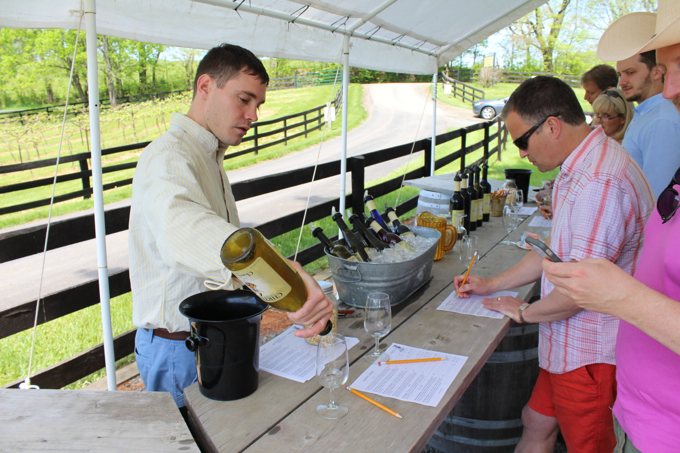 We were in the mood for a crisp white wine, and the 2012 Albarino was our wine of choice after our tasting. Initial notes of stone and mineral led to flavors of citrus and peach. Sur lees fermentation provided a nice mouth feel, and it announced that spring is here! I'm always a fan of the Viognier, Chrysalis' flagship white wine. Lush floral aromas with peach and pear notes and a fuller mouth feel make for another classic from Chrysalis. Favorite red wines? We all preferred the 2012 Locksley Reserve Norton that is a blend of Norton, Tannat, Petit Verdot, and Nebbbiolo. Still young with lots of smoky aromas, tobacco notes and oaky nuances. Dark plum and berry flavors too—buy now and enjoy later!
With a bottle of the 2012 Albarino in hand, we feasted on sliced deli meats, cheese, baguette and crackers. Great wine, simple fare, and good friends—a perfect way to spend a lovely afternoon. We also saw lots of Moms at the winery, and we know that their day was made extra special with a bottle of Chrysalis wine. Visit Chrysalis soon—mention that Virginia Wine Time sent you. And check out the video below from our visit to Chrysalis.