Yes, spring is here and summer is not too far away; in fact, we've already purchased some of our tickets for upcoming Wolftrap concerts. Of course, we need Virginia wines to enjoy out on the lawn. We found some wines that we will be bringing along with us at 8 Chains North.
The white blend called LoCo Vino is always a summer favorite, and we enjoyed the 2012 vintage. This was a blend of Vidal Blanc (45%), Traminette (35%) and Sauvignon Blanc (20%). Citrus notes prevailed with a twist of lemon in the mouth; it was crisp too. Perfect for a warm evening with light cheeses, fresh fruit, and a crab cake! We're big rose fans, and we did like the dry 2012 Pink Link made from Merlot; these were grown in the Furnace Mountain vineyard. Notes of strawberries and spice were evident; I detected a creamy notes too. We'd pair this with anything in the picnic basket.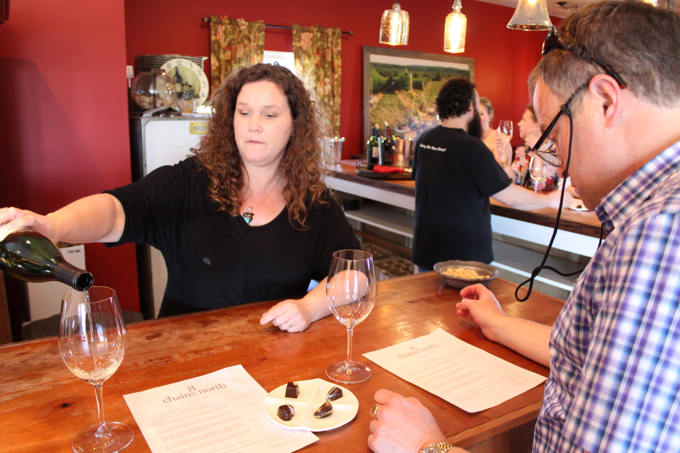 Grilled meats should pair well with the 2012 Furnace Mountain Red, a blend of Merlot, Cabernet Sauvignon, Cabernet Franc, Malbec, and Tannat. Initial aromas of coffee and caramel led to notes of blackberry and cherry. Nice now but readers may opt to age for a bit to enjoy with heartier fare during autumn. During our tasting our wine friends Kurt and Carol from Wine About Virginia entered the tasting room. It was great to see them and they joined our tasting.
We enjoyed a glass of the 2012 LoCo Vino after our tasting and then made certain to purchase bottles of our favorites. Plan a visit to 8 Chains North and mention that Virginia Wine Time sent you!