After the wonderful vertical tasting we had at Breaux Vineyards, we headed down the road a bit to a new winery in western Loudoun County, Two Twisted Posts Winery. Several of our wine friends had already visited Two Twisted Posts so it was our turn to find out about this new winery and taste the wines. Another reason for visiting Two Twisted Posts was because their 2012 Chardonnay won a gold medal in the Governor's Cup and is included in the Governor's Case!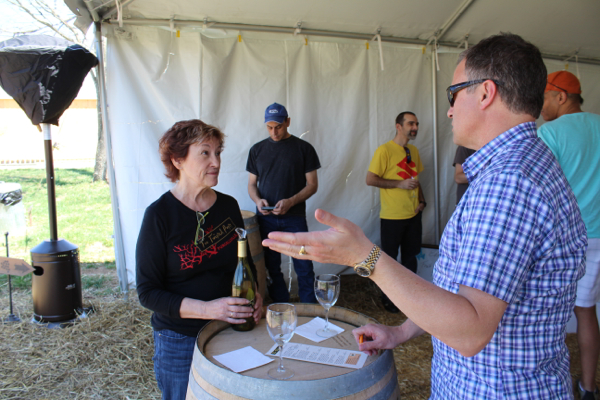 Currently Two Twisted Posts is only open two weekends a month. They are working on a tasting space in the winery facility and have plans to build a separate tasting room in the future. Right now they taste in a tent set up at the end of the parking lot. Owners Brad and Theresa Robertson are passionate about their wines and about creating an experience for wine tasters. We were lucky enough to begin our tasting with Theresa at one of the barrels just under the tent. We began with the 2011 Chardonnay (which we both enjoyed very much) and then moved on to the gold medal winning 2012 Chardonnay. The 2012 spent 10 months in French and American oak. We noted pear, pineapple, honey and a buttery finish. While tasting the chardonnays with Theresa, we found out that Tom Payette is their consultant. That certainly explains the quality of the chardonnays. We are big fans of Tom's work. We seem to always enjoy a wine that Tom has his hand in making.
We then moved to the tasting "bar" to finish our tasting with one of Theresa's sons. Here we tasted the only non-sweet red wine they had available…the 2011 Cabernet Franc. We noted smokey notes, blackberries, pepper, and dried herbs. During this part of the tasting we found out Two Twisted Posts also has a Cabernet Sauvignon, and Petit Verdot that won't be released until sometime next year. We look forward to tasting those when they are released. All of their reds won silver medals at the Governor's Cup.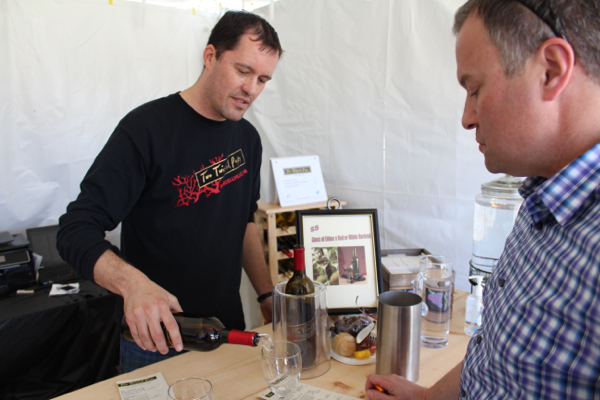 Brad and Theresa planted their three acres of vines in 2008. They currently have chardonnay, cabernet franc, cabernet sauvignon and traminette. They plan to plant an additional two acres this spring. The current line up of wines were made with grapes purchased from vineyards in western Loudoun County.
We certainly enjoyed our time at Two Twisted Posts Winery. And we were happy to make this winery visited number 168! We think they are off to a good start and hope to watch them continue to succeed in the future. We will have to plan another visit once they have a tasting room complete and those red wines on their tasting menu. Until then, plan a trip to Two Twisted Posts Winery and tell them Virginia Wine Time sent you!