So what makes for an ideal growing season in Virginia? Hot, dry summers with growing seasons that extend into the fall. Oh, and no late or early frosts. Easy question, easy answer. However, what if winter is unusually brutal with sub-zero temperatures and frequent outbreaks of ice and snow that lasts well into March? It may be easy to dismiss winter as an influence on the vineyards; after all, the grapes have been harvested and the vines lay dormant, right? We weren't so sure about that and asked four Virginia winemakers to offer their opinions on the Arctic winter and its possible consequences. And what about the 2013 vintage? How are things coming along in the tanks and barrels? In this post, we will compare opinions from two winemakers in northern Virginia: Jordan Harris of Tarara Winery and Doug Fabbioli of Fabbioli Cellars.
1. This has been a winter of long-lasting, record-breaking cold weather. This week's temperatures plunged to below zero in much of Virginia. Are you concerned about stress to the vines? Have you changed vineyard management (i.e. pruning) as a result?
Jordan Harris (JH): I am certainly concerned but I do not believe that there will be wide spread damage on our sites. The coldest we have gotten to is 3 degrees. I have been through that many times in Niagara and at that point there doesn't tend to be a lot of damage. There may be some issues with really sensitive varieties like Merlot but I would guess it will be in the 15-20% bud loss range for them. In places where they may have got to -5 they could start to see more wide spread damage as you are then entering the temperature range that can harm buds in most varieties.
My biggest concern is actually that we planted a lot last year so I am not sure how the young vines will have stood up to the cold and if we will have significant attrition rates and have to replant those. Really I won't be able to tell that until well after bud break.
As for pruning, if I were smarter, I probably would have changed it up a bit this year but hind sight is always 20/20. We are exclusively cane pruned VSP (Double Guyot) and we were done by mid January so there is not much we can do now. We do leave a third cane each year so we can replace one of the two that we lay down in case of frost or I guess now winter cold. This year we may just lay that cane down as a third right over top of another one for more buds but my concern is if they are all fruitful then we will have a lot of shoot thinning to do and wonder if we will be able to keep up and maintain a balanced and clean canopy.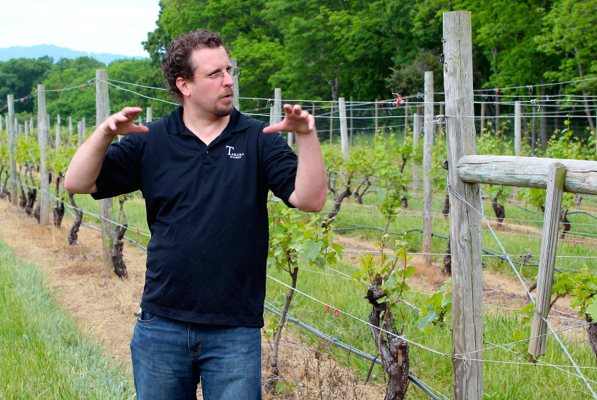 Doug Fabbiolo (DF): We had a cold spell in December that got me scared. We did a brief, non scientific bud evaluation and decided to only do a rough pruning. We are leaving a lot of buds on the vines at this point and do not anticipate a final pruning until May when the fruit shows itself and we can make some cuts that will be sure to be fruitful.
2. Early bud break is always a concern when it occurs; however, are there worries about a later bud break? What is the optimal time for bud break? (The cherry blossoms are scheduled to bloom much later this year due to the long-lingering winter.)
JH: You mean like in 2013 when we were so late that there was no risk of frost ☺. After last year I say there is no ideal time in Virginia. I would personally like to see bud-break around the start of April to get a long enough growing season but at least get out of March which is very scary (2012). I actually think there is a good chance we will still see an early to regular bud-break anyway. The soil has a lot of moisture so as long as we get some warmth the vines will come on really fast this year I think. Not that we can accurate guess the weather for tomorrow, but long range it looks like Spring hits pretty well around the 15th which could very well give us bud-break sometime in the first week of April, but more likely the second or third week in many varieties is my guess.
DF: The optimal time for budbreak is after the last killing frost. That never happens. I am hoping with the later start, we will be closer to that situation. The vines will catch up if they have some warm days in late spring.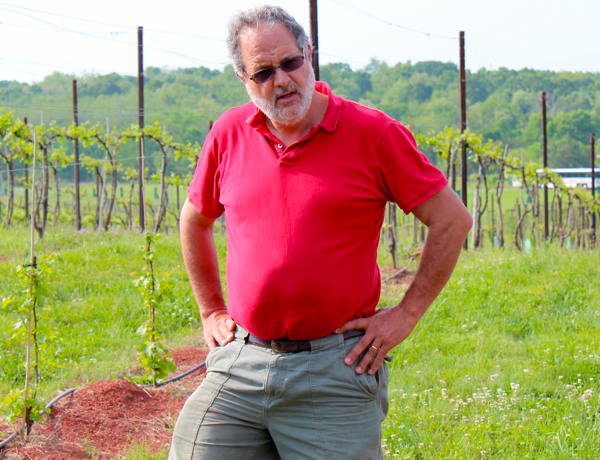 3. Now that the 2013 harvest is history, how is the 2013 vintage shaping up, and what are the comparisons to past vintages?
JH: I am actually really enjoying the wines, I just wish there was a lot more of it. The later reds struggled a bit to get as ripe as I would like, but varieties like Merlot and Tannat really have some great flavor and striking elegance. The whites (predominately Chardonnay since we got next to no Viognier this year) are beautiful. They are elegant but ripe and are really showing the results of either a great site or meticulous management or both. In the end, I don't want a repeat of 2013 because it was very trying on my patience and stress level, but the wines are good. Once again, quality is not my concern as much as quantity in this case.
It really is hard to compare our 2013s to another vintage for me given I have only been here since 2007. The closest I can say to any of the vintages I have done would be 2008 but 2013 was a shorter and wetter year for us than 2008. That said I think we have a far better understanding of our site from 2008 so still made better wine. You could say structurally similar to 2012 for us, but the ripeness level is not quite as high.
DF: 2013 was challenging during the growing season but finished up in the best way possible with warm days, cool nights and no rain. I am very pleased with what we are tasting. We will be trialing more blends again today. I am tasting good ripe fruits, rich tannin structure and balanced acids. Some of this is from winemaking techniques done as the grapes came in, but most is because of a decent growing year.
And who are the other two winemakers and how did they respond? Stay tuned to find out. In the meantime, spring is hopefully in the air, and it is time to visit Virginia wineries. Plan a trip to Tarara Winery and Fabbioli Cellars to sample their excellent wines, but be sure to tell Jordan and Doug that Virginia Wine Time sent you.