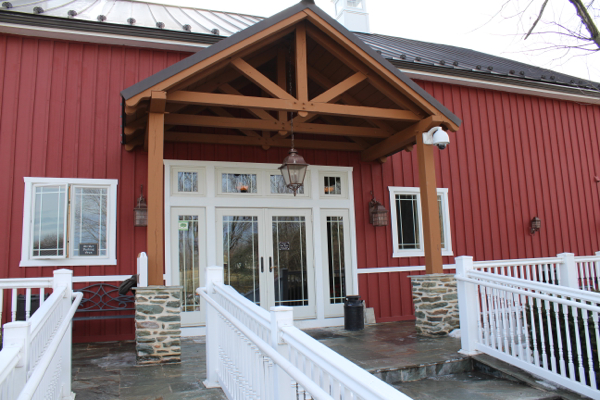 On Superbowl weekend (and between snow flakes, ice pellets, and frozen rain), we decided to visit Loudoun County wineries. Sunset Hills Vineyard was at the top of our list of wineries to visit, and once there we found a very festive tasting room with club members celebrating recent releases; many sported shirts declaring a favorite team. Amidst the hoopla and good cheer, we were privileged to receive a full tasting by Meredith Wilson, the tasting room manager and a long time wine friend of ours. Meredith's sports wear suggested that she preferred Denver in the big bowl game; however, at the end of our tasting, we favored team Sunset!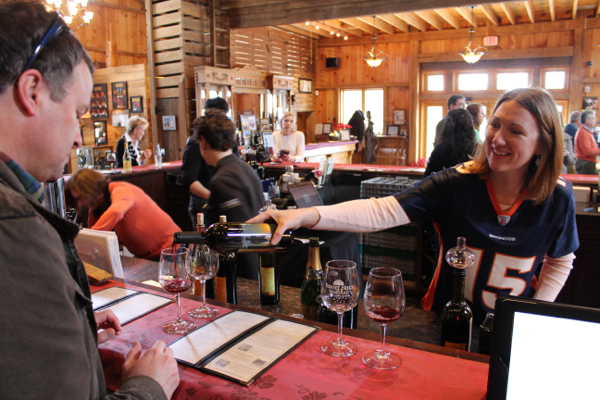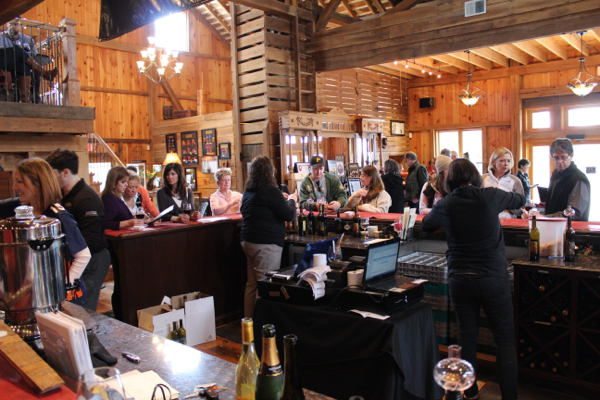 We were treated to the full gamut of well-crafted wines at Sunset Hills Vineyards, so I will present a few of the highlights here.
White Wines:
Albarino 2012—Wow. This grape shows potential at some Virginia wineries with Jenni McCloud at Chyrsalis Vineyards leading the way, and this one from Sunset is quite nice. Citrus notes prevail with a noticeable mineral element and a crisp finish. Extremely limited production, though, with only about three cases made. We hope that the potential for this varietal will be expanded at Sunset, because we would like to buy a few bottles of it in the future.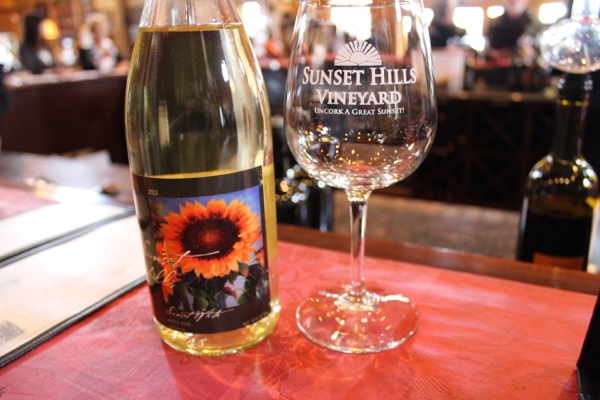 Chardonnay Vertical+ Petit Manseng: Yes, I am an unapologetic Chardonnay fan. Imagine my delight when Meredith gave us a side-by-side of two 2012 Sunset Chardonnays and a Petit Manseng all from the 2012 vintage. All three presented a similar fuller-mouth feel; however, both Chardonnays presented different nuances. The Petit Manseng exhibited the fullest body of the three. Although from the same vintage, the Chardonnays represented efforts from two different vineyards—the Shenandoah Springs vineyard located in a higher elevation in the Shenandoah, and the Vineyard One located on the Sunset property. The former was a bit leaner with citrus and mineral notes and tropical fruit elements. I noted some pear flavors too. The Vineyard One offered a fuller mouth feel along with a classic Chardonnay profile—pear and apple characteristics with a nice honey note. Which did I prefer? Depends on what's for dinner. Shenandoah Springs with shell fish, but Vineyard One with poultry topped with a cream sauce. And the Petit Manseng? At less than 1% residual sugar, it has been the driest Petit Manseng that we've tasted in Virginia. Fuller-bodied for sure with tropical fruit notes and flavors with a hint of freesia on the nose. At the dinner table, this one could be an alternative to a full-bodied Chardonnay or Viognier.
Red Wines:
Petit Verdot: We were able to compare the 2010 and 2011 vintages. Different growing seasons=different results. Both were very good. The 2011 vintage, produced from a very challenging season, was quite nice. It was lighter-bodied than its older sibling and Paul suggested that he could even sip this on e on its own. I preferred the 2010 with its denser color and its characteristics of dark plum, sweet tobacco, and spice.
2010 Nebbiolo: The Superbowl champ for me. Characteristic Nebbiolo and an example of what Virginia can do with this grape. Earthy aromas with notes of clover and licorice and a whiff of violet were noted. Buy now but drink later—this will only get better with age. Another polar votext? Beef stew and the 2010 Nebbiolo will take the chill off.
Ready for spring? So are we. The Sunset White with its blend of Traminette and Vidal Blanc will conjure images of warm breezes, lingering sunsets, and a crab feast. Dreams of barbeque? The 2012 Cabernet Franc will be a perfect partner for grilled fare. Until then, though, we can only stock up on the wines and wait for the seasons to change.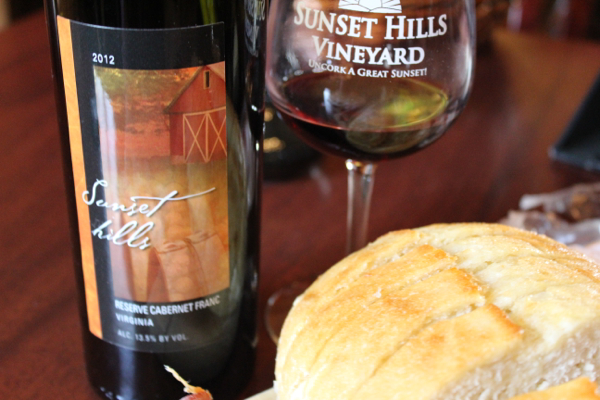 Our tasting ended too soon, but we extended our stay with a basket of hard cheeses and salami. We also enjoyed a glass of wine and took in the Superbowl revelry that was all around us. We each sipped on a glass of the 2012 Reserve Cabernet Franc. We reviewed our tasting and conversation with Meredith, and were impressed with the continued dedication to vineyard-specific wines. The different nuances, in the case of the Chardonnays, could be tasted in the glass. It was also obvious to us that winemaker Nate Walsh has dedicated himself to quality winemaking regardless of circumstances such as the rainy 2011 season. While we had our favorites, the wines here were well made.
We will return to Sunset Hills sooner rather than later. In the meantime, readers should plan a visit; tell Meredith that Virginia Wine Time sent you.