With the frigid temperatures and the snow we've had recently we haven't been able to get to too many wineries this year. However, you don't have to go on the Virginia wine trail to enjoy Virginia wines (however, we suggest you do). We've been pairing Virginia wines with several of our meals lately.
On a recent Friday evening we enjoyed a meal of chicken and mushrooms with corkscrew pasta tossed with parmesan cheese and lemon infused olive oil. We paired this meal with the Ankida Ridge 2011 Chardonnay. We noted rich, ripe pear, mineral elements of shale and graphite and a whiff of melon and nutmeg. It had a nice mouth feel with nice acidity. We consider it a Burgundian style chardonnay.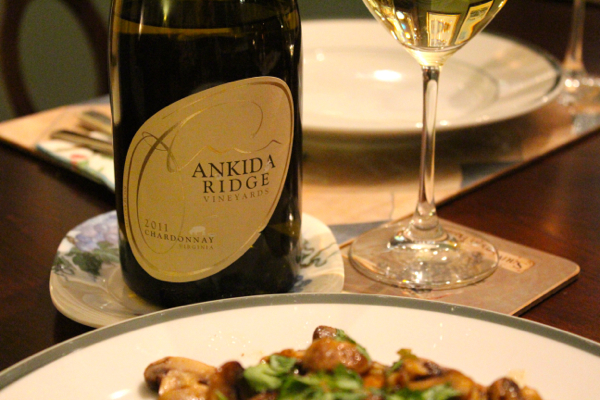 On another recent evening we selected the 2008 Reserve Furnace Mountain Red from 8 Chains North as our dinner wine. We had this wonderful red wine with filet mignon. We aerated it into a decanter before enjoying it. Bramble berry notes with a whiff of candied apple were complemented with flavors of blackberry, licorice and pepper.  Why did we decant this one? Our initial sip (and literally our first sip after opening) presented a higher acidity; aerating into a decanter and then some breathing seemed to settle the acidity. In the end, by dinner time we very much enjoyed the 2008 Reserve Furnace Mountain Red. How do we know? The decanter was emptied far too soon.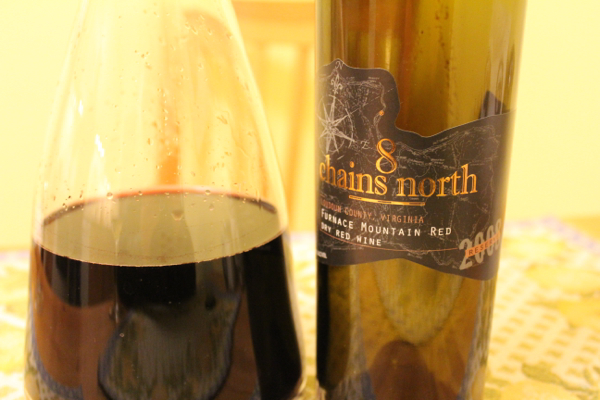 Over the weekend we went to Boxwood Winery's Tasting Room Wine Bar to both pick up club wines and to have a bite for lunch. After a quick tasting of some of the current wines, we selected the 2011 Boxwood Trellis to enjoy with our flatbread pizza of prosciutto and goat cheese. The Boxwood Trellis is a blend of cabernet franc, cabernet sauvignon, and petit verdot. We noted the earthiness with herbal and mineral notes and tobacco and cedar. It paired nicely with our flatbread pizza.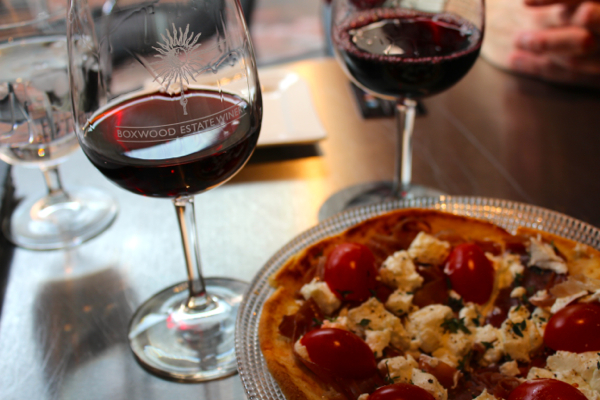 What Virginia wines have you been enjoying with a meal lately? Consider some of the wines we've enjoyed lately. And if you do get through the snow and visit one of the Virginia wineries, tell them Virginia Wine Time sent you!