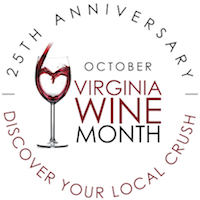 We took advantage of the long weekend to visit with Paul's family and to sample wines in the Monticello area. Here is a summary of our favorite pours:
Barboursville Vineyards: We are pleased to report that the tasting set up has changed since our last visit, and an additional tasting station has been added to ease the bottleneck that occurred during hectic times. Our tasting experience was much more enjoyable, and we hope that the management continues to explore efficient ways handle the growing crowds that visit the winery. Paul favored the crisp Pinot Grigio 2012; I preferred the more complex Chardonnay Reserve 2012—no surprises here, right. However, we did appreciate the Viognier Reserve that is aging quite nicely. Of the red wines, it was tough to beat the Nebbiolo Reserve 2010 with its smoky notes and aromas of violet, tobacco and black currants. Paul thought that the Cabernet Franc Reserve 2011 did just that and notes its nose of cedar, blackberries, and cherries. We agreed to disagree.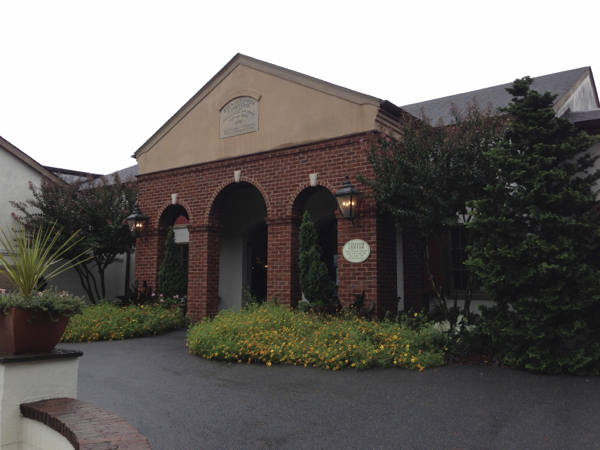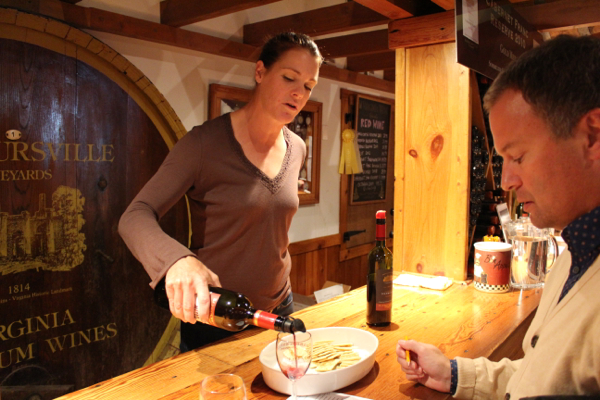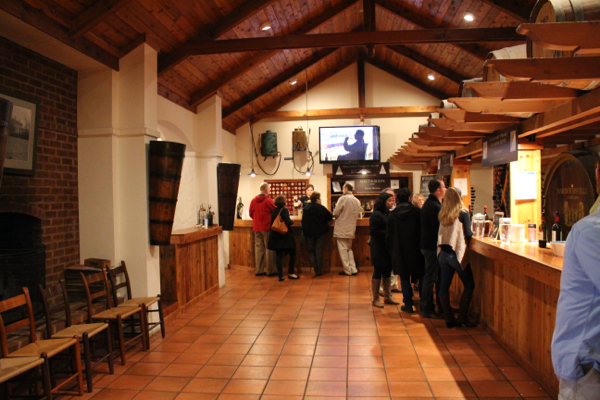 Jefferson Vineyards: This is our first visit here since winemaker Chris Ritzcovan has taken the helm. We enjoyed several wines here poured by one of our favorite tasting associates, Allison. Paul is not a Riesling fan, but he did enjoy the Johannisberg Riesling 2011 with its stone fruit aromas and subtle hay note. I preferred the 2011 Chardonnay Reserve 2011 and its weightier mouth feel. We reached another split decision on the red wines. Paul was most enthusiastic about the earthy Petit Verdot 2012 and its smoky nose and elements of dark berries, coffee, and dried herbs. My own favorite was the complex Meritage 2010. A whiff of violet led aromas of dark fruit, tobacco and anise. Components include Merlot, Cabernet Franc, Petit Verdot, and Cabernet Sauvignon.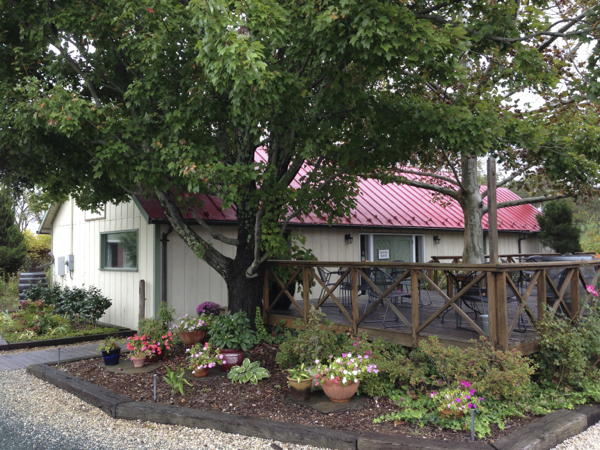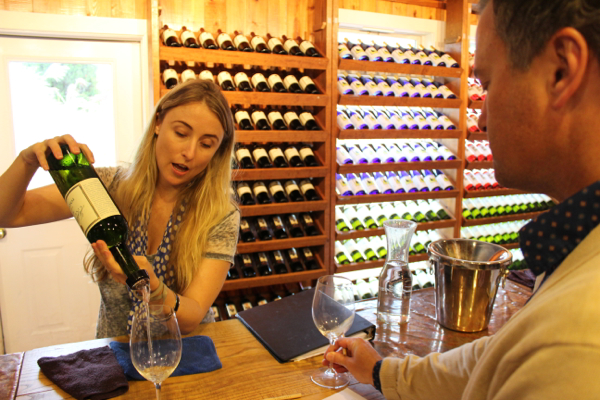 Keswick Vineyards: We always enjoy Stephen Benard's wines and look forward to sampling his latest releases. We both appreciated the 2012 Viognier that was fermented in a combination of tank and French oak. Peach and tropical fruit notes with a bit of vanilla at the end made for a luscious wine; it had a nice length too. I was a bigger fan of the 2012 Chardonnay that I characterized as a classic Burgundy style wine. Lovely pear flavors accented by hints of oak and a long-lasting finish make for a food-friendly yet elegant wine. The 2012 Consensus is created by wine club members and is a blend of Cabernet Sauvignon, Syrah and Norton. We found this one to be an accessible wine with smoky notes and elements of tobacco, mixed berries, and black pepper. Stephan also treated us to several of the Signature line of wines available to club members. We really enjoyed the chardonnay and viognier. We also got to sample a few of the 2013s in the barrels. They will be quite nice! Stephan and I also posed for a silly picture that Paul posted on Twitter. We always have fun chatting about wine and catching up with Stephan. Thank you, Stephan!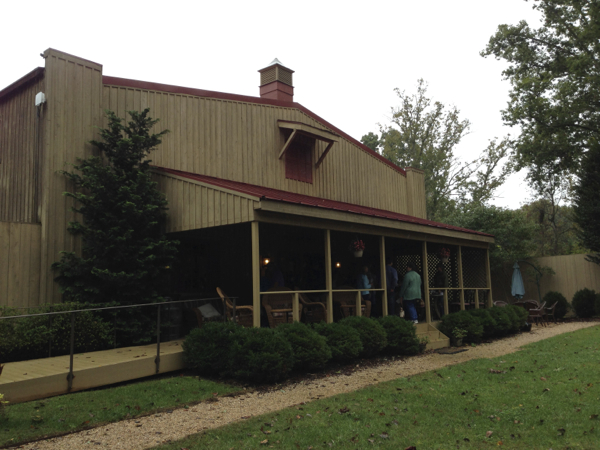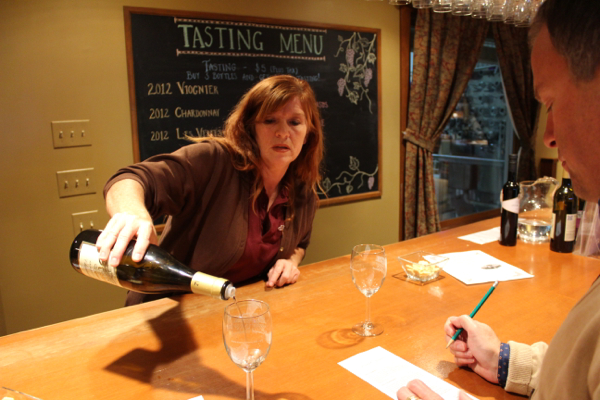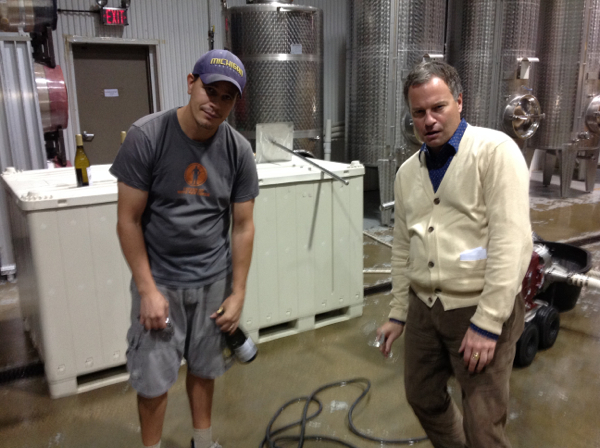 Trump Winery: Hard to beat the Sparkling Blanc de Blanc with its nose of apples, pears, and toast. Paul enjoyed the crisp Chardonnay 2012 that was fermented 90% in stainless steel tank and 10% in French oak barrels. These leaner Chardonnays tend to be his style and are certainly easy to sip on their own. Fans of the simply red will be pleased to know that the 2008 vintage is still available and tasting quite nicely.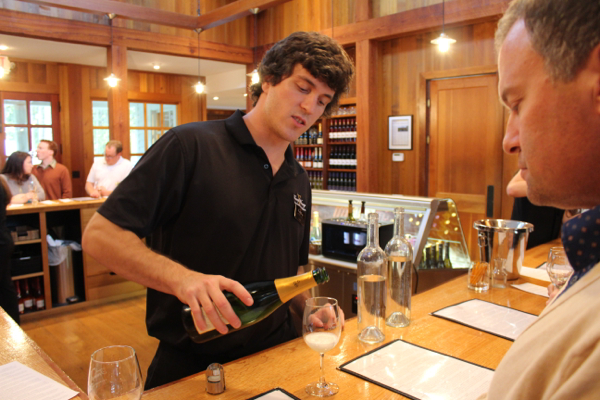 More on our visit to the Monticello area next time. Until then, plan your own visit to these wineries and mention that Virginia Wine Time sent you.