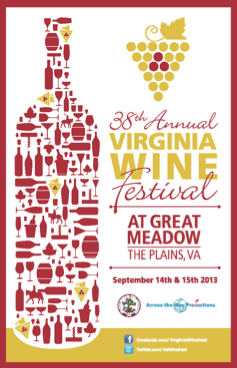 The Virginia Wine Festival returns to Great Meadow Event Center in The Plains Virginia this coming weekend!
On September 14th and 15th the 38th Annual Virginia Wine Festival will be held at Great Meadow in The Plains, Virginia. Festival goers will be able taste wine from more than 50 Virginia wineries, hear music from some great bands, and attend seminars to increase your knowledge of wine. There are several different ticket levels and festival goers can even purchase a ticket to catch a van from the Vienna Metro to the event. Many more details about the festival can be found at the website.
We are planning to attend the event on Sunday. We'll be posting about our experience. If you don't have any plans this weekend, consider visiting the Virginia Wine Festival at Great Meadow. And if you see us there, say hello!