We're back! After a few weeks of vacation we have returned to the wine trail. On Saturday we decided to introduce some friends to a few wineries in Loudoun County. We selected Hunters Run Wine Barn and Doukenie Winery as our first two stops back on the trail. Our friends Troy and Craig came along.
Hunters Run Wine Barn-Owner Geri Nolan conducted our tasting. It was nice to see her again and catch up on what has been happening at Hunters Run since our last visit. During our tasting we learned that all the wines are now being created at Cave Ridge Vineyard in the Shenandoah Valley and Randy Phillips is the winemaker. Since our last visit to Hunters Run, the tasting menu has expanded to include a full line up of wines. One of our favorites was the 2010 Barrel Aged Viognier. It's a nice rounded wine with tropical notes. We decided to enjoy a bottle of this with our friends with warm bread and cheese. It's a nice wine for a warm summer afternoon. Another of our favorites is the port style wine called Todds. It's named after Geri's father. It is chambourcin based and fermented in bourbon barrels. The alcohol level is 17.5% and the residual sugar is 7%. We noted bright fruit and a smooth finish. Warren enjoyed it so much he decided to get a bottle to bring home. Our friends enjoyed the tasting and experiencing the fun at Hunters Run. They plan to visit again soon.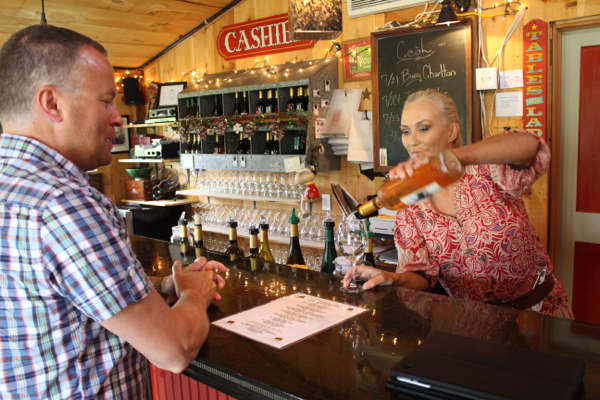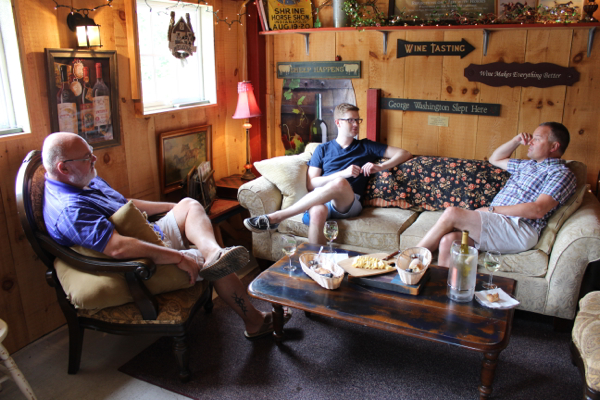 Doukenie Winery-Our final stop of the day was Doukenie Winery. It had been awhile since we visited and it was time to see what was new on the tasting menu. Our friends had never visit Doukenie so they were interested in tasting all the wines. There were definitely new wines on the menu that we had not tasted before. The stand out white was the 2011 Chardonnay. We noted pear, butter, honey, a nice acidity and a nutty-honey finish. We decided to enjoy a bottle with more bread and cheese. Two of the reds stood out to us. The 2010 Vintner's Reserve is a Bordeaux style blend that presents a jammy nose with notes of dried fruit, tobacco, and anise with a lengthy smooth finish. The 2010 Petit Verdot has been a favorite of mine for a while now. It has a rich, dense, inky color with notes of dried fried, a whiff of violet, tobacco, and a stiff tannins in the end. Tasting this one once again convinced me I should join the wine club. So I took the plunge and joined the club. Having joined the club, we were able to take advantage of the club members room to enjoy our wine and nibbles with our friends. It was a nice visit to Doukenie and now that I'm a club member, I'm sure we'll be returning more often.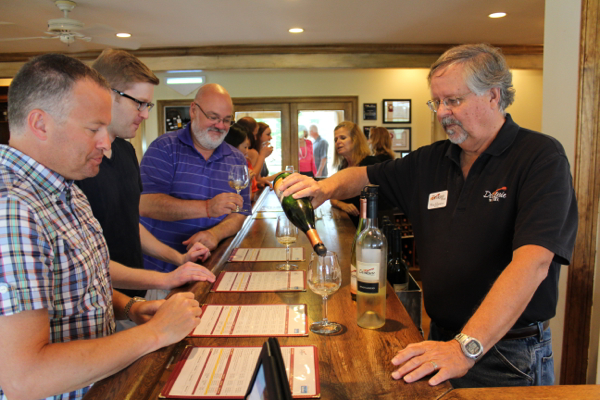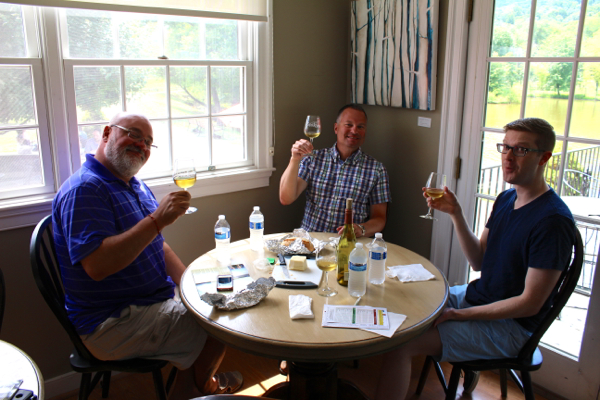 Plan a trip to Loudoun County soon and be sure to include Hunters Run and Doukenie on your list of wineries to visit. And when you do, tell them Virginia Wine Time sent you!