We finally made a trip to Ankida Ridge Vineyard, the small winery located in Amherst, Virginia that has made a very big name for itself in a short amount of time. Nestled atop a steep slope of the Blue Ridge Mountains, Ankida Ridge Vineyard is the only Virginia winery that we know of that produces high-quality Pinot Noir. Positive reviews from such experts as local critic Dave McEntyre have created quite the buzz around this winery that only produces 700 cases of wine each year. Our Memorial weekend plans, then, included a trip to this slice of Burgundy.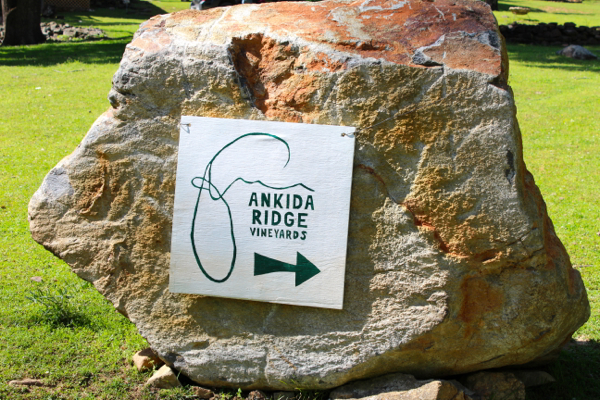 So why is Ankida Ridge Vineyard referred to as "Little Burgundy?" When owners Christine and Dennis Vrooman purchased the property, they had no intention of planting a vineyard; however, a tasting of local wines got them to thinking that maybe a vineyard was the smart use of their property. Consultations with viticulturist guru Lucie Morton confirmed that the property's rocky soils and 1800 ft. elevation made it one of the few sites that could successfully grow Pinot Noir, the grape grown in the Burgundy region of France. The Vroomans planted their vineyard in 2008 with the intent to specialize in the Burgundy varietals: Pinot Noir and Chardonnay. They produced their first crop in 2010.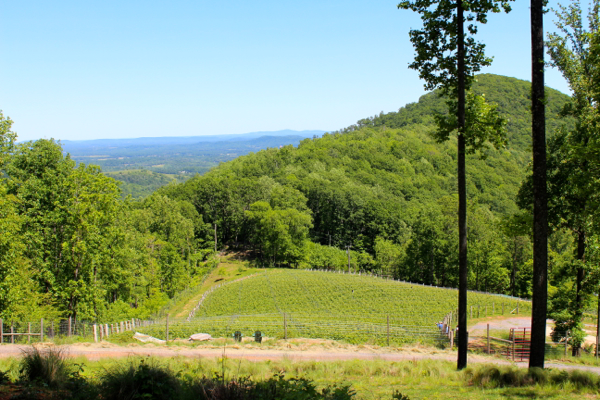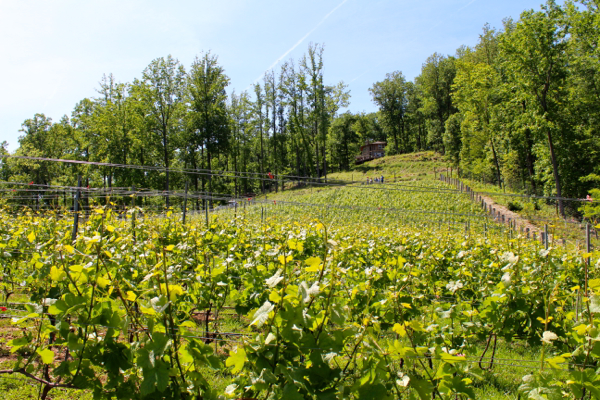 Christine Vrooman gave us a tour of the vineyard, and from the vineyard's peak elevation, we noted the lower humidity and brisker breezes. When Christine informed us in the tasting room that they only had two acres of vines planted, we expected to see a relatively small number of vines in the vineyard; however, tight spacing per Morton's recommendation revealed a different story. We were amazed at how many vines were actually planted. We also observed guinea hens roaming about the vineyard, and they delivered their own unique greeting to us as we walked through the vineyard. These, we learned, thrive on insects and provide a natural way of reducing pests in the vineyard. Less humidity and a regular breeze due to a higher elevation also provide more optimal (or more Burgundian) conditions to produce the ever-fickle Pinot Noir grape. Christine manages the vineyard, and as she conducted the vineyard tour, Christine picked leaves and either separated clustered shoots or secured wayward-growing ones. We got the feeling that these were her babies, and Christine confided to us that her work in the vineyard is indeed conducted with a motherly passion.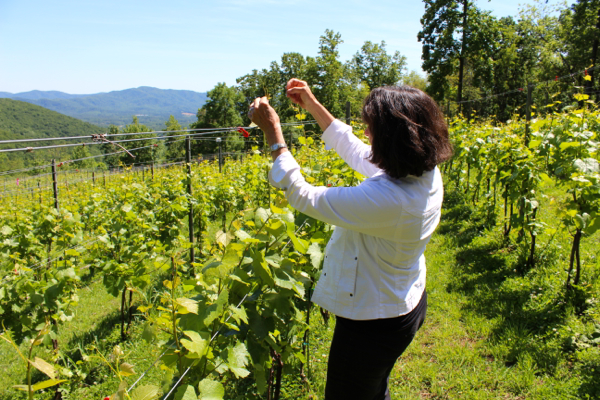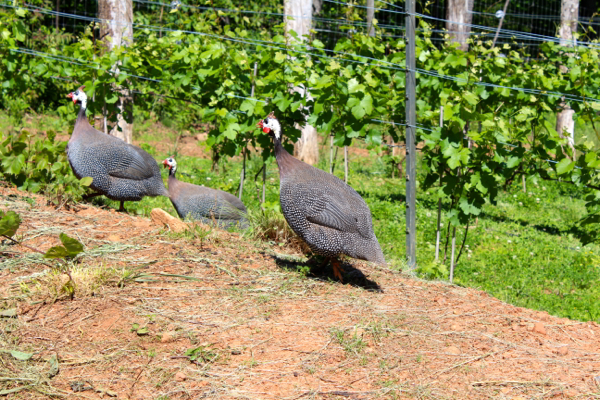 So how does this translate to wine in the bottle? We sampled the latest releases in the tasting room; in addition to the Ankida Ridge-labeled wines, the Vroomans have added the Rockgarden label to their lineup. These can be described as second-label wines that feature grapes grown at other sites. Christine's son Nathan conducted our tasting, and we began with the crisp Rockgarden Cellars Voyage de Vert 2012 that was not unlike a Vino Verde with its green tone and green apple notes. Made from Vidal Blanc and white Pinot Noir, it can be described as the perfect summer wine. Up next was my favorite, the Ankida Ridge Chardonnay 2011 that was aged in neutral oak barrels. Half of the barrels underwent malo-lactic fermentation to provide a creamy mouth feel. Classic pear and apple notes and subtle minerality did indeed conjure images of a classic Burgundy-style Chardonnay.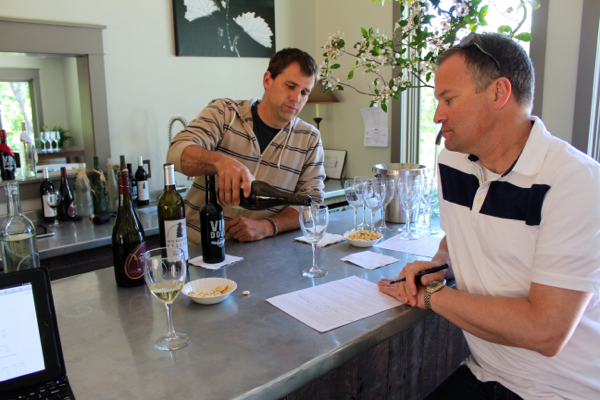 We then moved on to the Ankida Ridge Pinot Noir 2011. Pinot Noir is typically picked early in the harvest season; that fact coupled with the vineyard's location farther west and beyond reach of Hurricane Irene's rainy visit allowed the Vroomans to produce another excellent Pinot Noir. Lush strawberry notes prevailed with flavors of dark cherry and currants, and spice at the end made for a nice finish. The Rockgarden Cellars Voyage de Rouge 2011 followed and featured Merlot, Cabernet Sauvignon, and Cabernet Franc. Elements of cherry, plum and tobacco were noted along with a more tannic presence. A whiff of violet provided a floral note too. Drink now especially if steaks are on the grill! Our final sample was the Rockgarden Cellars Vin Doux, a port-style wine made from Chambourcin grapes. I always enjoy tasting these "smoking jacket wines" and probably do not have enough of them on my wine rack. Dark fruit and pepper characteristics suggested a cigar was in order or at least some dark chocolates.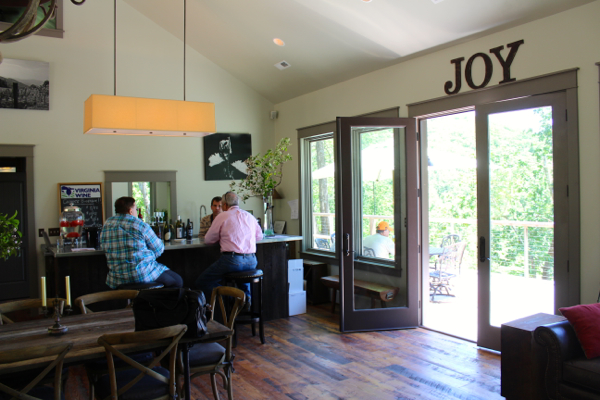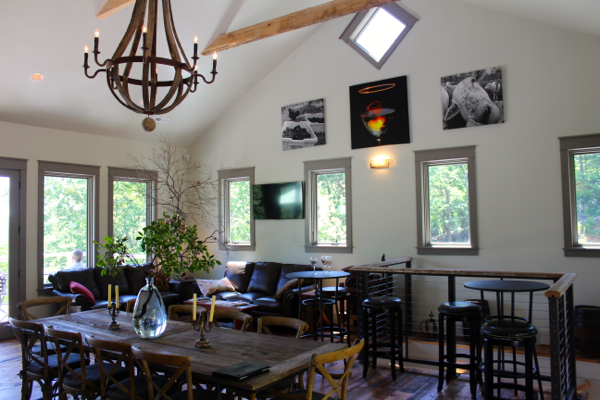 I must mention that the rustic tasting room did make me daydream about a trip to Burgundy. With doors and windows open even on a warm (and cicada-filled) day, the soothing breezes and low humidity made me forget that I was in Virginia on the eve of summer. We decided to enjoy a glass of the Ankida Ridge Chardonnay 2011 with baguette, cheeses and sliced deli meat while basking in the lovely weather and gorgeous view.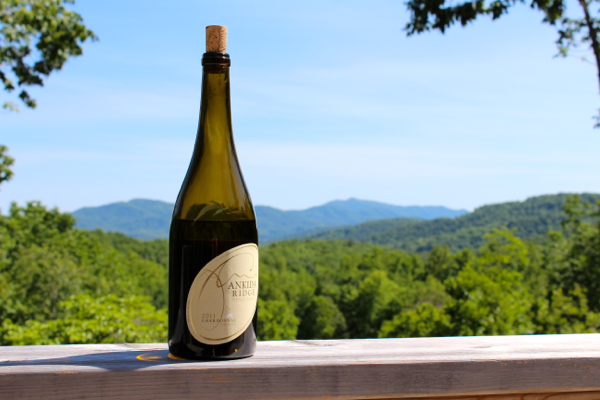 We made certain to purchase our favorite Ankida Ridge wines and know that we will return soon. In the meantime, readers should plan a visit to "Little Burgundy" and mention that Virginia Wine Time sent you.