It's that time of the year when friends gather for cookouts on warm summer days. Local wineries sometime provide the cookout, and friends meet to enjoy food and wine. We met our friends Matthew and Troy for an afternoon of wine and food at Zephaniah Vineyard; we then extended our leisurely wine and dine afternoon with a tasting at Willowcroft Winery.
We recently met Matthew and Troy at Chrysalis Vineyards and found out that they are fans of Virginia wines. We eventually made a plan to meet them on another weekend at Zephaniah Vineyard. We're big fans of Zephaniah Vineyard, and we were certain that Matthew and Troy would become fans as well. As luck would have it, our visit there coincided with their Angus Burger weekend; in fact, we all became instantly hungry when we pulled up in the parking lot and smelled the burgers on the grill! However, we all remained focused and knew that we first had to taste wines. How else would we know which wine would pair best with burgers?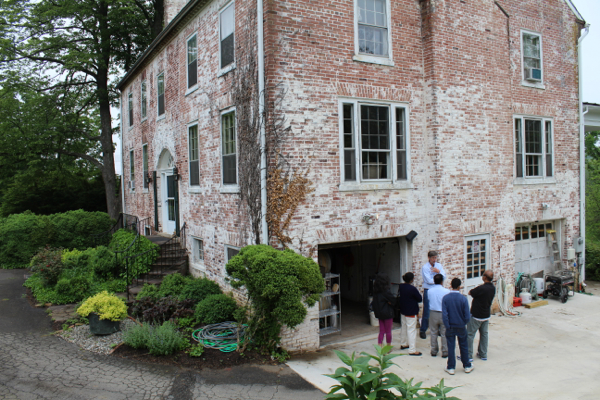 On tap for tasting were six wines, these included two white wines, a rose and three red wines. Of the white wines, we all were big fans of the Viognier 2012 that was aged for seven months in neutral French oak barrels and blended with 6% Petit Manseng. Floral notes, stone fruity element and a lush mouth feel made for a complex wine. With burger in mind, though, we all gravitated to the dry Rose 2012, a blend of Cabernet Franc and Chambourcin. Bright strawberry flavors with a hint of dried herb made for a refreshing pour; aged in French oak barrels for seven months, it also presented a creamier texture. Perfect with burgers and always perfect on a hot summer's day! On another note, I was likewise impressed with both the Chambourcin 2010 and the Chambourcin Reserve 2010. The latter was poured from a magnum bottle to suggest an age worthy wine produced from a unique vintage.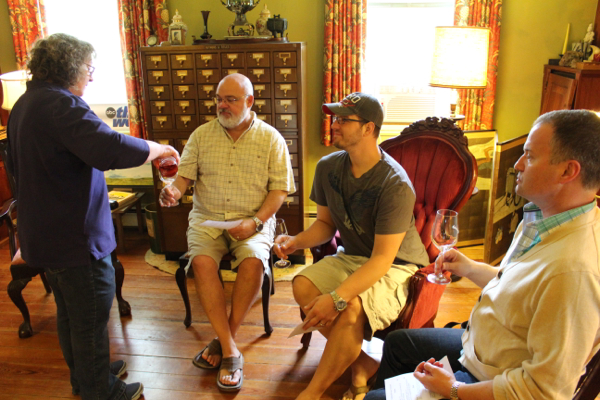 I must also mention that our tasting was done in the library of the 19th century home that serves as the Zephaniah tasting room. It provided a quaint setting in which to sample wines done in an Old World style.
However, we were indeed quite hungry, and the scent of grilled food only made us hungrier. We all concurred that the Rose 2012 was the perfect partner to pair with burgers, and so a bottle of the Rose 2012 made its way to our picnic table.
Lunch and conversation made the afternoon fly by, and we decided to extend the afternoon with a tasting at Willowcroft Winery. One of our favorite tasting associates, Kelly, was on hand to conduct our tasting. With warmer days ahead, our focus was on refreshing sippers that could be enjoyed on their own or with light/grilled fare (like burgers!) The crisp Cold Steel Chardonnay is always a winner on a hot day, and the 2012 vintage presented fruity notes with a touch of minerality to make for a refreshing wine. Matthew and Troy appreciated the off-dry Cabernet Blanc with its strawberry aromas and flavors. For those looking for a different wine to serve with picnic sandwiches, try the non-vintage Applause, an apple wine that should prove to popular with July 4th fireworks; however, it could also be poured with Mr. Turkey on Thanksgiving!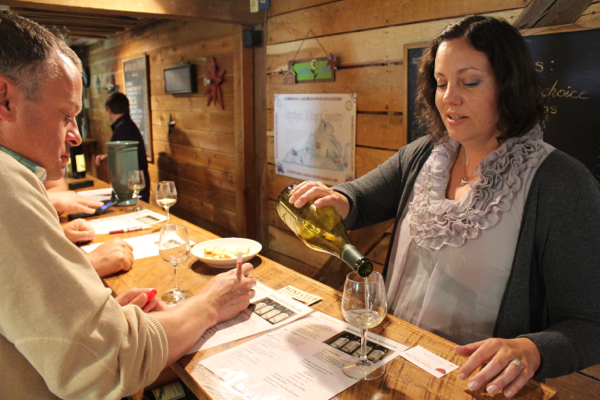 We do know that steaks are often on the grill during the summer months, and if strip steaks and grilled veggies are on the menu, try the 2007 Merlot. Paul remains a fan of this one with its sweet tobacco notes and dark cherry flavors. He bought another bottle to replace the one that we had enjoyed a week earlier.
After our tasting, we all shared a bottle of the Cabernet Blanc and enjoyed the mountain views from our outdoor picnic table. Of course, the time did arrive when we had to leave Willowcroft Winery with our bottle of favorites in tow. Plan a trip to Zephaniah Vineyard and Willowcroft Winery, and be certain to mention that Virginia Wine Time sent you.