Winemaker Jim Law held a special release tasting of upcoming wines at Linden. We look forward to attending this annual event, and this year was no exception. Gorgeous spring weather, bursting blossoms, and fluttering birds provided an idyllic setting to boot.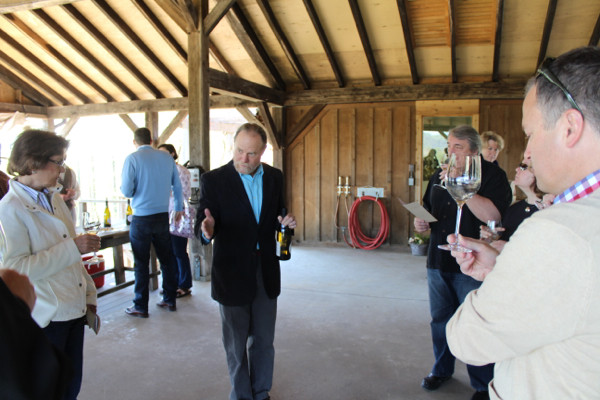 The event featured five tasting stations, and the first station was located on the outdoor crush pad and appropriately named First Sip. Chardonnay was the star attraction here, and there were four of them to sip. These included the 2011 and 2010 Avenius Chardonnay followed by the 2011 and 2010 Hardscrabble Chardonnay. The Avenius site is known for its rocky soils and thus produces leaner wines with mineral characteristics; we both agreed that the 2011 better presented these unique qualities of the Avenius vineyard. Shellfish will be perfect with one! The Hardscrabble site with its clay soils produce fuller-bodied wines; of the two, I preferred the 2010 Hardscrabble Chardonnay with its richer mouth feel.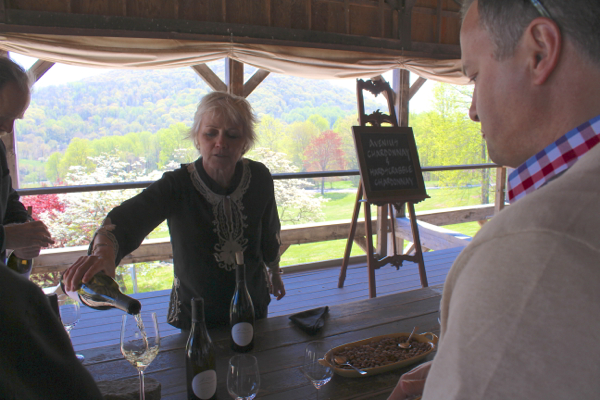 From the white wine station, we moved on to the red wines held in the barrel room. We moved through four tables that presented a total of seven red wines. The first table featured a 2010 Cabernet Franc, and this will be the first time that Law has released a single-varietal bottling of Cabernet Franc in quite some time; however, the 2010 Cabernet Franc proved to be jammier and more muscular than in previous years. Law therefore opted to bottle it on its own. We approved of the decision and enjoyed our sample with a spicy lamb meatball.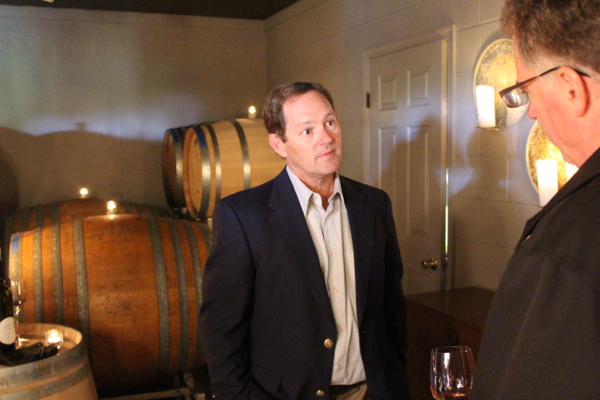 The other tables provided more opportunities to sample wines from the 2009 and the 2010 vintages. In all cases, we tended to prefer the 2009 pours. The most accessible was the 2009 Boisseau Red, a blend of 43% Merlot, 31% Cabernet Franc, and 26% Petit Verdot. The 2009 Hardscrabble Red proved to be the most complex and was dominated by Cabernet Sauvignon (64%) then Merlot (14%) and Petit Verdot (3%). Paul was a big fan of the 2009 Avenius Red with its plum notes and earthy elements.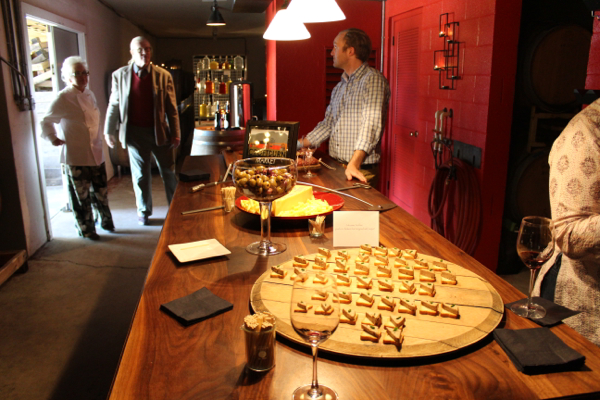 Though we did enjoy the 2009 vintages, it was hard to ignore the potential for the 2010 red wines. The 2010 harvest was best since the heralded 2007 season, and it was telling that Cabernet Sauvignon heavily dominated all of the 2010 blends. I am always a fan of the Hardscrabble reds, and once again the 2010 Hardscrabble Red was my favorite of the still evolving 2010 blends. Remember, though, that the 2009 blend contained 64% Cabernet Sauvignon. The 2010 version? 83% I have no doubt that the 2010 Hardscrabble Red will have great cellaring potential once it is released.
We completed our release tasting and then opted to try the current releases in the tasting room. Here again we were able to taste a contrast of seasons. Law has released a 2011 Red, a bright and light bodied red blend that would be suitable with a pizza, burger, or spicy fare. (I called this one a Beaujolais-style wine due to its soft, fruity nature, but I'm not sure if Jim would consider it a complement.) Anyway, it was the product of a very rainy and difficult year yet it was very quaffable. Be sure to enjoy soon, though. It might be an option for Thanksgiving dinner, too. (Paul ended up buying two bottles!). On the other hand, the 2010 Claret was more complex with smoky notes and ripe dark fruit flavors. Steak on the grill? This would pair nicely. Unlike its younger sibling, this one will be able to hang out on the wine rack for a while.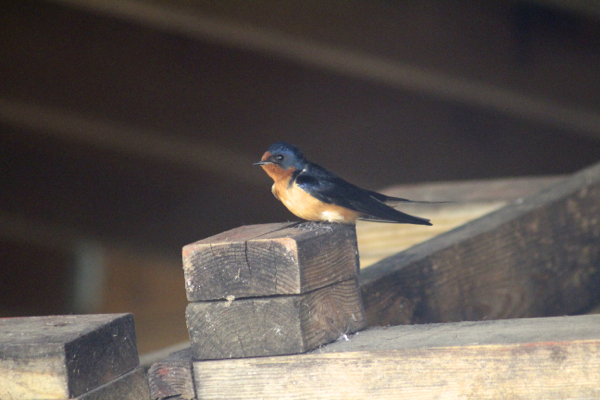 Our tastings were done, and we decided to linger for a while with a glass of our favorites. I savored a glass of the 2009 Hardscrabble Red, and Paul enjoyed a glass of the 2009 Avenius Red. We munched on a smoky gouda cheese, summer sausage, and a baguette, and Paul snapped pictures of barn swallows as they flew back and forth between a dark space beneath the deck and nearby trees.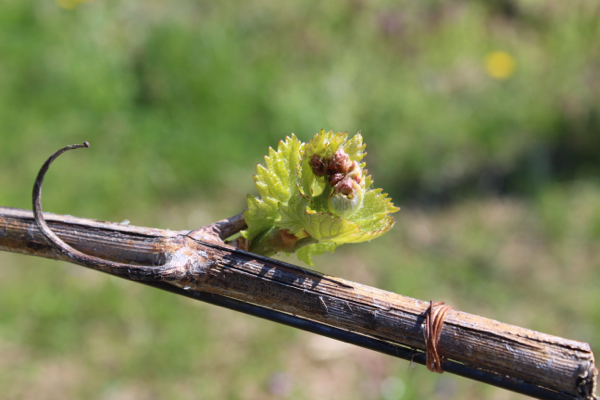 We enjoyed our special release tasting and made sure to purchase some very special wines. Plan a trip to Linden, and mention that Virginia Wine time sent you.