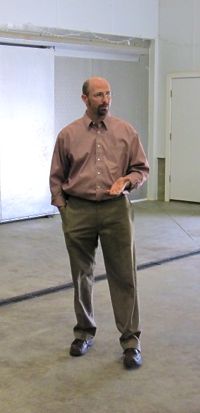 Jake Busching earned a reputation as an excellent winemaker while at the helm of Pollak Vineyards. He is now the winemaker at a new venture called Grace Estate Winery that will open in April of this year. Grace Estate Winery is also the home of the heralded Mt. Juliet Vineyard that is located in Crozet. The winery is located in the Monticello AVA. We asked Busching to offer an early assessment of the 2012 vintage.
1. How would you describe the 2012 growing season overall?
2012 was a peculiar year; it was an early, yet cool spring, and a blazing hot dry summer, followed by intermittent rains during harvest. I didn't like it. There were too many odd variables within a given vintage including: 1) too close to frosting early; 2) too close to drought late; 3) July Derecho winds, and 4) too close to hurricane rains on ripe fruit. The plants seemed confused. Timing for bloom was off in the reds. Shoot growth was slow. And overall the cropload was down about 30% based purely on berry size.
2. In particular, how was the season for white grapes?
For the whites all of this strange weather had less effect than I would have thought. The aromatics are rich and the mouthfeel is lush. Acid was lower than I like but that is true in nearly every vintage.
3. And what about the red grapes?
The reds had more of a reaction to the vintage. Tannins are in short supply in almost all of the reds. Color isn't bad but not as deep as I like due to sun intensity. The wines are good and better than many vintages I've worked; time will cure most of my rather exacting concerns. I think on a consumer level the wines will be received as being quite good.
4. What will be the hallmarks of the 2012 wines?
For the wines from Mount Juliet vineyards, Viognier and Chardonnay are both showing very well. The Merlot and Tannat are my top reds this year.