We finished our Presidents' Day Weekend trip to the Monticello area with a visit to DuCard Vineyards. We first visited DuCard when the winery was newly opened in 2010. Owner and winemaker Scott Elliff was on hand to conduct our tasting on a frigid day.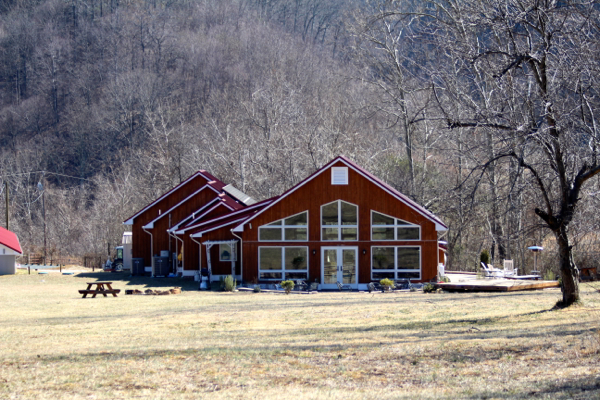 DuCard Vineyards has made quite a splash with its Signature Viognier with its 2010 version earning accolades at a recent blind tasting held in Richmond. One of the judges was wine expert Steve Spurrier; when the judging was done, the 2010 Signature Viognier scored a tie with a heralded 2010 Condrieu from E. Guigal Vineyards in the Rhone Valley of France. Unfortunately, we have not tasted the 2010 Signature Viognier; however, the 2011 Viognier went toe to toe with the 2012 Viognier that was offered for a side-by-side comparison. My nod went to the very aromatic 2011 Viognier with its peach flavors and bright acidity. The still-evolving 2012 Viognier is destined to find fans; right now, it presents a very fruity nose and palate with a distinct banana note.
Of the red wines, my favorite was the 2010 Petit Verdot. This Petit Verdot was the product of a hot, dry growing season and presents a very dense color in the glass. I detected a whiff of violet with dark fruit elements that include black currants, dark plums and blackberry. A firm tannic presence suggests aging potential; however, if leg of lamb or thick, juicy steaks beckon for this Petit Verdot, open early or decant. I made certain to purchase a bottle for a future dinner party; of course, future could mean next week or five years from now! In any case, Norton lovers should enjoy the jammy 2010 Norton from DuCard. Paul, though, preferred the lighter bodied 2010 Cabernet France with its brambleberry aromas and flavors and spicy finish. I enjoyed this one too, and it could pair well with herb-crusted poultry or pork; however, I think that it could be enjoyed just by itself either beside a fireplace on a cold day or on the deck on a warmer spring afternoon.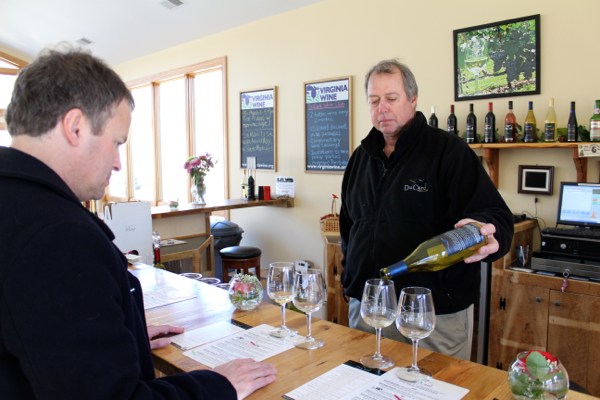 Speaking of a warm afternoon, the 2012 Rose should be a hit in the spring and summer. I like dry roses, and this one was can be considered off-dry with less than 1%residual sugar. This was produced from Cabernet Franc grapes with a splash of Cabernet Sauvignon. Its bright pink color and strawberry nose reminded me that warmer days, fragrant flowers, and lasting sunsets are just around the corner!
Scott Elliff was a very gracious host, and we learned that he remains dedicated to producing limited quantities of quality wine. To celebrate the success of the 2010 Signature Viognier, Elliff will include a copy of the wine-themed movie Bottle Shock with case orders of the 2011 Signature Viognier. Why Bottle Shock? This movie recalled the 1970s judging event that put California wines on the international wine map, and it was Steve Spurrier who hosted it. Spurrier likewise judge the so-called Judgment of Virginia in which Virginia Viognier went up against the best from France. It was the 2010 Signature Viognier from DuCard that showed most brightly!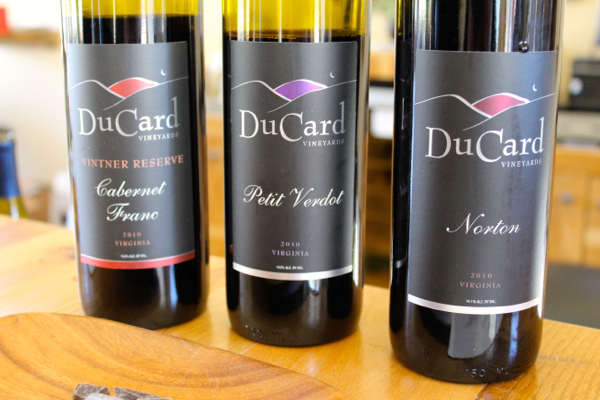 We made certain to purchase our DuCard favorites and promise to return soon; with spring weather just around the corner, plan a visit to DuCard Vineyards, but mention that Virginia Wine Time sent you.