While the title is a twist on Shaps' Wineworks , it is literally true. Michael Shaps produces wines for his own successful venture, Virginia Wineworks, but he also either makes wine or consults for a number of wineries in the state. This would include the winemaking at Pippin Hill Farm and Vineyards located nearby his Wineworks tasting room. During our recent visit to the Monticello area, we made an afternoon by visiting both wineries.
We always enjoy the no-nonsense tasting experience at Virginia Wineworks, and this time around we got to sample wines in boxed containers. Yes, wines in boxes. There is a trend underway to reconsider how traditionally disreputable methods of packaging wine (and that includes screw cap enclosures) are being viewed. However, we've had boxed wines from Bordeaux that were very good, and so we tasted the Wineworks boxed wines with open minds. We both concluded that they were very good, and for the amount of wine that they hold (four bottles) well worth the price. The Box Wineworks White Blend is a perfect aperitif; however, Paul favored the Box Wineworks Red, a blend of Merlot, Petit Verdot, Malbec and Tannat. This was a fruity, lighter-bodied wine that is perfect on its own or with simple meals such as meatloaf, grilled chicken, or pork chops.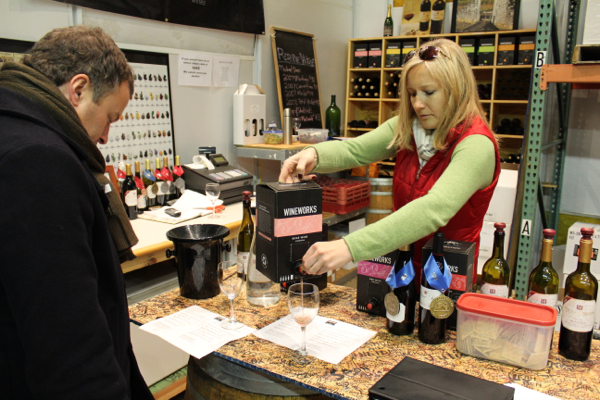 We also got to sample the Michael Shaps-labeled wines, and these are his premium wines. I remain a fan of his Viognier, and the 2009 vintage was my favorite of the white wines. Nice aromatics and a fuller mouth feel make for an elegant wine. However, I also enjoyed the Chardonnay 2008 with its pear notes and creamy finish. Of the red wines, my preference was for the Meritage 2008. Petit Verdot leads the blend at 44% and contributes to the earthy/spicy notes and dark fruit aromas. Merlot (33%) and Cabernet Franc (23%) add elements of cherry and raspberry. Paul favored the Petit Verdot 2009 and its characteristics of black currants, dark cherry, tobacco and pepper.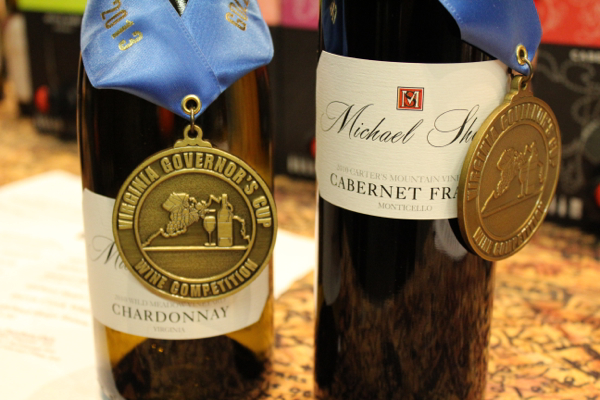 Vintner and wine educator Santa Rava conducted our tasting and expertly answered our questions (which can be numerous). Santa hails from the Sonoma area and is herself a winemaker. The quality of Michael Shaps' wines and his reputation as a winemaker attracted her to the area in order to become part of the winemaking team at Wineworks. She also share with us that Michael is a full owner of a winery in Burgundy; in fact, Michael and his wife Christie also own and rent a 200-year old home in the winemaking village of Meursault, France. The home boasts two master bedrooms, a large kitchen with a private chef upon request, and heated towel racks. Perfect for a wine-tasting trip to Burgundy, a relaxing European getaway, or a honeymoon—or all of the above!
With our tasting completed, we were ready for lunch and decided to enjoy a bite at Pippin Hill Farm and Vineyards. The focus here is wine, too, and Michael Shaps is the winemaker. Before lunch, though, we had to select a wine to pair with lunch. This, of course, required a trip to the tasting bar. Our favorites? Of the white wines, the 2010 Chardonnay Reserve earned my top honors with its pineapple and pear notes and fuller mouth feel. Paul liked the 2011 Viognier and noted fruity aromas and peachy flavors. The red wines brought us to a joint conclusion—the 2009 Cabernet Sauvignon was our favorite. Smoky notes with cherry, blackberry, and earthy elements made for a more complex yet accessible wine. We opted to enjoy this one with lunch. So what was for lunch? For me, it was the steak frites with parmesan fries; for Paul, it was the homemade pizza. The foods are all the products of local farms, too! A bluegrass trio provided entertainment.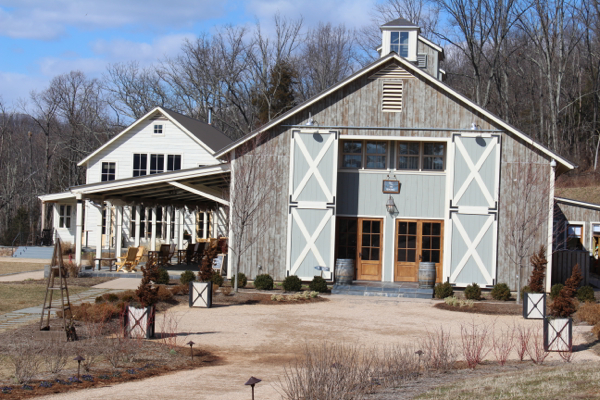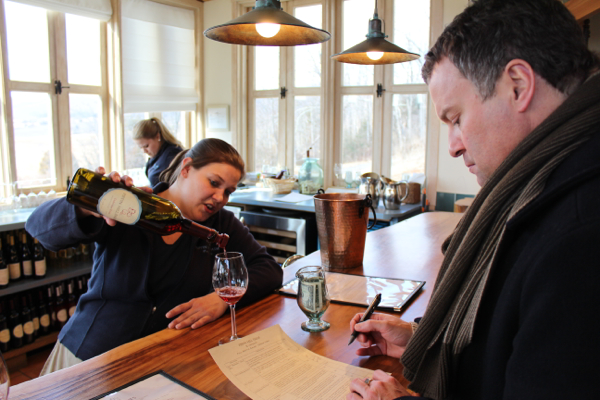 Plan a trip to the Monticello area to sample Michael Shaps' wines, and then enjoy wine and lunch at Pippin Hill. Be sure to mention that Virginia Wine Time sent you.