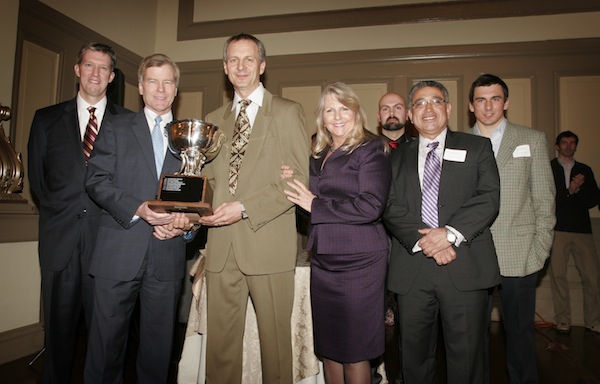 Photo provided by the Virginia Wine Marketing Office.
We thought we'd jump on the bandwagon and announce the 2013 Virginia Wineries Association's Governor's Cup was awarded to Barboursville Vineyards 2009 Octagon 12th Edition. It was selected from the 12 top scoring wines from the competition. The 2009 Octagon will be included in the Governor's Cup Case. The others that will be included are:
Cooper Vineyards – 2010 Petit Verdot Reserve
King Family Vineyards – 2010 Meritage
Lovingston Winery – 2009 Josie's Knoll Estate Reserve
Philip Carter Winery – 2010 Cleve
Pollak Vineyards – 2009 Cabernet Franc Reserve
Potomac Point Vineyard and Winery – 2010 Richland Reserve Heritage
Rappahannock Cellars – 2010 Meritage
RdV Vineyards – 2010 Rendevous
RdV Vineyards – 2010 Lost Mountain
Sunset Hills Vineyard – 2010 Mosaic
Trump Winery – 2008 Sparkling Rose
Congratulations to Luca Pachina, Barboursville, and all the other award winners!