Every winter we enjoy visiting Naked Mountain Vineyards to take advantage of their lasagna and wine weekends. Even though we just visited in November and much of the tasting menu was exactly the same, we decided to head out to Naked Mountain this past weekend to enjoy some wine and lasagna.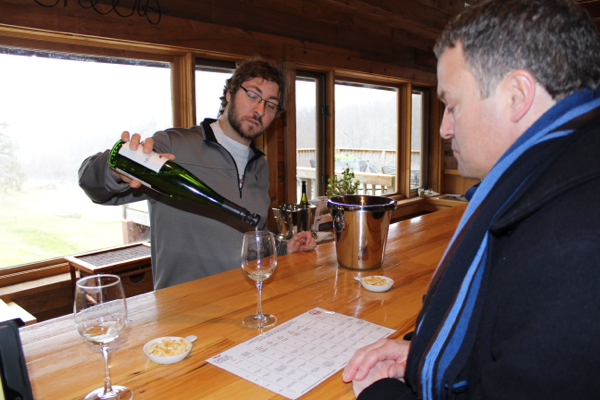 Upon entering the winery we notice Seth Chambers would be conducting our tasting. We chatted with him about what was going on at Naked Mountain while enjoying the wines on the menu. One of our favorites turned out to be the 2011 Chardonnay with its pear and apple notes and creamy texture. Another favorite we found on the list was the 2008 Cabernet Franc. We noted lots of raspberry, some smoke on the nose, autumn spice, and a tart ending.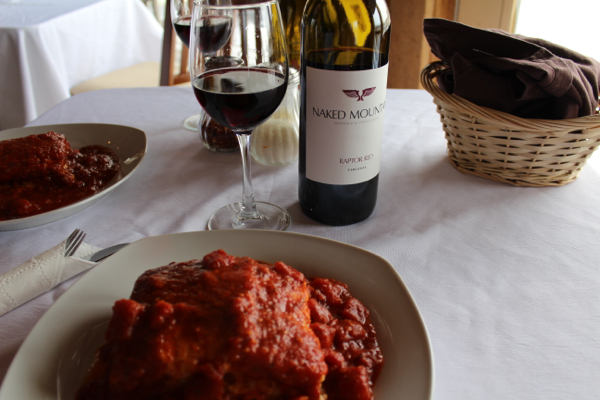 After our tasting, our lasagna was ready. We decided on the non vintage Raptor Red to accompany our lasagna. The Raptor Red is a blend of grapes from 2007 and 2008. We noted some bright fruit, decent tannins, and a long finish. It went very well with our lasagna. While we enjoyed the lasagna we had a great view of the vineyards on a snowy day. It made for a beautiful scene.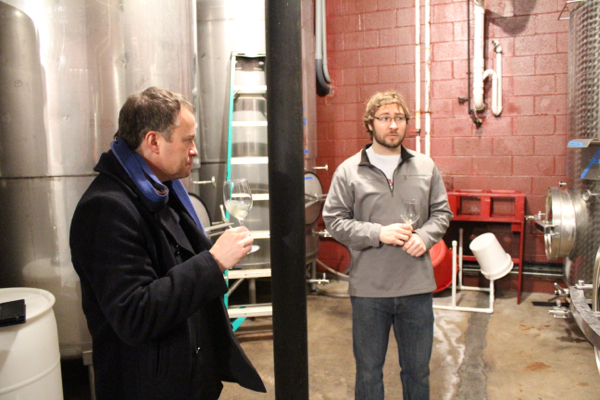 While chatting with Seth earlier we found out that Naked Mountain is coming out with a new line of wines later this spring. The line will be called Drink Naked and will begin with two white wines. Seth let us have a sneak peek of the new wines. The first is the 2012 Skinny Dipper which is made from mostly Vidal and blended with some chardonnay. It has 3% RS. It was fruity and crisp with nice acidity. We thought it would be perfect for a warm summer day. The other Drink Naked wine is the 2012 Birthday Suit. It is mostly chardonnay with some seyval and a splash of riesling. Its dry and would also be a nice sipper for summer time.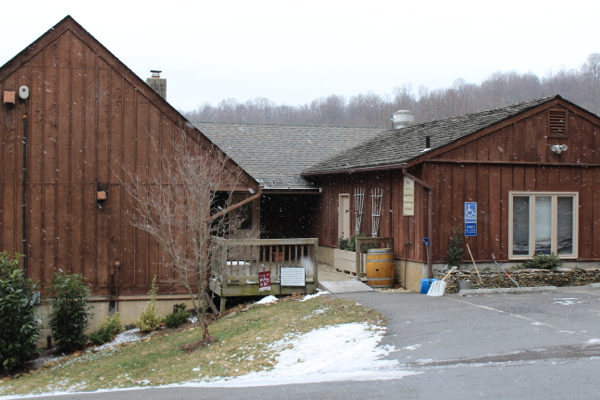 Seth also informed us Naked Mountain will be expanding their vineyards soon. With the success of Virginia wines, fewer growers are selling their grapes so Naked Mountain wants to expand their vineyards to be able to make more estate wines. It's always nice to catch up with Seth to find out what's happening at Naked Mountain. And of course enjoying their delicious lasagna is a plus! Be sure to get out to Naked Mountain this winter to enjoy their wine and lasagna weekend. And when you do, tell them Virginia Wine Time sent you!