Lori Corcoran and her husband Jim seem to have an endless supply of energy, and they are always embarking on some new adventure or innovation in the beverage industry. In addition to their winery, the Corcorans also operate a brewery and now plan to open a tavern, the Leesburg Brewing Company! Lori is the winemaker; however, she can usually be found at the tasting bar serving customers and sometimes at the taproom. She also assists other vineyard managers and wine makers in Loudoun County and is now a hands-on planner in refurbishing the tavern that will open soon in Leesburg.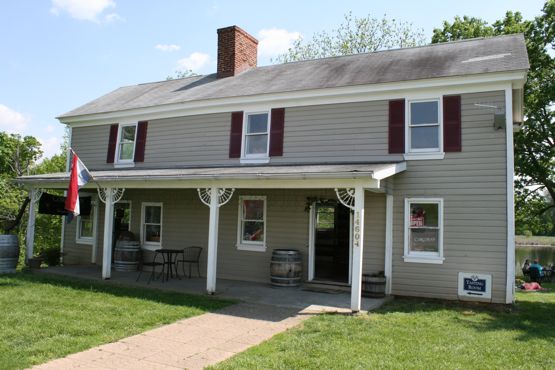 Our primary objective in meeting Lori on a windy Sunday afternoon was to sample her latest wine releases since we had done a tasting at the winery in over a year. Of course, Lori was already behind the tasting bar when we arrived, and she bid us a very warm welcome. We were treated to a full complement of wines on the menu with at least six of them from the 2011 vintage. I became a fast fan of the 2011 Apple wine; in fact, I find myself liking these more and more each time I taste them. I think that I tend to forget that Virginia does apples as well as it does grapes! Anyway, this one was made from100% Virginia and was very crisp with a nice acidity. Versatile too—pour with Virginia ham, a summer picnic, or on its own on a it day. I also enjoyed the light-bodied 2011 Cabernet Franc with its bright strawberry notes and classic pepper nuances. Several of the 2011 Francs in Virginia do seem to be of this style due to the wetter-than-normal season, but they should not be dismissed. Compare them to a Cabernet Franc from the Chinon region of France, and you might be surprised. These lighter, brighter style Cabernet Francs are very fruity and accessible making them quite versatile with food pairings. However, Paul and I both concurred that the 2010 Petit Verdot was the winner on the menu. Plummy aromas and flavors merged with spicy notes to reveal a fuller-bodied wine. Its tannic presence suggested a need for food, and I'd suggest a leg of lamb.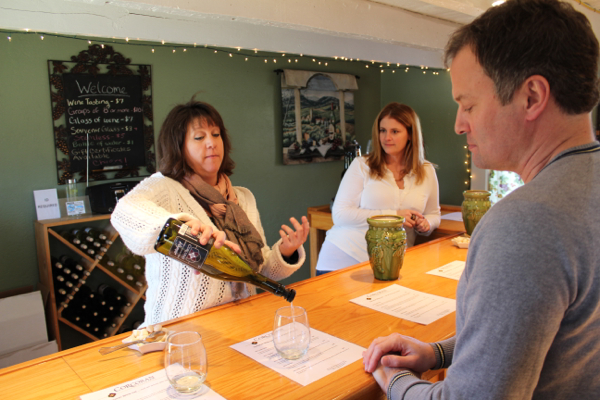 Lori also treated us to a sampling of her dessert wines. Paul tends to shy away from these wines, but he did linger quite a while on the 2008 Cello with its lemony nose and herbal notes. It is made from 100% Petit Manseng that perhaps accounts for its fuller feel in the mouth. Flavor is not lacking with this one. My own favorite was the 2011 USB, a port style wine made from Chambourcin grapes. When seated beside a fireplace with a chocolate dessert (or a cigar), the USB should a perfect partner.
As we sipped and savored, Lori clued us in on future releases and plans for the Corcoran operation. Readers who were fans of Lori's excellent Chardonnays will be glad to know that Chardonnay will return to Corcoran Vineyards! Look for Pinot Noir, too! These grapes were grown on the Swedenburg estate, and the Lori promises that this will be an excellent Pinot. We also learned that Lori plans to open a tavern in Loudoun County; in fact, the facility already exists and will be refurbished (and renamed) to comply with the new ownership. Of course, Corcoran wines and other Loudoun County wines will be poured there as well as beers brewed at Corcoran brewery.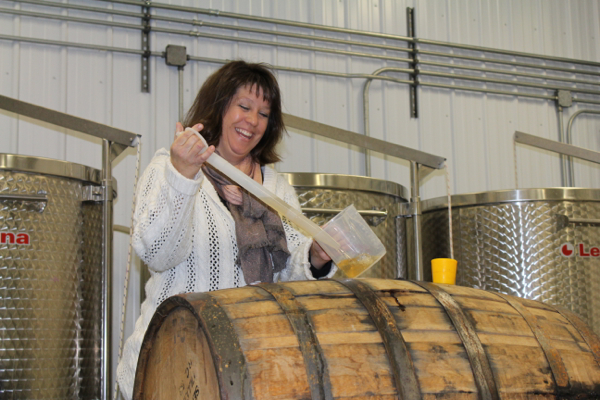 We also went over to the winery to get a special taste of Lori's white port from "the barrel."
And from there, we went to the brewery! The brewery was already crowded with tasters, and several beers from light-bodied to dark ales were on tap for sampling. We did sample a couple of brews, and one was a light-bodied holiday wine; the other, a darker brew flavored with vanilla. We're not beer experts, and I tend to enjoy beer with summer fare like burgers or with Mexican fare. With that in mind, I did trend toward the lighter-style beer. We do intend to return for a more complete tasting (and maybe with a beer drinker in tow.)
In addition to various ventures in the food and beverage industry, Lori is also a full-time Mom, and I have to admire her unlimited supply of energy and enthusiasm. She is not afraid of innovation and seems to have a knack for understanding what works. We wish her luck in her new endeavor.
We know that we will return to sample the latest pours (and brews) at Corcoran Vineyards and Brewery. I, for one, am excited about a return of the Chardonnay and will be anxious to taste the upcoming release. In the meantime, readers should plan a visit to both the winery and brewery. Please mention to Lori that Virginia Wine Time sent you.