After the Cabernet Vertical we attended at Breaux Vineyards on Saturday we decided to go to North Gate Vineyards to see what was on the tasting menu. We hadn't visited since May 2012 for the Taste Camp event and it was time to see what new wines were ready for tasting.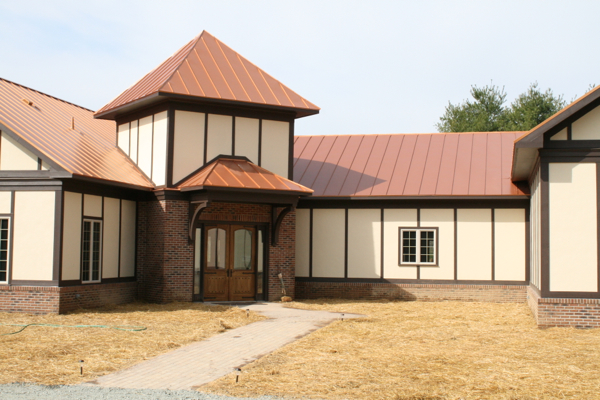 (Photo from March 2011)
It's always nice to walk into the tasting room and see familiar faces. Mark and Vicki Fedor noticed us right away and welcomed us to the tasting bar. After catching up a bit we began our tasting. I kept my tasting notes on my iPad so I will post them here as they were recorded on the iPad. Between each taste we chatted with Mark about each wine, how it was made, and the impressions we experienced.
2011 Viognier-Mineral, tropical fruit, melon, delicate wine with no residual sugar. Made from the French clone known as Aban. Aged in neutral french oak barrels. I really enjoy the lightness of this wine. This was my favorite white!
2010 Roussanne-We noted a pear nose and pear on the tongue with some almond notes. It had a nice hay color. Roussanne is different from your regular white wines. It has evolved since our last tasting in May. Warren enjoyed this one.
2012 Chardonnay-We didn't get to taste this one but it should be released by early May. Stay tuned!
2011 Rose of Cabernet Franc-We noted watermelon, strawberry, and dried herbs. It has a very low .25% residual sugar and was finished in stainless steel.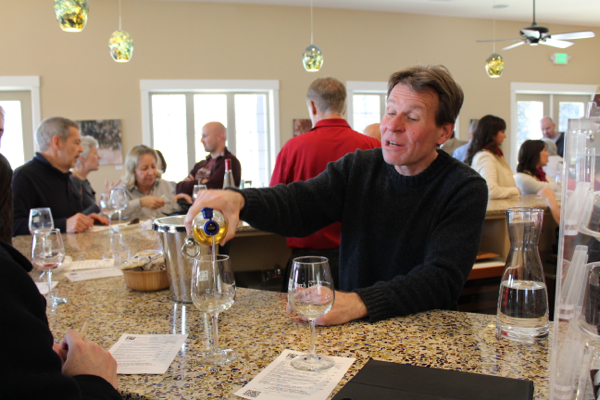 2010 Cabernet Franc-We noticed bright fruit with a light pepper finish, It was blended with 10% merlot to balance it out and smooth out that pepper finish. This one won gold at the 2012 San Diego Wine Competition and the Indy International. Congrats!
2011 Merlot-We got a sneak peak tasting as it's not yet released to the public but will be soon. It has already won Bronze in San Francisco Wine Competition-This one has a beautiful color, a hint of petit verdot, all french oak, cherry, tight tannins, hint of spice, 5% cabernet sauvignon. We have a feeling this one will be very popular.
2010 Meritage-We noticed mineral upfront and then a fruity mid palate, and a slightly tannic ending. Cherry, plum, pepper, tobacco were the descriptors that were mentioned while tasting this complex wine with lots of layers. The tannins made me think of enjoying this one with some food.
2010 Petit Verdot-This has a beautiful rich, dark color. We noted sweet tobacco, dark fruit notes, and refined tannis. It's blended with 10% cabernet sauvignon. We were able to try the exclusive dark chocolate mad with the North Gate Petit Verdot. This became my favorite red. It reminded me of their legendary 2008 Petit Verdot. This one also won a gold medal a the Atlantic Seaboard wine competition!
2011 Apple Wine-This award winning Apple wine is made from four kinds of apples. The apple flavors run from the front of your tongue all the way to the back. It's filtered and fermented like a white wine. We thought a good food pairing would be soft cheeses. Warren even thought it would go with lamb or pork chops. Mark informed us others have used it in Sangria.
After our tasting we continued to chat with Mark and Vicki and discovered they are still selling their wines at the Falls Church Farmers Market. They began there and continue to go because the community knows them and would miss not seeing them. The community aspect keeps them going back. We also found out they have a chocolates and wine tasting option. You can select three chocolates to pair with three wines during a tasting. We were able to taste a few of the chocolates and they were delicious! The chocolates are made by The Perfect Truffle in Frederick Maryland. During our conversation we found out North Gate has an artist in residence program. The artist is able to display their work in the tasting room, conduct classes if they wish, promote their works and sell their pieces of artwork. It's a great addition to the tasting experience and helps show the connection between local art and local wine. If I was a better photographer, I would think of becoming one of their artists in residence!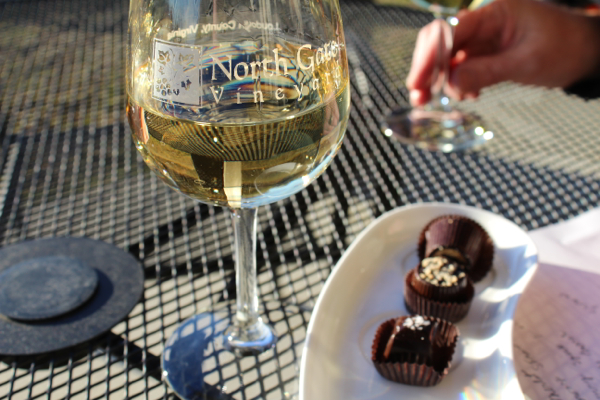 We had a great time catching up with Mark and Vicki. It was nice to have some time to chat with them about all things North Gate. After our time at the tasting bar I enjoyed a glass of the 2011 Viognier and Warren enjoyed a glass of the 2010 Roussanne. We enjoyed our wine with the view from the patio while a warm fire burned in the outside fireplace. Before leaving we purchased a few of our favorites and said our Thank Yous and goodbyes. The next time you are in Loudoun County plan a trip to North Gate Vineyards and tell them Virginia Wine Time sent you!