We have attended a number of vertical tastings in Virginia, but they usually feature Cabernet Sauvignon, Merlot, or Meritage blends. Gadino Cellars offered a vertical tasting of Cabernet Franc, Virginia's premier red grape, and we were intrigued by the opportunity to sample past vintages of the grape to see how they fared over time. On a very cold and snowy afternoon, we made our way to Gadino Cellars to attend the vertical.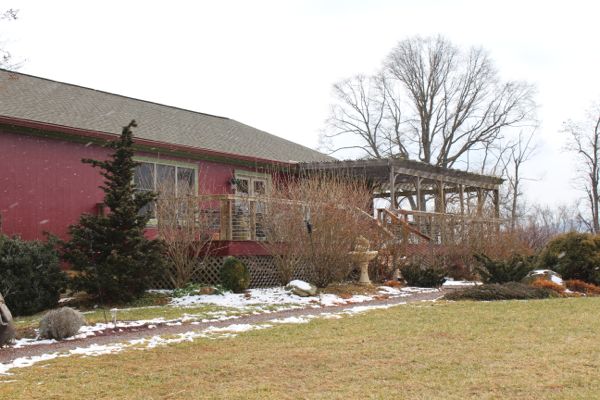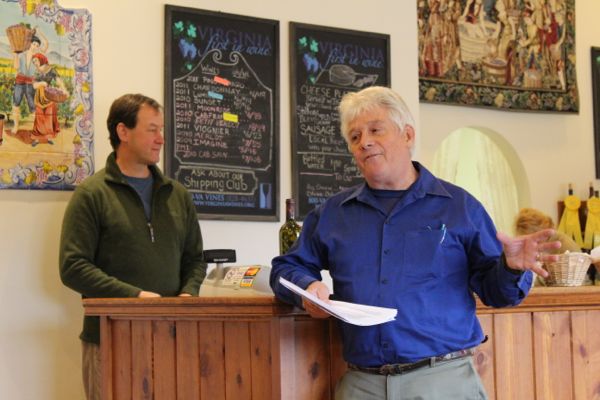 Owner and winemaker Bill Gadino started the event with a warm welcome to guests. He provided a short presentation on the Cabernet Franc grape, its characteristics, and its prominence in portfolio of Virginia's red wines. Bill also presented the wines for tasting, and they included Cabernet Franc from the 2006, 2007, 2008, 2009, and 2010 vintages. However, they were not necessarily poured in chronological order; rather, they were poured in contrasting pairs and with food that complemented each pairing. For example, the eldest 2006 partnered with a fruitier 2009 to pair with a first course of polenta topped with crumbled Italian sausage. Bill threw in a mystery wine alongside the 2008 vintage to pair with the second course that featured marinated mushroom and a cheese purse. A final course and pairing showcased the heavily awarded 2007 vintage beside the jammy 2010 vintage, and these were served with a lamb chop and cannellini beans topped with a scone.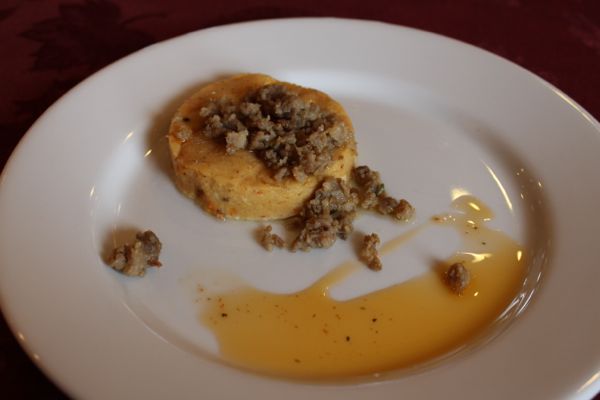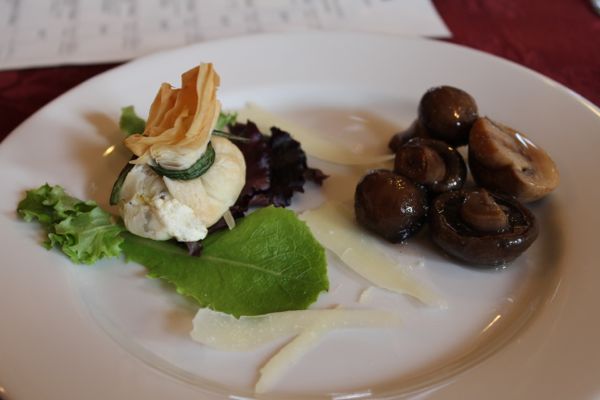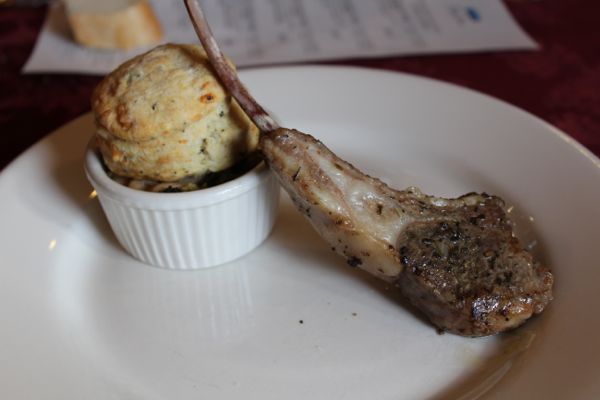 So what were our favorites? It was a tough decision as each vintage had its own unique and special qualities. A fact sheet explained the circumstances of each harvest that helped to put each vintage into perspective. Each year seemed to present challenges, and even seemingly best growing seasons should never be taken for granted. The 2006 season, for example, was described as typical with variable temperatures and normal rainfall until August that turned out to be too dry. Some beneficial rainfall saved the vines from stress without splitting or rotting the grapes. Even the heralded 2007 growing season produced some concern; although it was a very dry growing season, harvest began earlier, and that the concern then was lower than normal acid levels. In sum, managing a vineyard and then making wine is a tough business even in the best of years.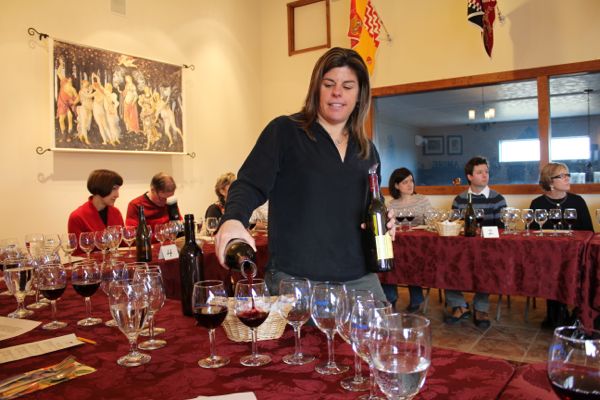 With that it mind, we swirled, sniffed, sipped and savored. My own favorites were the 2007 vintage with its fruit-driven nose and palate; nuances of tobacco and oak were well integrated, and the finish was smooth and lengthy. My other preference was the 2008 vintage that I described on my tasting sheet as the most Old World of the Francs that we tasted. Its smoky nose and characteristics of cherry, raspberry and spice suggested a true French heritage. The most New World of the bunch was the jammy 2010 vintage that was picked at 24.5 brix, the highest level of the Francs that we sampled that afternoon. Oh, and what about the mystery wine? It was a Cabernet Franc from Gadino's sister winery in Sicily. This one was by far the earthiest of the Francs with an initial impression of barnyard that faded away with some swirling. I actually grew to enjoy it at the second sip.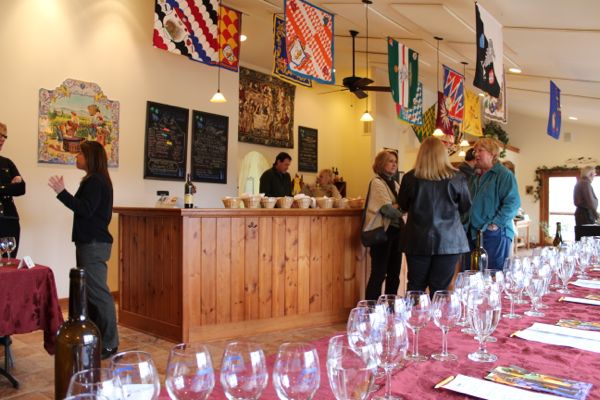 Paul had his own favorites, and the 2008 topped his list followed by the 2006. The eldest statesmen of the group still showed well with elements of dried fruit, tobacco and spice. I detected a caramel note too. Paul was particularly fond of the marinated mushrooms that to him best complemented the 2008 Cabernet Franc when first delivered to the mouth with a forkful of the baked cheese purse. The food was indeed delicious and was prepared by Chef Chuck Arnaud at Main Street Bakery and Catering in Luray Virginia.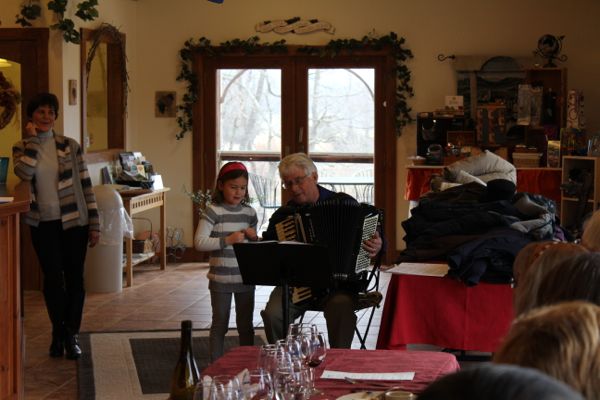 Bill Gadino regaled guests with hilarious jokes and stories; however, it was his skill as an accordion player that moved us all. Italian classics, Beatles tunes, and Sinatra hits were all part of his playlist. I was most touched by Bill leading the group in singing Happy Birthday—to me! (Yes, it was my birthday on Saturday, and I can safely say that I am more than legal to drink wine at any Virginia winery!)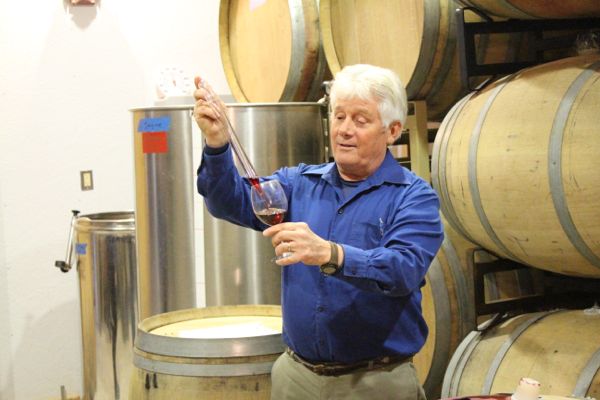 The vertical ended with guests being led down to the barrel room to sample the still evolving 2012 Cabernet Franc which will be released in the spring of 2014. It was still very fresh as though it was just picked (which, of course, it was), and characteristics fruit elements were already on display. Derek Pross, Bill's son-in-law and co-winemaker, also provided us with a sneak sample of the upcoming 2011 Cabernet Franc. This one will be more of a Chinon-style Franc with bright berry characteristics. Lighter in body, it should prove to be versatile and refreshing with summer and fall fare.
With our vertical tasting done, we made certain to purchase bottles of our favorite Gadino Cabernet Francs. We will return soon to sample the latest releases; however, we encourage readers to visit sooner. Be sure to mention that Virginia Wine Time sent you.