We are slowly working our way through the boxes of cookies we received a while ago. Recently we decided to try the Ginger Molasses Cookies from Cookies and Corks. We decided to pair them with the 2011 Green from Cardinal Point Vineyard and Winery. The Green is a blend of 50% Chardonnay and 50% Petit Manseng. The wine wheel/cookie combination suggested a chardonnay. Even though the Green isn't all Chardonnay, we thought we'd try it anyway.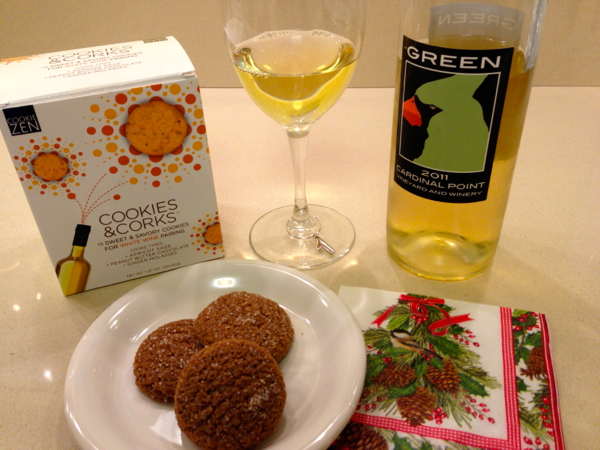 Warren is the tasting expert. He suggested getting our palates wet with the wine and then tasting the cookie. The ginger of the cookie was pretty strong but notes of pineapple, pear, and mango were evident. The tropical notes from the petit manning as well as the ripe pear elements from the chardonnay play well with the ginger spice of the cookies. I thought the ginger was a bit overwhelming but Warren thought the flavors played well together.
We have plenty of cookies yet to taste so stay tuned for future posts. And we've been told the 2012 Green has been released so we will need to try this new vintage. If you visit Cardinal Point anytime soon be sure to check out the 2012 Green and tell them Virginia Wine Time sent you!