We last tasted some wines from Zephaniah Farm Vineyard during TasteCamp back in May. We learned then they would be releasing new wines early in the summer. Since we hadn't actually visited the winery in such a long time, we decided to put them on our list during our recent visit to wineries in Loudoun County.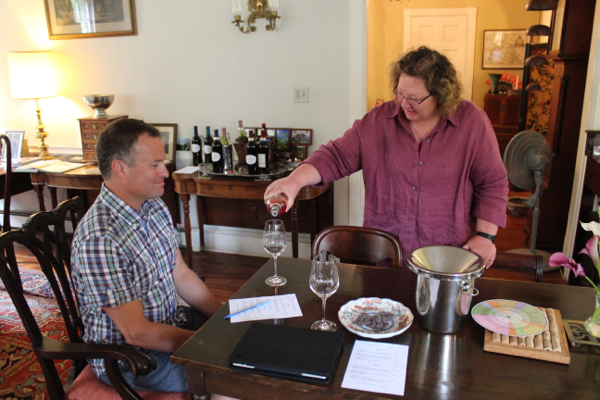 We enjoy entering tasting rooms like Zephaniah because we get recognized. They always remember us at Zephaniah when we walk in. They are also very knowledgable of their own wines as well as wine in general. We were pleased to see we hadn't missed tasting the white wines when we looked at the tasting menu. Here are the wines we tasted and our tasting notes.
2011 Viognier – This beautifully crisp viognier is aged for seven months in neutral oak barrels and presents notes of peach, subtle citrus, lime and a nice mineral ending. This is one of the best representations of viognier in our state we've ever had.
2011 Rose – This rose is a blend of cabernet franc and chambourcin and is aged for six months in French oak. We noted cherry, strawberry cream, and a crisp ending. I also noted watermelon but Warren didn't note watermelon from his taste. This rose would be perfect for an outdoor concert with picnic foods on the lawn.
2010 Adeline – This off-dry dessert wine presented orange peel on the nose and notes of almond and hazelnut on the palate.
2009 Cabernet Franc – This cabernet franc is aged in neutral French oak barrels for 16 months and is a Governor's Cup 2012 silver medal winner. We noted smoke, cherry, blackberry, raspberry, and tobacco. This one quickly became my favorite red of the tasting.
2010 Chambourcin – This chambourcin was aged in Hungarian and neutral French oak barrels for 12 months. I usually don't care for chambourcin but I did enjoy this one. It was smooth and fruity. We noted smoke, plum, currents, blackberry, spice and a hint of earth floor.
2010 Chambourcin Reserve – This one became Warren's favorite red. He noted smoke/tobacco, dark fruit; plum, blueberry, raspberry, and moderate tannins. This is the food worthy chambourcin.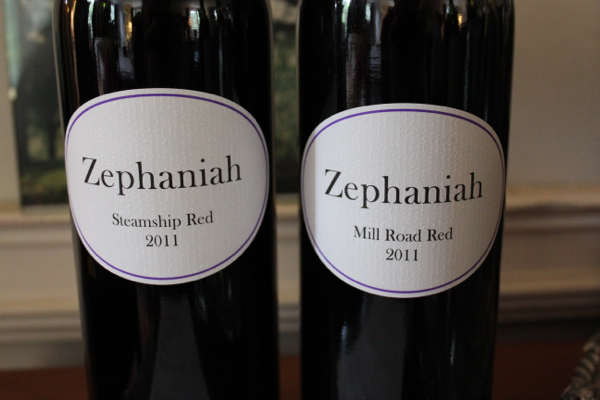 We always enjoy our time at Zephaniah. We chat about wine, education, and technology. And we get to taste some great wines. We learned the 2012 season was a good one for Zephaniah. In fact, on the day we visited, they had just finished harvesting viognier. We also learned they will be releasing two new reds this fall; Steamship Red and Mill Road Red. We will have to plan another trip soon to taste those! Before leaving I purchased a few bottles to enjoy at a later date. If you haven't been to Zephaniah recently, you are due for a return trip. And tell them Virginia Wine Time sent you!