On Monday, Open Kitchen, a unique dining venue located in Falls Church, held its weekly wine tasting session, and Naked Mountain Vineyards was the featured winery. Owner Hue-Chan invited us to the wine tasting; of course, we accepted her invitation. In the process, not only did we sample the wines from Naked Mountain Vineyards but we also found out more about the exciting Open Kitchen concept.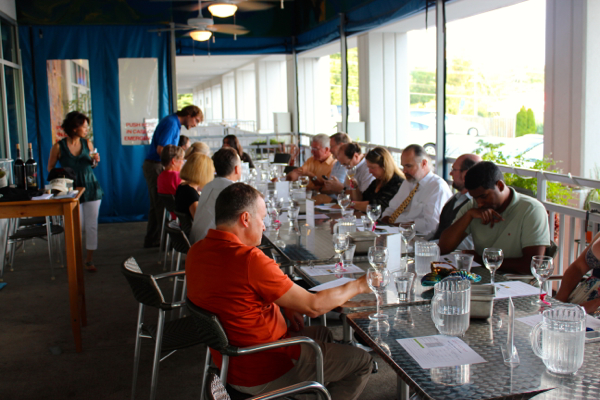 Open Kitchen hosts a wine tasting every Monday starting at 5:30 PM, and this particular tasting was held on the breezeway in front of the restaurant. The weekly tasting event is well into its second month with Naked Mountain Vineyards being the first Virginia winery to pour at Open Kitchen. Naked Mountain winemaker Seth Chambers presented four current releases at the well-attended tasting, and these included the Barrel Fermented Chardonnay 2008, the Chardonnay/Riesling 2011, Scarlet Oak Red 2006, and the Cabernet Franc 2007. My preferences were the Barrel Fermented Chardonnay 2008 with its apple, pear, and butterscotch notes and the smoky Scarlet Oak Red 2006. This blend of Mourvedre and Tannat grapes presented tobacco notes with cherry/raspberry fruit flavors with spicy elements to boot. However, on a hot day it would be hard to resist the Chardonnay/Riesling blend 2011 with its floral nose and pear flavors. Paul enjoyed the Cabernet Franc 2007 and noted aromas of tobacco, raspberry. He savored full berry and earthy flavors in the mouth.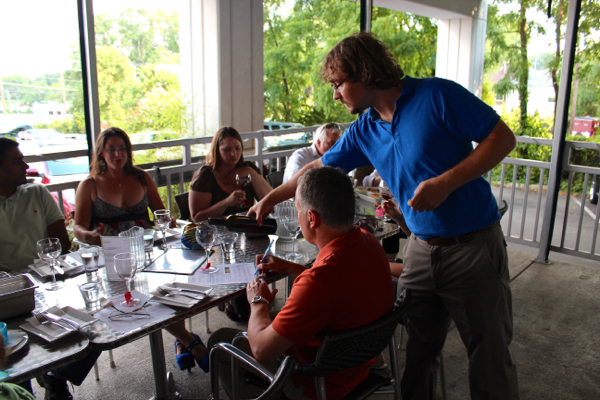 Of course, we are no strangers to Virginia wines and certainly not to Naked Mountain Vineyards. However, we were pleased to meet other tasters who likewise had frequented Virginia wineries. The comments on Virginia wines were all similar—the quality has improved tremendously, and an influx of expert winemakers has brought about this change. We can add that expert winemaking has been the result of growing the right grape varieties in the right vineyard sites. As we chatted about Virginia wines with our table mates, Paul and I availed ourselves to the snack menu and ordered gourmet treats that included skewered chicken served atop freshly made chorizo and a cheese plate of smoked gouda, brie, blue cheese, and olives. Of course, we needed wine to pair with our meal, and our first choice was the Scarlet Oak Red 2006. However, a quick glimpse around the long row of tables revealed that the Scarlet Oak Red was the most popular wine of the event; alas, we were informed that the last bottle of Scarlet Oak Red had been sold. Our next choice? The Cabernet Franc 2007. (We were later told that we bought the last bottle of that one!)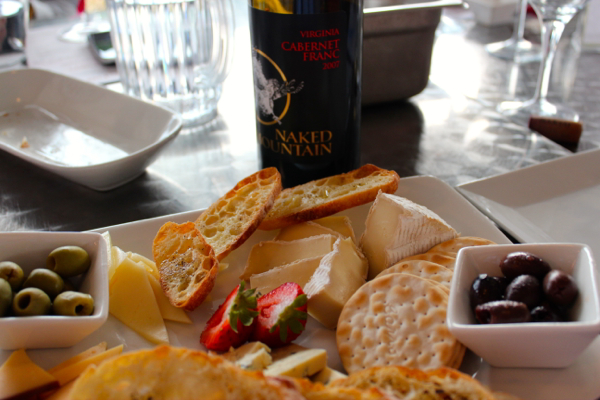 In the midst of our nibbling and sipping, we were able to chat with owner Hue-Chan who opened the Open Kitchen in 2009. Open Kitchen is really more than just a restaurant, and according to the website, "It all started with cookies!" In 2007, Hue Chan wanted to pursue a career in cookie making but ran into a huge obstacle—she could not find an appropriate facility to bake and then sell her cookies. The myriad of laws and regulations that control the food industry turned a seemingly simple pursuit into a headache-inducing problem. Not willing to give up on her dream, Hue-Chan founded the Open Kitchen concept "to provide licensed kitchen facilities for rent on a cost-effective and flexible basis." It offers a restaurant with a full dinner and wine menu, cooking classes with master chefs, entertainment events and services, and timeshare kitchens for chefs. Hue-Chan also embraces a "local" philosophy, and her kitchen makes full use of local produce; this also includes local wine. In addition to weekly wine tastings that will include other Virginia wineries, Open Kitchen will hold a Wellness at the Winery event at the Winery at la Grange that will include an open field yoga session, a wine tasting and wine country picnic. (This event will be held on September 9, 2012.)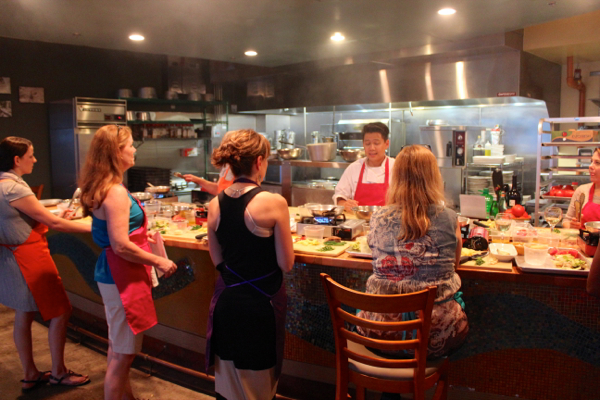 As the sun began to fade, our tasting experience seemed to be at an end; however, winemaker Seth Chambers had a surprise for tasters, and this was a preview sample of the upcoming Birthday Suit, a white wine blend that was created by Chambers to celebrate the one year anniversary of the new owners buying the winery and vineyards. This special blend included Chardonnay, Viognier, and Riesling. I described it as a dry alternative to the Chardonnay/Riesling 2011; it was crisp with lovely pear and melon notes. The Birthday Suit is a limited-production wine, so buy upon release—it will sell out sooner rather than later!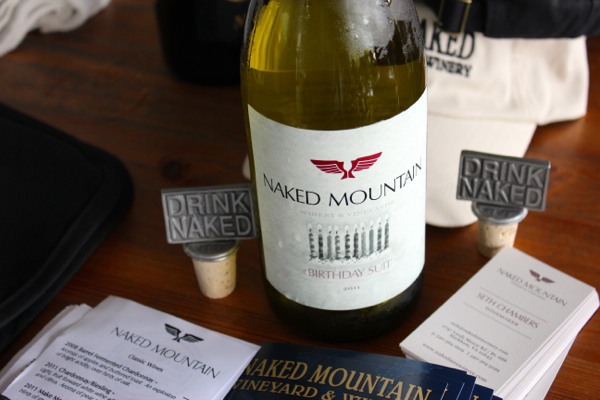 We bid our adieus to Seth Chambers and Hue-Chan, and we know that we will return to Open Kitchen to enjoy the unique experiences there. Be sure to check out the website and reserve your space at Open Kitchen; of course, mention that Virginia Wine Time sent you!