We made certain to support Fauquier County wineries this past weekend with a trip to Hume Vineyards. As readers may know, the Fauquier County Board of Supervisors recently passed an ordinance that would restrict the business practices of county wineries. Needless to say, we were interested in chatting with winemaker Stephane Baldi about the new laws; however, we were even more eager to find favorite summer wines.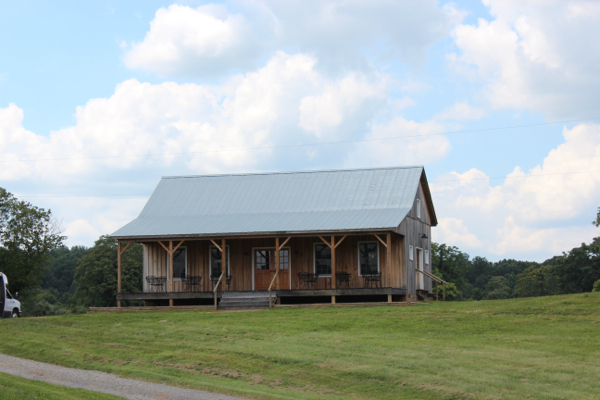 Six wines were available for tasting with five of them from the 2011 vintage. My favorite was the crisp 2011 Seyval Blanc with its citrus aromas and flavors. Like most 2011 Virginia white wines that we have enjoyed, this one possessed a refreshing acidity. Enjoy with anything that would pair with a crisp Sauvignon Blanc! Paul preferred the 2011 Viognier that was 23% barrel fermented with malolactic fermentation and 77% aged in stainless steel tanks. Peach and melon aromas with subtle honey notes were complemented by similar flavors in the mouth along with an added layer of pear. We were also in time to sample the newly released 2011 Rose done with 100% Merlot grapes. Vibrant cherry and strawberry characteristics were noted with a bright acidity to boot. Perfect for this scorching summer, too!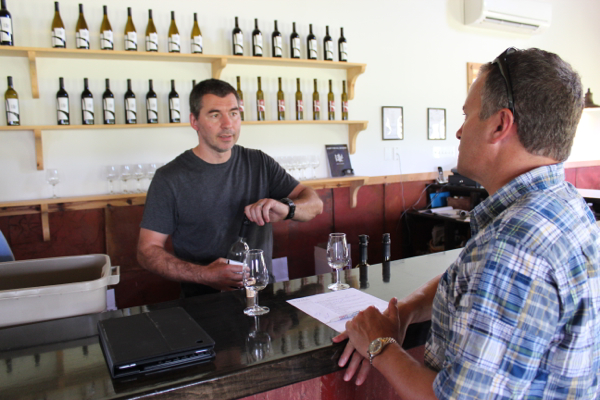 Summer is a time for grilled foods, and the 2011 Chambourcin should pair well with any number of barbequed foods. I noted raspberry and cherry flavors with elements of spice and dried herbs and a nice lingering finish. The final wine that we tasted was 2011 Vendange Tardive, a dessert wine made from late harvest Vidal Blanc grapes. At only 5% residual sugar, it was less honey-textured than some dessert wines and presented apricot flavors. Pair with a favorite dessert or enjoy on its own.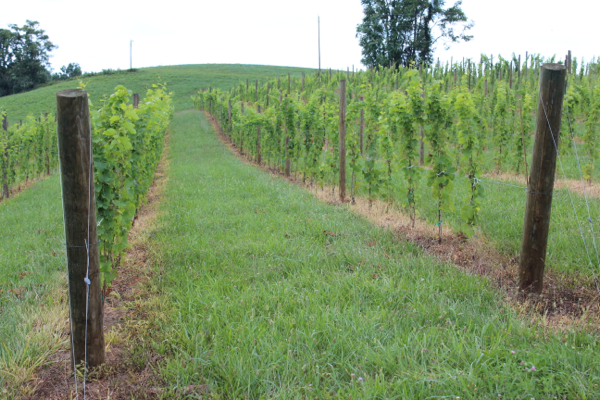 In the midst of our tasting, we were able to catch up with Stephane Baldi. Next year promises to be a big year for Hume Vineyards as Stephane intends to meet his goal of producing wine from 80% estate grown grapes. In fact, next year will see the release of estate grown Sauvignon Blanc, and this will replace the Seyval Blanc. Of course, the subject of the new ordinances arose; not surprisingly, Stephane informed us that legal challenges to them are already in the works. In the meantime, many of the ordinances will take effect immediately with some of them restricting use of lanes and limiting hours of operation.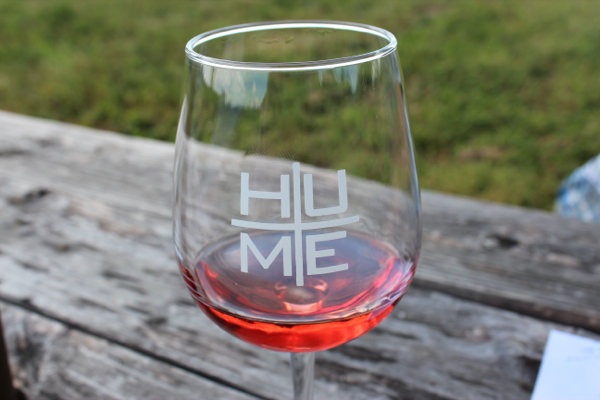 With our tasting done, we enjoyed a glass of the 2011 Rose beneath the shade of an outdoor picnic umbrella. It was certainly a scorching afternoon, so the cool berry flavors of the Rose was indeed refreshing. We intend to visit more Fauquier County wineries and we encourage readers to do the same. Here again is the list of Fauquier County wineries: (Just be sure to mention that Virginia Wine Time sent you.)
Aspen Dale Winery at the Barn
Barrel Oak
Boxwood Winery
Capitol Vineyards
Chateau O'Brien
Cobbler Mountain Cellars
Delaplane Cellars
Desert Rose Ranch and Winery
Fox Meadow Winery
Granite Heights Winery
Hume Vineyards
Marterella Winery
Mediterranean Cellars
Miracle Valley Vineyard
Molon Lave Vineyards
Morais Vineyards
Naked Mountain Vineyard
Philip Carter Winery
Piedmont Vineyards and Winery
Rogers Ford Farm Winery
Vintage Ridge Vineyards
Three Fox Vineyards