As I have mentioned before, I have lots of Virginia red wines on my wine rack. Lately I've been randomly selecting red wines to taste and enjoy. One evening last week I was finishing up some brownies that Warren made and thought a red wine would really compliment the brownies. I perused my wine rack and decided on the 2007 Lot 751 Virginia Red Table Wine from Breaux Vineyards Cellar Selection. This wine is only available to Cellar Club members.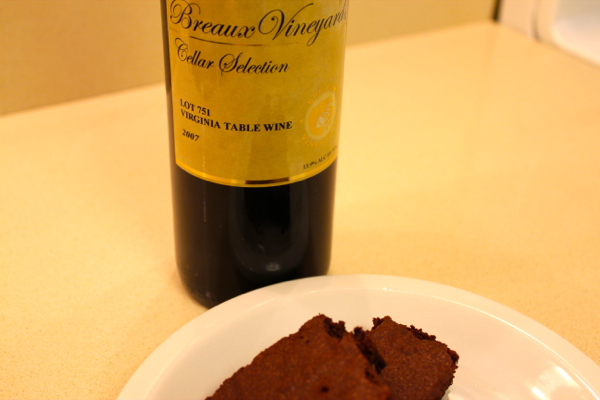 Lot 751 is a blend of cabernet sauvignon, merlot, malbec, petit verdot, and cabernet franc grapes from the 2007 vintage. The dark color and dark cherry nose made me think that maybe this wine was meant for bigger foods. But once I swirled it in my glass and gave it a taste, I knew it would be perfect for the brownies. I noted cherry, extracted fruit, firm tannins, and a relatively smooth ending. With a bite of the brownie, the cherry notes really came through. Since this wine is from 2007 and has some firm tannins, it could benefit from more time on the rack. Or enjoy it now!
I've mentioned it before and I'll say it again. There are benefits to being a Cellar Club member at Breaux Vineyards. I enjoy having access to wines the general public won't get to purchase. I need to get to Breaux soon to pick up my most recent Cellar Club Selections. And if you visit Breaux Vineyards anytime soon, tell them Virginia Wine Time sent you!