Our quest for summer pours brought us to Molon Lave. We first visited the winery when it first opened about two years ago, so we knew that we were due for a re-visit. Since that time, the tasting menu has expanded to include kosher wines!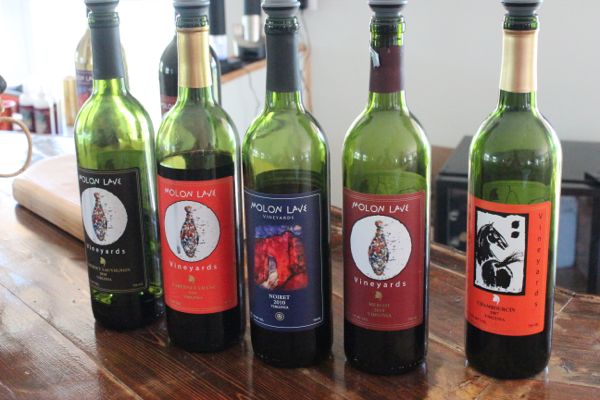 Molon Lave is Greek and roughly translate to, "Come and Get Them", and that is what we planned to do—get the wines that is. Katherine, daughter of owner Louizos Papadopoulos, warmly greeted us and recalled our first visit to Molon Lave. She updated us on the developments at Molon Lave that include an expansion of the wine menu to include ten wines. Riesling, Vidal Blanc, Chambourcin, Merlot, Noiret, Cabernet Franc, and Cabernet Sauvignon are some of the estate-grown varieties that are now for sale at the winery. Our goal was to identify wines appropriate for the hot and humid days of Virginia summertime, and Paul's favored the fruity 2010 Vidal Blanc with its peachy flavors. Aged in stainless steel, it should be enjoyed on its own or with a light picnic lunch, fresh fruit, and light cheeses. Katie's Charm should delight rose lovers who appreciate the Chambourcin grape. Bright strawberry notes and a characteristic tart finish make for the perfect wine to bring to a Wolftrap concert. Outdoor grilling might call for a red wine, and the 2010 Cabernet Franc was my own personal favorite. This spicy red wine was aged for 12 months in American oak barrels and presented flavors of blackberry and raspberry. Sweet wine lovers might enjoy the Autumn Nectar, a blend of late harvest Rielsing, Pinot Gris and Viognier. At 2.5 residual sugar, it should be fine with dessert; however, our friend Michael Tyler would probably sip this one on its own.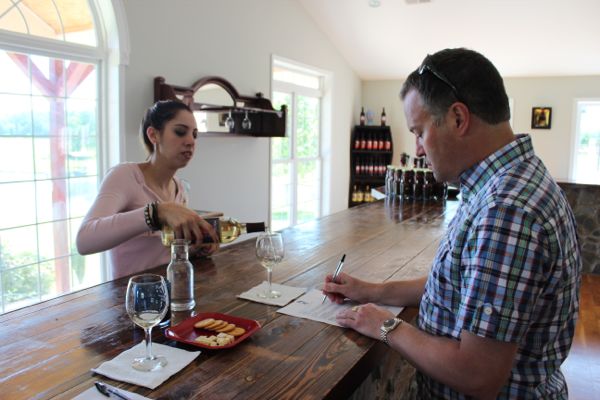 We were very intrigued with the kosher wines, and winemaker and owner Louizos Papdopoulos was on hand to answer our questions about this process. Louizos became interested in producing kosher wines due to his business dealings both here and in New York City; he discovered that Jewish communities were interested in local wines, but they had no local options for kosher wines. Louizos decided to fill this void and pursued the process of making kosher wines. Kosher wines are made according to strict Jewish dietary laws, and only a rabbi can make the wines. These laws and practices go back to ancient bibilical times. At Molon Lave, a rabbi now makes three kosher wines, and these include the 2010 Riesling, the upcoming 2010 Chardonnay, and the smoky 2010 Noiret, a hybrid red grape. The wines have become popular sellers, and Molon Lave was the first Virginia winery and among very few east coast wineries to produce kosher wines.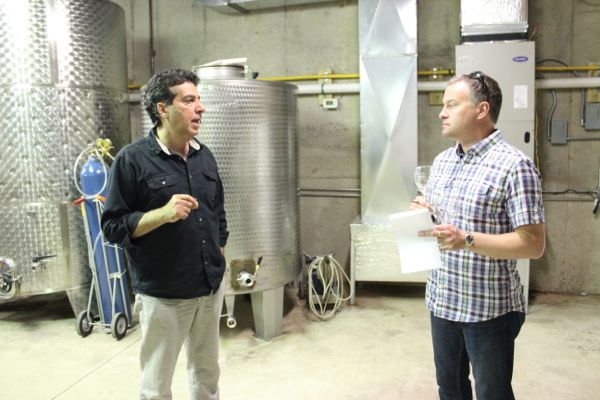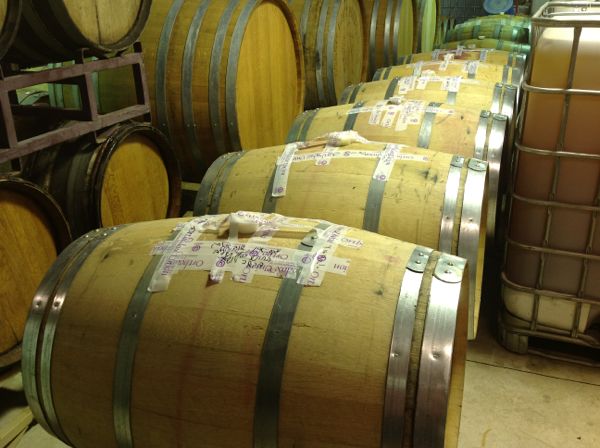 Louizos filled us in on future goals for Molon Lave, and these include a continuation of the kosher wines. He also intends to plant an additional 20 acres of vines to include more of the varietals now grown on the estate with Traminette being added to the mix. The overall winemaking philosophy will remain the same, though, and that is to produce fruit-forward, drinkable wines.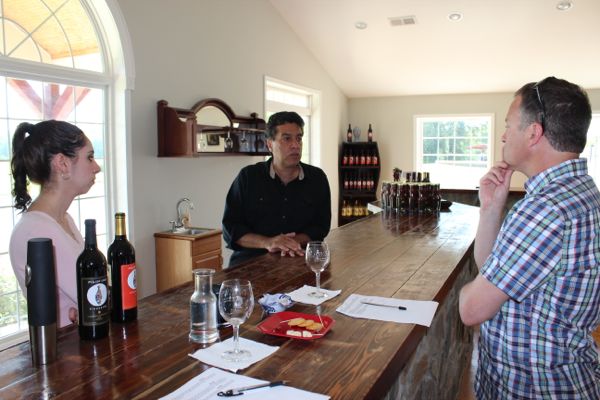 With our tasting done, we decided to enjoy a glass of Katie's Charm with a plate of salami, cheeses, and Greek olives. We walked up to the pavilion and enjoyed a panoramic view of the lovely grounds at Molon Lave. We made certain to leave with bottles of summer favorites, and we plan to visit sooner to keep abreast of developments at Molon Lave. Be sure to visit Molon Lave for a tasting, but be sure to mention that Virginia Wine Time sent you.