Philip Carter Winery celebrated the 250th anniversary of winemaking in Virginia. A black tie event kicked off the celebration on Friday, May 25 and then continued into Saturday with more casual events that included carriage rides, barbeque, fencing, and live music.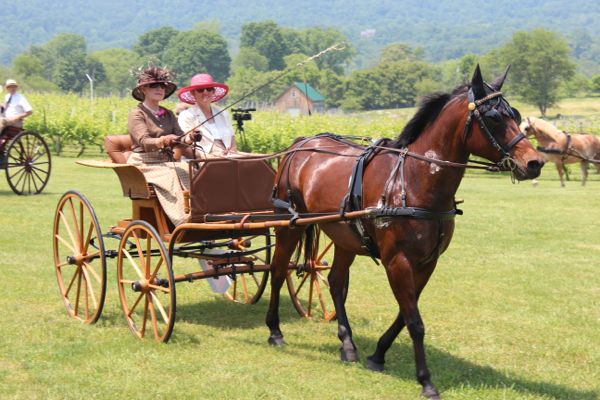 The black tie event featured a "history through tasting" that showcased wines from some of the state's oldest wineries. These included Barboursville Vineyards, Horton Vineyards, Jefferon Vineyards, Philip Carter Winery, and Williamsburg Winery. However, we attended the Saturday event, and while Paul was anxious to wear his period clothing (powdered wig included), we enjoyed a very warm afternoon in our summer attire. In addition to celebrating an important milestone, we also took advantage of an opportunity to sample the latest releases from Philip Carter Winery.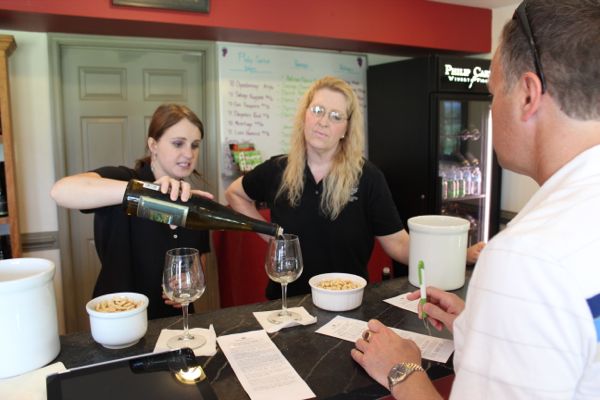 I'll get into the wines first. I've always been a fan of Philip Carter's Chardonnay, and I really enjoyed the 2011 Chardonnay that was released on the anniversary weekend. Like its 2010 sibling, the 2011 vintage exhibited a creamy texture on the mid-palate due to malo-lactic fermentation; however, a partial blending with Chardonnay from stainless steel tanks also provided a degree of crispness. It presented ripe pear and citrus characteristics with a nice acidity that we increasingly associate with the more positive elements of the 2011 vintage. Just in time for summer, the 2011 Governor Fauquier is a blend of Vidal Blanc and Chardonnay; done in stainless steel, it is full of bright apple flavors.
Of the red wines, I enjoyed the 2011 Cabernet Franc. This is the first bottled red wine that I've experienced, and it met my expectations for the 2011 reds. Fruity and lighter bodied, this Cabernet Franc is blended with Petit Verdot (10%) and Tannat (9%) and then aged for nine months in both French and American oak barrels. I noted lots of cherry aromas and flavors with a peppery finish. The smoky 2010 Meritage, though, presented a more complex pour. This blend of Cabernet Franc (42%), Petit Verdot (32%), Cabernet Sauvignon (21%) and Merlot (5%) exhibited elements of dark fruit, sweet tobacco, and black pepper with a notable tannic presence to suggest that an age-worthy wine. Serve now but decant; better yet, buy now and wait to enjoy at its peak.
Other new releases included the full-bodied 2011 Sabine Viognier, a first-ever release of a Viognier from Philip Carter Winery and the fruity 2011 Late Harvest made from Vidal Blanc. The 2011 Rose was also poured, and we've written about it in an earlier post; I do think it is a very good Rose and made sure to purchase a bottle for the summer.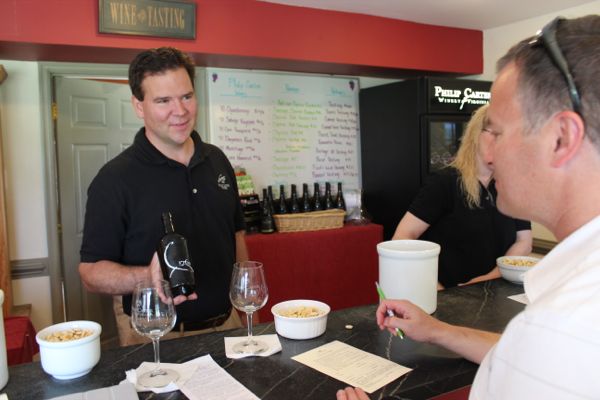 In the midst of our tasting, we met up with Philip Carter Strother, owner of the winery. It was certainly a proud day for Philip Strother, whose ancestor, Philip Carter, acquired the original deed to the property on which the first vineyards in Virginia were planted. In fact, Strother can now exhibit both the originial charter and a recent legislative proclamation that recognizes the Carter wine legacy. Strother also shared with us the bottle for the soon to be released port called 1762. Wine expert Richard Leahy was also on hand to help with the celebration, and Richard was available to chat about Virginia wine and to sign copies of his newly released book, Beyond Jefferson's Vines.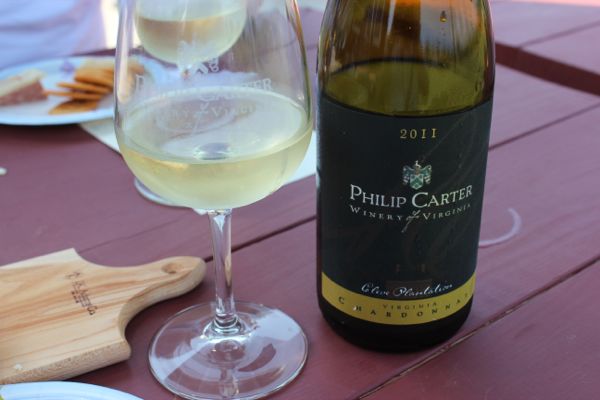 We completed the anniversary celebration with a glass of the 2011 Chardonnay, and an outdoor seat beneath a shady umbrella allowed us to watch antique-style carriages drawn by horses and ponies taxi riders about the vineyards. Fencers in full attire made lunges toward each other, and Paul bemoaned a missed opportunity to wear his velvet knee-britches, buckled shoes, and powdered wig. I assured him that there is always Halloween! We made certain to purchase our favorite Philip Carter wines. Be certain to celebrate the 250th anniversary of wine making in Virginia with a visit to Philip Carter Winery, but be sure to mention that Virginia Wine Time sent you.