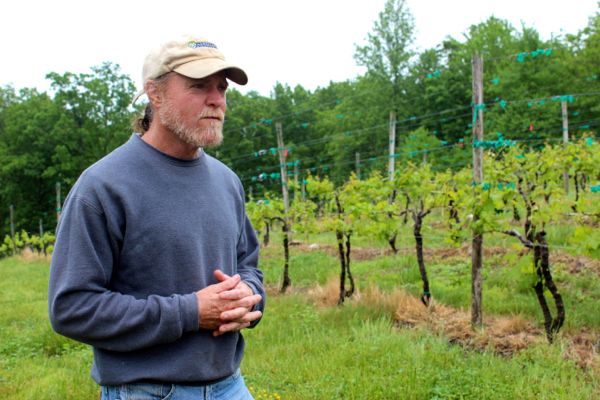 Jim Law of Linden headlined the TasteCamp finale, and he conducted a personal tour of his Hardscrabble site for campers. Jim is something of a god here in Virginia, so this opportunity for campers to meet the man who inspired the sea change in Virginia's winemaking was truly an incredible experience. Jim's tour ended with a tasting of his wines, and taste camp ended on the highest note possible.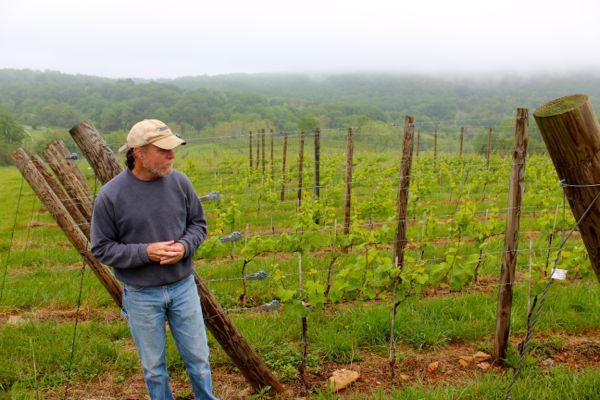 Taste campers met Jim on a very foggy and chilly morning to tour his Hardscrabble site. Jim has been making wine at the Hardscrabble vineyard since at least 1987, and he began the tour at his block of oldest chardonnay vines; however, lest we think that Jim contently sits on his laurels and lets 25 year- old vines do their thing, campers were informed otherwise. Jim is in the process of renovating and replanting his vineyard so that particular varietals are planted in the most appropriate soils and microclimates. Blocks of merlot are being uprooted and then replanted with chardonnay. Carmenere is being grafted onto merlot to produce more merlot. Poorly performing carmenere will be phased out. New vines will be spaced closer together. Canopy management will change too. A recent trip to Bordeaux vineyards revealed to Jim that merlot grapes actually do not like plentiful sunshine, and overly ripened merlot produces jammy, uninteresting wines associated with the mediocre stuff associated with California. Therefore, Jim will make the necessary adjustments with his merlot vines. What does all of this say about Jim Law? I concluded that Jim stays at the top of his game because he always seeks to improve. Jim constantly referenced his desire to "get better" or "make better wine"; although other area winemakers often acknowledge Jim as their teacher, mentor, or hero, it was obvious to me that Jim still considers himself to be a student. Perhaps it is for this reason that his wines consistently set the bar for quality in Virginia.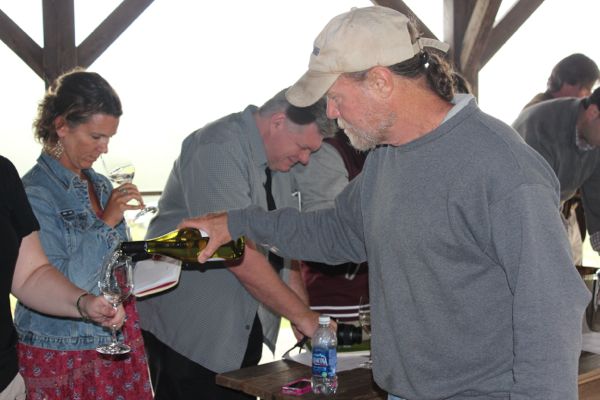 Jim then led us to the crush pad for a tasting of his wines. The fog intensified as barn swallows frantically fluttered around, and a Gothic feel permeated the atmosphere as Jim presented his wines. These included the 2011 Avenius Sauvignon Blanc, 2009 Harscrabble Chardonnay, 2008 Hardscrabble Red, and 2009 Avenius Red. As the fog encircled us, it was hard to miss Jim's Old World style of winemaking. Elegant and focused, integrated and balanced—these wines were indeed at the top of the class. It was here that I heard the highest praises of the weekend with one New York camper commenting that Jim's wines were "world class."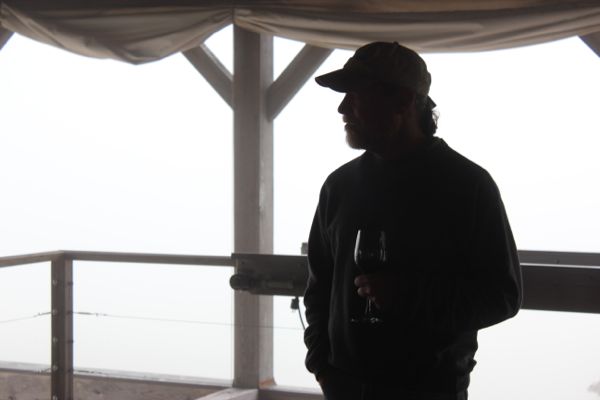 Reflections: So what did I learn from taste camp? Winemaking is a tough business, and the phrase, "winemaking starts in the vineyard", may seem cliché, but indeed it is true. The vineyard management alone should frighten off all but the most dedicated and passionate. There are many decisions and tasks involved just with the vineyard management. Which site to select? Which varieties to plant, and then which clones? What about trellising—smart dyson to maximize production? Mow the lawn or let the weeds grow to soak up some unwanted moisture? Pick now or gamble on the weather? Needless to say, there are many more decisions to be made once grapes are harvested and then fermented and aged. Serious winemaking is not for the hobbyist, and even most seasoned veterans must be opened to changes if they wish to constantly raise the quality of their wines.
I also learned that Virginia winemakers are still sorting out what varieties work for Virginia, and this seems to be a site-by-site decision. Jordan Harris will be focusing more on Rhone varieties while Law will intensify his focus on merlot and chardonnay. Doug Fabbioli, the Bootstrapper, will continue to innovate not only with traditional viniferous grapes but also with hybrids (like chambourcin) as well as fruit wines. Ben Renshaw enjoys the challenge of vineyard management and seems to revel in working with a more diverse crop—his favored Tranquility site grows traditional grapes such as cabernet sauvignon while the Goose Creek vineyard located across the road produce German varieties such as lemberger and dornfelder. What was a common thread between all of these winemakers? The sense of passion that even the most oblivious would have noticed.
Buzz: So which wines generated the most buzz? I tried to document as many comments as possible, so it is likely that I missed a few of the hitmakers from the weekend. With that in mind, here is my list of all-stars that generated the most buzz:
2010 Ankida Ridge Pinot Noir
2011 Boxwood Rose
2007 Boxwood Red (actually a split between this and the 2007 Topiary)
2011 Blenheim Rose
2002 Breaux Reserve Merlot
2001/2005 Breaux Nebbiolo
2008 Linden Hardscrabble Red
2009 Linden Hardscrabble Chardonnay
2010 North Gate Rousanne
2011 Stinson Sauvignon Blanc
2007 Tarara Syrah
2011 Tarara Petit Manseng
2011 White Hall Viognier
2010 Zepahiah Farms Chambourcin Reserve
TasteCamp offered an opportunity for campers to learn (and taste) more about winemaking in Virginia. We thank the TasteCamp organizers for planning this event, and we encourage readers to visit Virginia wineries to sample the latest releases. Create your own buzz (uh-a list of favorite Virginia wines, course). Remember to mention to the winemakers that Virginia Wine Time sent you.