TasteCamp was held this past weekend in Loudoun County. TasteCamp founder Lenn Thompson of the New York Cork Report and Frank Morgan of Drink What You Like organized the event, and it was attended by bloggers and industry representatives from as far away as Canada and Georgia. In fact, several participants also attended the bloggers conference held in Charlottesville last August. TasteCamp offered an opportunity for enthusiasts and experts to sample an array of wines from around the state; however, participants were also given vineyard tours to get a glimpse of how vineyards are managed by some of Virginia's most highly regarded winemakers. This was a three-day event, and I will present a day-by-day summary of our experiences.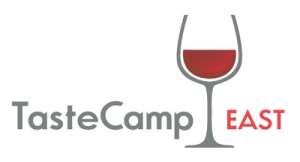 Friday, May 4 (Day 1): TasteCamp was officially launched at the Boxwood Winery in Middleburg, Virginia. Rachel Martin hosted a spectacular lunch and wine tasting in the facility's tank room, and wines poured included the 2011 Rose, 2007 Topiary, and the 2007 Boxwood. Rachel Martin also revealed at the luncheon that the Boxwood Winery will serve as the official public tasting room and will replace the current Middleburg site. This change will begin on June 8, 2012. After lunch, we were given a tour of the wine cave.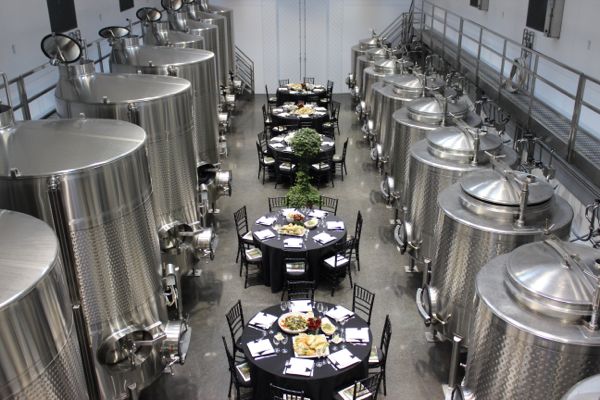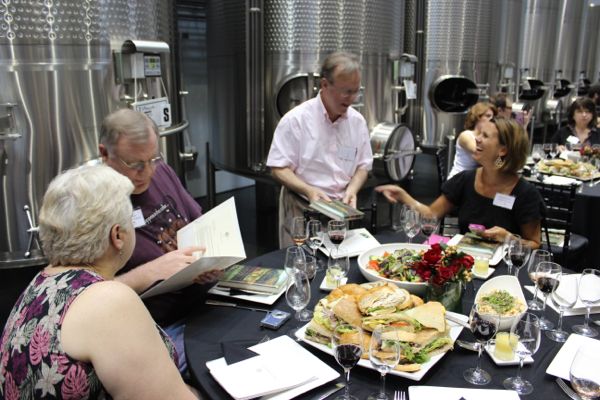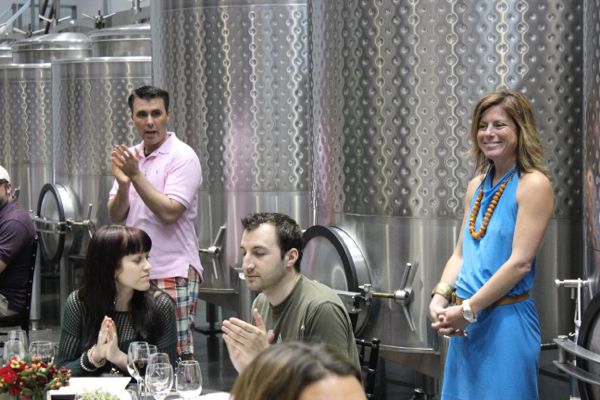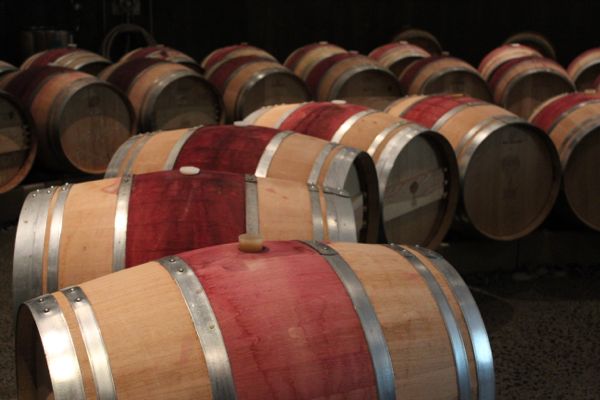 The ultimate event of the afternoon, though, was a wine tasting conducted on Boxwood Winery's crush pad. Monticello wineries were represented by Ankida Ridge, Blenheim, White Hall, Barboursville, ; however, wineries outside of that region such as Annefield, Gadino, Hume, Rappahannock, Veritas, and Pearmund were also on hand.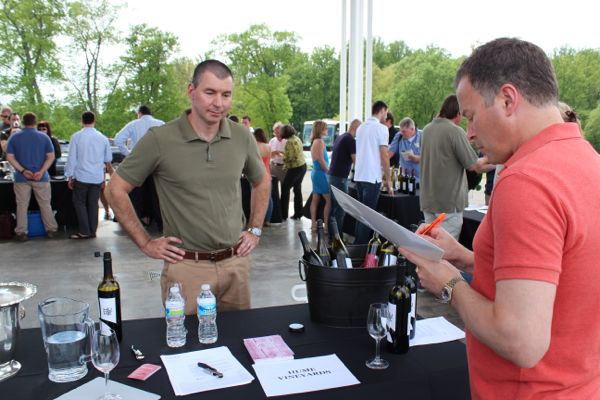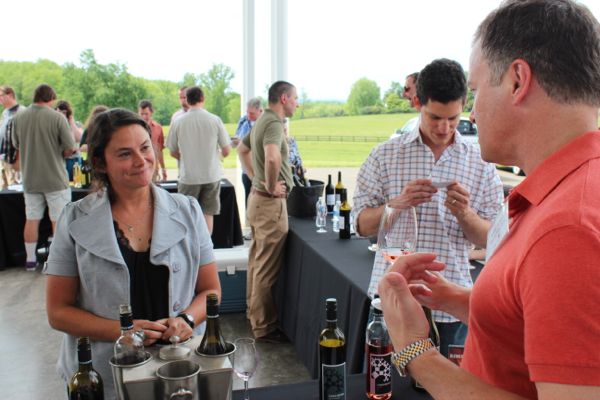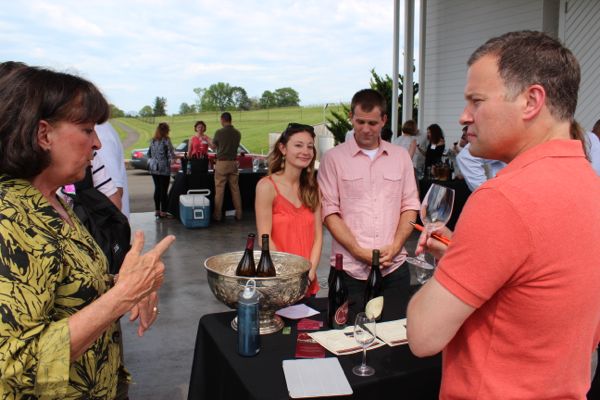 The day ended with an elegant food and wine dinner hosted by Breaux Vineyards. Jen Breaux Blosser greeted guests as they arrived, and it was Jen who had prepared vibrant sunflower and daisy bouquets to decorate the tables. Before entering the tank room for dinner, guests were allowed to mingle outdoors beneath a tent while sampling Breaux wines that included the 2010 Viognier and the legendary 2002 Reserve Merlot.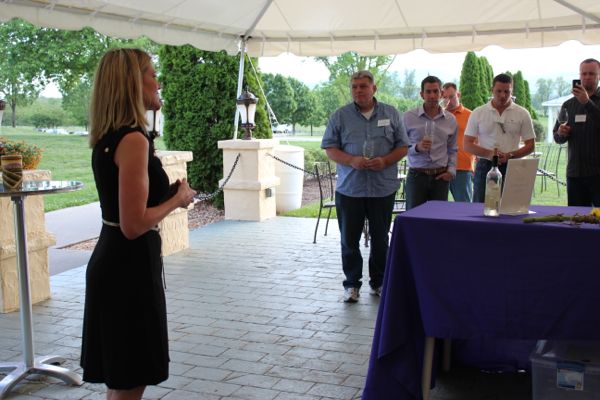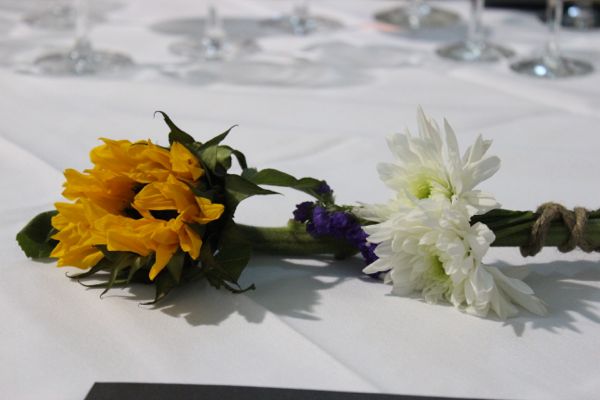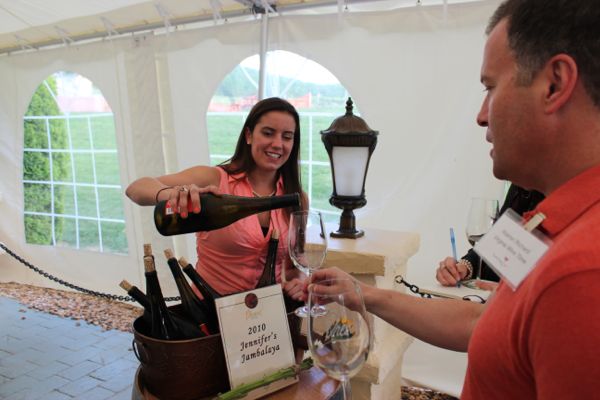 The four-course dinner was prepared by Tuscarora Mill Restaurant, and each course was paired with Breaux wines. The ultimate pairing was risotto with beef tenderloin served with the 2007 Cabernet Franc Reserve; however, the cheese course partnered with a vertical tasting of Breaux Nebbiolo from the 2001, 2001, 2005 and 2007 vintages was equally decadent.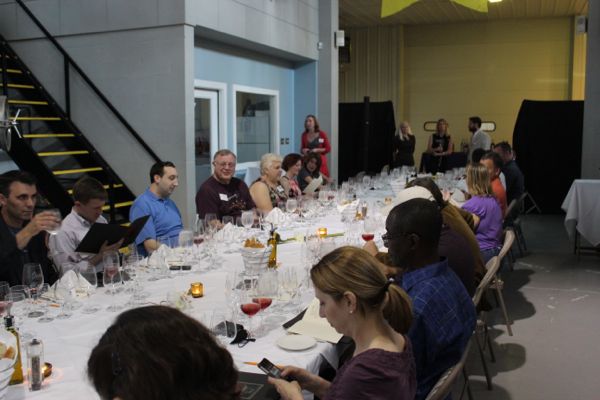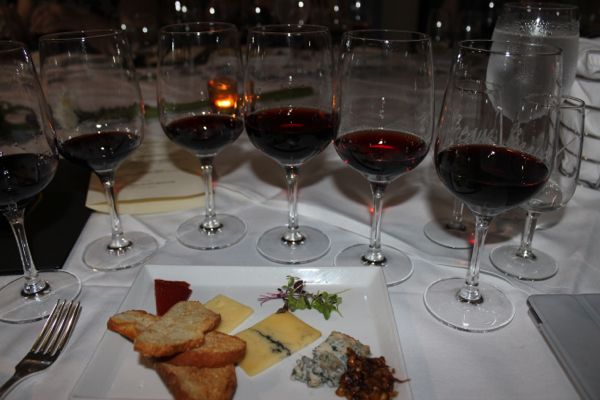 Saturday, May 5 (Day 2): Vineyard tours offered an educational experience for all of us at TasteCamp. Doug Fabbioli of Fabbioli Cellars held forth on the vineyard practices at his site and presented a hands-on demonstration of how vines are pruned and then thinned at this time of the season. Fabbiolo frequently described himself as a "bootstrapper", and it was not wonder that he given an innovator award by Loudoun County. Pears being produced for pear wine are literally growing in ship-shaped bottles on pear trees. An new-fangled machine stands guard in the vineyard to ward away late-spring frosts, and industrial curtains line the vineyard and can be drawn at to cut down on freezing winds. Doug likes to teach and seemed in his element while instructing eager students in his outdoor classroom. I also learned that Doug has opened the Piedmont Epicurean Arts Center as part of a "farm to table" educational initiative. The Center is located in Leesburg and includes sessions on raising cattle, growing fruit, making cheese, and (of course) managing vineyards.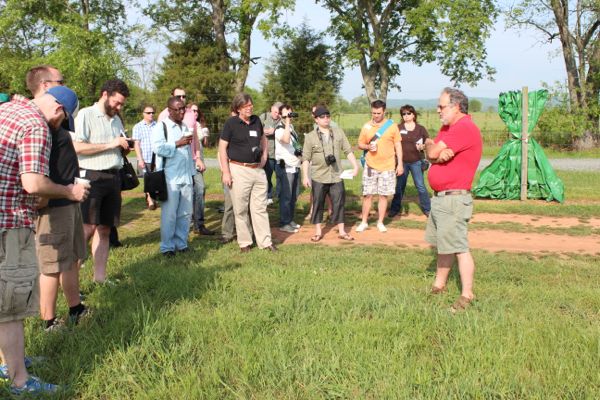 After our vineyard tour, we were given a tasting of Fabbioli's wines that included Something White (a traminette and vidal blanc blend), the 2010 Chambourcin, the 2009 Cabernet Franc Reserve, and the Raspberry Merlot. A bonus pour of the 2009 Tannat was also offered.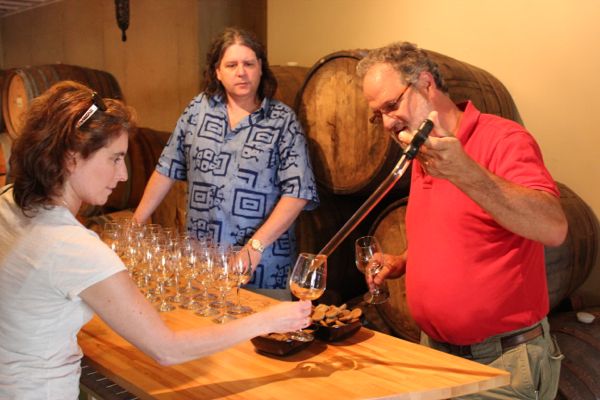 Next stop: Tarara Winery. Winemaker Jordan Harris transported us hayride-style (without the hay) to the Tarara vineyard sites. While in route, Jordan provided samples of his 2011 Petit Manseng, 2007 Viognier, and 2007 Syrah. We also got a history of the winery and vineyard along the way, and this culminated with a tour of the vineyard itself. Jordan has certainly made changes in the vineyard since his tenure at Tarara began in 2007. He made a decision to be terrior focused; as a result, some popular (but not so good) wines at Tarara were discontinued in favor of varieties that best suited the elevated terrain rockier soils, and location-specific microclimate. These include Petit Manseng, Viognier, Chardonnay, Syrah, and Cabernet Franc. Not included? Pinot Grigio, Seyval Blanc, and Pinot Noir.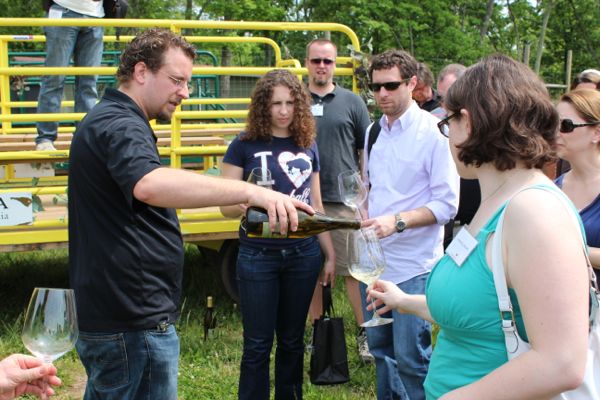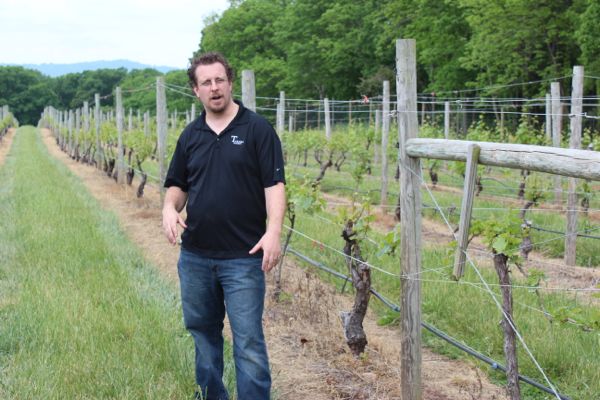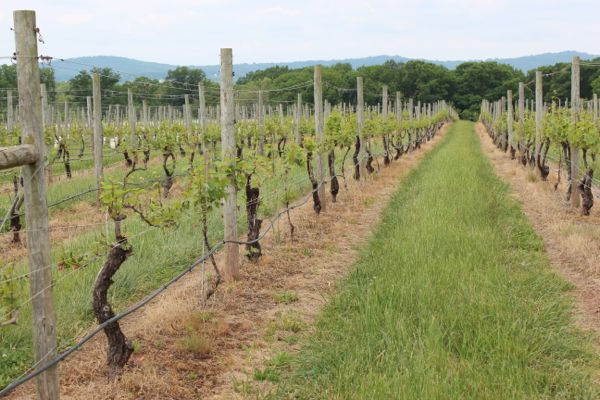 The vineyard tour was followed by a pizza lunch provided by Pizzeria Moto, a private catering business that uses a mobile wood-fired oven to prepare excellent pizza. Prior to lunch, though, another wine tasting was held in the Tarara wine cave, and participating wineries included Corcoran Winery, Delaplane Cellars, Loudoun Valley, Philip Carter, General's Ridge, Horton, Narmada, Stinson, and Zephaniah. Of course, Tarara wines were available for tasting and were also served with lunch. Tarara's 1992 Cabernet Sauvignon was poured for the occasion as well as the 2008 Nevaeh Red, 2009 Tranquility, and a sample of the upcoming 2010 Tranquility.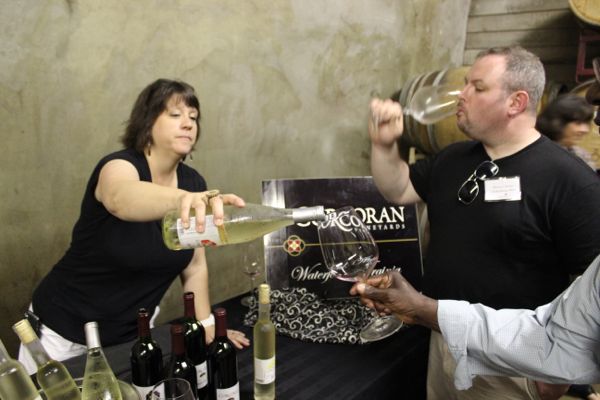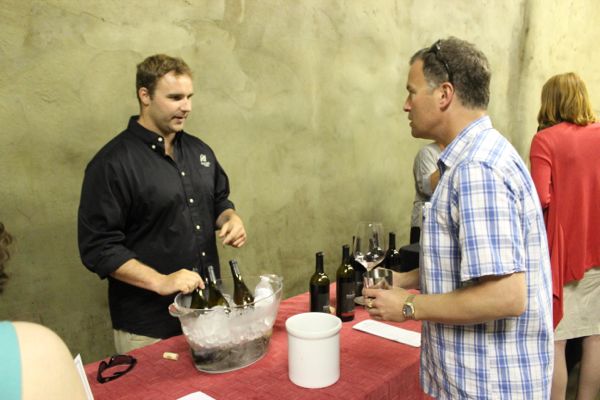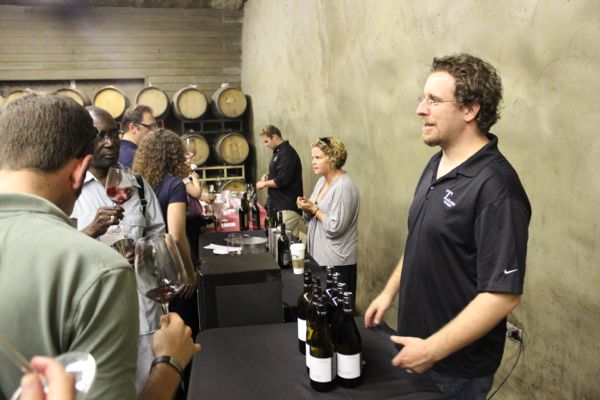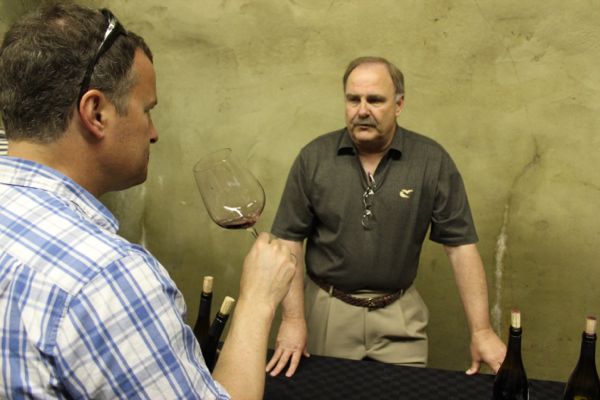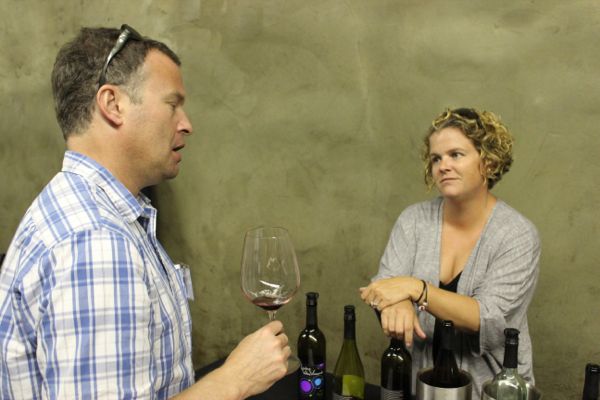 Final vineyard tour: Tranquility Vineyard. Ben Renshaw, winemaker at 8 Chains North and manager at the Tranquility site hosted this tour. Here again the word "terrior" was used to describe the focus for varietal selection at the site as well as vineyard practices that include diligent canopy management. This particular site is known for its favorable ripening of tough-to-ripen grapes such as Cabernet Sauvignon, a vital component of the Tranquility blend that was sampled at Tarara Winery. As a testimony to his diligence in the vineyards, Ben was just recently married but opted to postpone the honeymoon until after harvest!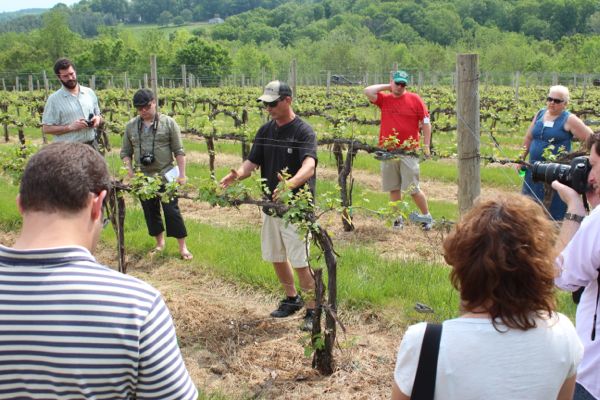 The day's final tasting was held at newly opened Otium Cellars. It was here that Renshaw poured his 8 Chains North wines as well as the wines that he makes for Otium Cellars. 8 Chains Wines included the 2008 and 2009 Furnace Reds; Otium Cellars wines, however, offered a German twist and included a 2010 Pinot Gris made from a German clone, a 2010 Blaufraenkisch, 2009 Dornfelder, and a 2010 Dornfelder.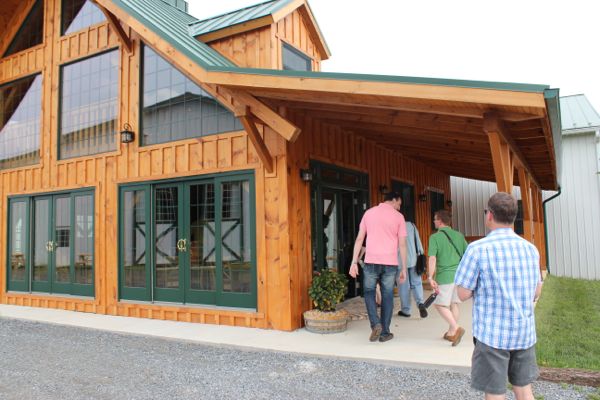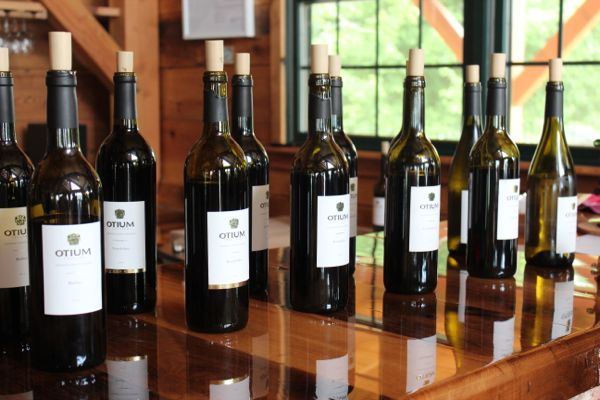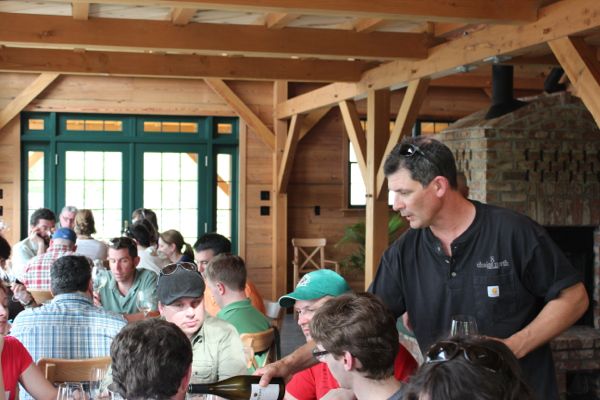 Yes, it was quite a day of vineyard tours and wine tasting. And yet the day was not done. TasteCamp participants were given a brief respite at their lodgings at the Loudoun Convention Center and then treated to a barbeque dinner hosted by Mark and Vicki Fedor of North Gate Vineyards. The Fedors offered a tasting of North Gate wines, but campers were also allowed to bring their own wines to share at the event. How to manage so much wine? Spit cups were provided throughout the day, and no one was offended with liberal usage of the dump buckets. Yes, wine can be tasted without actually swallowing it! And no, you do not need to drink every drop that is poured into your glass. In fact, much can be known about a wine by simply sniffing it from the glass. (Remember that, readers, when you are on the wine trails.)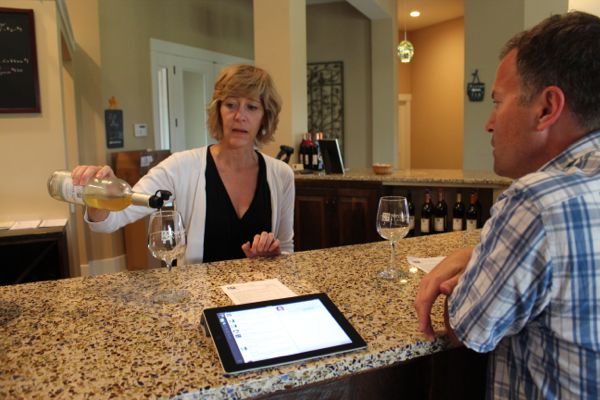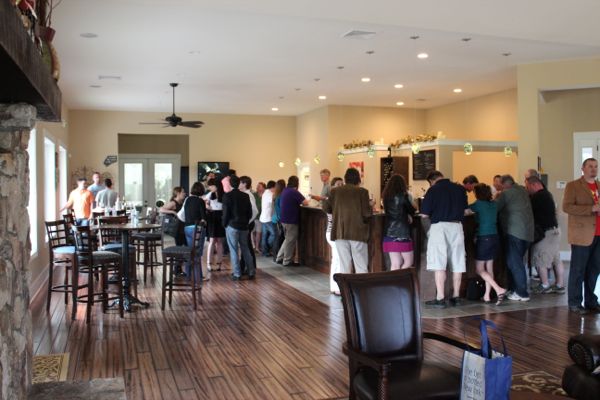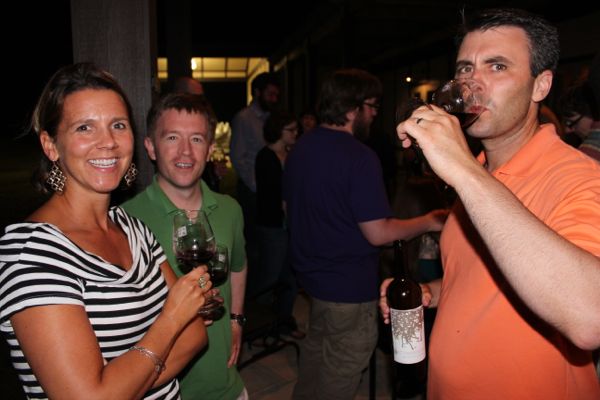 Reunion of some of the Wine Mafia Members: Lenn Thompson, John Witherspoon, Frank Morgan, Swirl Sip Snark, and Warren and Paul.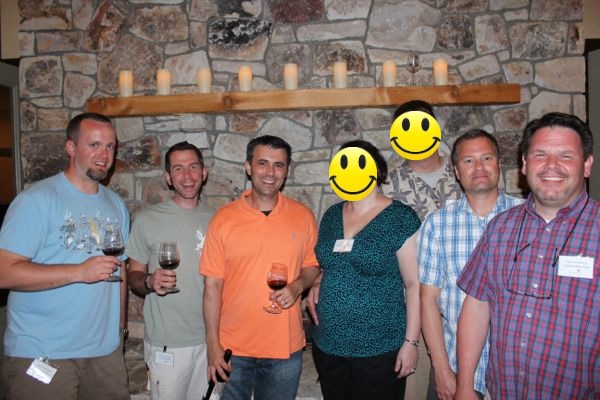 So what happened on Day 3? Any reflections on what I learned from the event? Wines that generated the most buzz? Stay tuned for the next installment; I'm sure the suspense will be nerve wracking!
In the meantime, visit the wineries mentioned in this post. Mention that Virginia Wine Time sent you.