And what better way to celebrate the Founding Father of Virginia wine's birthday than tasting the exquisite Meritage blends at Jefferson Vineyards. Winemaker Andy Reagan hosted this event; of course, we had a great time.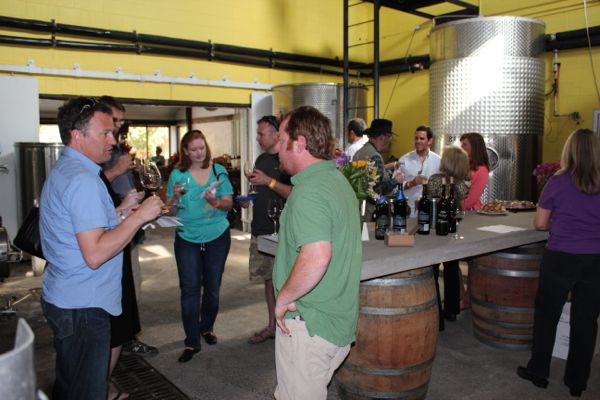 The oldest wine poured at this event was the 2002 Meritage; the youngest, the still evolving 2010 Meritage. We attended last year's Meritage tasting, and as I recall my favorite was the 2007 Meritage that was a blend of Cabernet Franc (39%), Merlot (26%), Cabernet Sauvignon (18%) and Petit Verdot (17%). This year's favorite? The complex 2007 Meritage! Brambleberry characteristics with earthy nuances and a smooth finish made for a wine that can still get better with age. Paul's own fave was the 2004 Meritage. No surprise here—Merlot comprises 70% of the blend, and Paul is a Merlot addict. Cabernet Franc (20%), Cabernet Sauvignon (7%) and Malbec (3%) completed the mix. Paul noted cherry flavors and a whiff of dried herbs.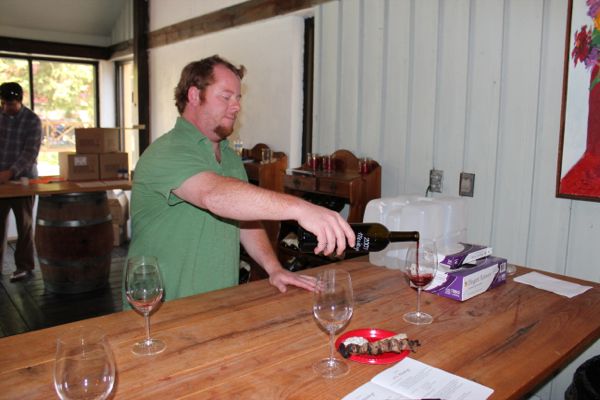 Andy also offered samples of his Meritage Reserve wines. These are his special blends. One reserve was a blend of the 07, 08, 09 vintages; the other, a mix of the 08, 09 and 10 vintages. Each vintage was aged separately in new French oak puncheons for 48 months, 36 months and 24 months respectively. Of these, my preference was the first blend—dark fruit elements with aromas of sweet tobacco suggested a complex, heavy pour. Meat and cigars are mandatory partners with this one!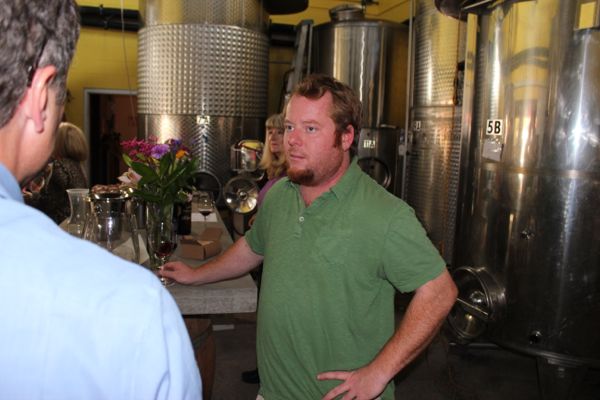 The tasting stations offered foods to pair with each Meritage. Grilled beef, duck, and an assortment of cheeses added to the tasting experience. Of course, Paul gravitated to the sliced duck breast, but he does enjoy duck with complex wines. Now if only he would eat asparagus!
Other distinguished guests included the dynamic duo who write Swirl, Sip, Snark. We enjoyed comparing notes and chatting about wine. Andy was a generous host who answered all of our questions and engaged us in all sorts of banter. Of course, we wondered when Paul would stop eating all of the duck!
Be sure to pay Andy Reagan a visit at Jefferson Vineyards, and mention that Virginia Wine Time sent you.